Sports
How Flyers' Wayne Simmonds Shook the NHL In One Week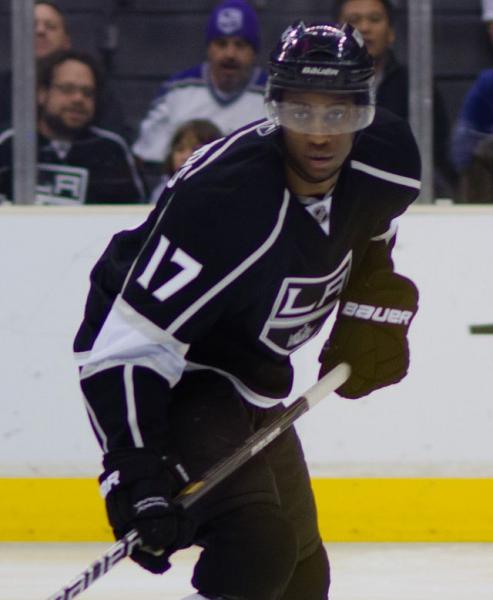 It was announced Wednesday that the 26-year-old man who threw a banana on the ice while Wayne Simmons of the Philadelphia Flyers scored a goal against Detroit has been
charged by police
.
Many considered the action a racist gesture towards the forward. Simmonds was skating across the ice towards Detroit's goalie Jordan Pearce when the banana was flung out onto the ice. Simmonds did score a goal, but that was soon overshadowed by the frenzy that was caused by the derrogatory act in Ontario. Many NHL players took to their Twitter accounts to express their disgust in having something like this happen during a hockey game. Logan Couture of the San Jose Sharks, who is from a town nearby London, Ontario, tweeted that, "Wayne Simmonds is a good friend of mine. To hear what happened tonight to him in my hometown is awful. No need for this in sports, or life […] Terrible, we are better than this..."
Simmonds himself has publicly commented on the incident saying, "It shocked me and I knew I had to keep going and get a shot off. It was certainly unusual. I guess it's something I obviously have to deal with - being a black player in a predominantly white sport."
NHL Commisioner, Gary Bettman, released a statement condemning the action, "We have millions of great fans who show tremendous respect for our players and for the game, The obviously stupid and ignorant action by one individual is in no way representative of our fans or the people of London, Ontario."
Simmonds is definitely making a splash in Philadelphia. Apart from making a solid showing on the ice and the "Banana Incident," Simmonds has now been accused of using a homophobic slur against Sean Avery of the New York Rangers.
Avery and Simmonds were chirping all night during their game Monday, which is normal activity for NHL bad boy Avery. However, Avery confirmed that Simmonds crossed the line when he made a homophobic slur towards him during the first period. The video replay shows what seems to be Simmonds aledgedly saying the insulting comment, but the NHL has concluded that there is not enough evidence to prove it and has decided to not take any disciplinary actions.
Colin Campbell, NHL Director of Hockey Operations, released a statement saying, "We have looked into the allegations relating to the possible use of a homophobic slur by a Flyers player in the Rangers/Flyers preseason game last night in Philadelphia. Since there are conflicting accounts of what transpired on the ice, we have been unable to substantiate with the necessary degree of certainty what was said and by whom." He has also stated that should any incriminating evidence surface, the league will re-evaluate its decision.
There has been an outcry from fans and non-fans alike demanding that the NHL take some sort of disciplinary action. If the NHL is not going to put up with racist actions, like the banana throwing, people expect the league to not tolerate homophobic comments either. Many, including Avery who is a gay marriage supporter, are referencing the fine that Los Angeles Lakers Kobe Bryant was served for his homophobic remarks to a referee earlier this year, and are calling for similar disciplinary action to take place here. The president of GLAAD, Mike Thompson, said, "Hate speech and anti-gay slurs have no place on the ice rink. The word that Simmonds used is the same word that is hurled at LGBT youth on the playground and in our schools, creating a climate of intolerance and hostility."
Suffice it to say, Simmonds, who is just beginning his first season in Philadelphia after being traded from the Los Angeles Kings, is definitely making his presence known both on and off the ice.
Lauren can be reached via email and twitter.
Best way to find more great content from Neon Tommy?
Or join our email list below to enjoy Neon Tommy News Alerts.