International
Greece Attempts To Ward Off Default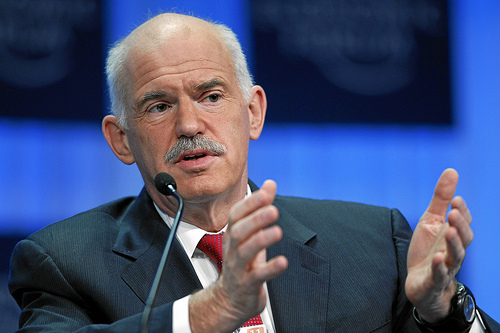 Greece's cabinet met Thursday to discuss austerity measures in an attempt to keep receiving rescue loans and ward off a default, The Associated Press reported.
The main fear of a Greek bankruptcy, according to the AP, is that it could destabilize other financially troubled European countries including Portugal, Ireland, Italy and Spain. A bankruptcy would also affect banks that are large holders of Greek government bonds, potentially dissolving them.
John Odell, professor of international relations at the University of Southern California, said the lenders will have to take a financial hit.
"These are primarily French banks," Odell said. "They've been pretending that they're not in financial trouble with all the bad loans they've made. If shareholders in these banks start selling their shares, they'll put the banks out of business."
Leaders of Germany, France and Greece stressed in a Wednesday teleconference that Greece remains an "integral" part of the eurozone but must meet its reform pledges. According to the AP, this meeting calmed markets after fears rose that Greece would soon default or leave the eurozone.
German Chancellor Angela Merkel, French President Nicolas Sarkozy and Greek Prime Minister George Papandreou discussed restructuring public television, merging state entities and toughening the civil service disciplinary code, the AP reported.
Greece is in its third year of recession and has imposed an additional tax levy and emergency property tax.
Greek unemployment reached 16.3 percent in the second quarter of 2011, the independent Statistics Authority reported Thursday.
According to the AP, the agency was organized last year after Greece was found to have been misreporting data. Two board members unexpectedly resigned Thursday. The Greek government said it would replace most of the agency's board members.
An analyst at KBL Richelieu in Paris told the AP Greece is still facing difficulties and markets feel its debt can't be resolved.
"Markets are still speculating on Greece's bankruptcy," Benoit de Broissia said, "although short-term the 'troika' is expected to release funds for Greece."
"Troika" refers to Greece's debt inspectors: the International Monetary Fund (IMF), European Central Bank and European Union (EU).
BAILOUTS
Stock markets in Europe and the United States plunged Friday, CNN reported, driven by the fears that Athens may not get its next installment of bailout money.
According to CNN, Greece received the final installment of its first bailout in July. The $17 billion was expected to last three months. The EU agreed to provide Greece with a second bailout that same month. The 109 billion euro package had to be approved by all 17 nations that use the euro.
In order to get its bailout funding, Greece must meet debt reduction targets and pass quarterly reviews, reported the AP.
Carl Weinberg, chief economist at High Frequency Economics, told CNN, "The concern now is that having been declared unfit in previous reviews, Greece might not get the money it needs this time, and that would put them into a default situation."
GREECE'S NEXT STEP
A Free Democratic Party representative said Greece may decide to leave or be pushed out of the 17-nation eurozone, National Public Radio reported.
"If the Greeks are unable or unwilling to see through their austerity measures, then state insolvency or indeed leaving the eurozone cannot be ruled out," general secretary Christian Lindner said.
Odell said Greece will likely receive additional loans. He said it's possibile Greece would leave the eurozone, but only gave it a 10 percent chance.
"They gave up their national currency and their authority to regulate their money supply," Odell said. "To leave the eurozone they would have to start issuing a new currency. And in the process, people would start moving money and this would be highly costly in jobs and business failures."
Professor Hans-Werner Sinn, president of Germany's Center for Economic Studies at the University of Munich, told NPR Greece has been effectively bankrupt since last year's bailout.
Sinn said if bankruptcy for Greece happens in an orderly way, it may be Europe's only way to start to move out from under the debt crisis.
"Insolvency does not mean complete ruin and demise," Sinn said. "Insolvency allows the off-loading of debts, a fresh start, a liberation. But debts are not Greece's only problem. The other major problem is a lack of competitiveness within the Greek economy."
----
Reach assistant news editor Agnus-Dei Farrant here.
Best way to find more great content from Neon Tommy?
Or join our email list below to enjoy Neon Tommy News Alerts.