Los Angeles and Region
Gay Rights Activist Protesting Against Chick-Fil-A
A protest against the opening of Chick-Fil-A on the corner of Sunset and Highland Ave. in Hollywood was held Saturday afternoon.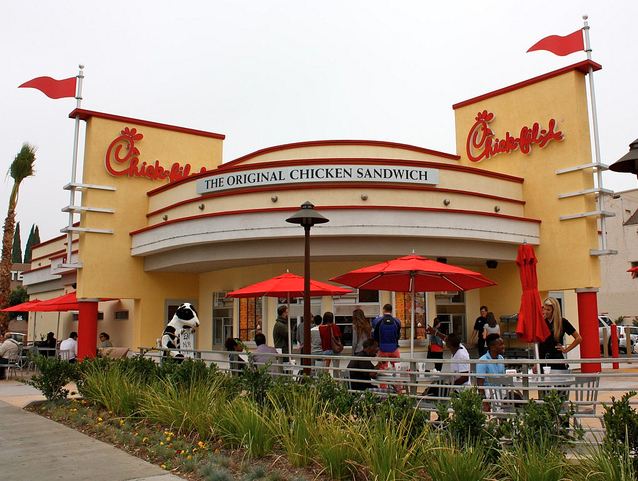 Angered by the popular food chain's grand opening on Thursday, Ken Howard, a psychotherapist and gay rights activist, organized the protest. In order to organize the protest, Howard began by creating a Facebook fan page and event encouraging others to come and help protest. Chick-Fil-A is known for sponsoring organizations that do not support gay marriage and other gay civil rights, such as the National Organization for Marriage. Howard took the time to answer a few questions about the protest and allow insight into his opinions regarding the fight for gay rights.
Q: What made you decide to organize this protest against Chick-Fil-A?
A: As soon as I learned that a Chick-Fil-A was coming to Hollywood, I looked around and looked for protests. I saw that there were none. If nobody else will step up to the plate, then I will. I started "Boycott Chick-Fil-A", the Facebook fan page. I did it really to educate the public. It's an education campaign [that] I call "follow the anti-gay money".
Q: What makes Chick-Fil-A anti-gay?
A: Every franchise [of Chick-Fil-A] gives fifteen percent of all food sales to the Chick-Fil-A corporate office. The corporate office funds WinShape, their charitable arms, which give grants to hate groups. These hate groups are hate groups because they are not just "pro-Christian" or "pro-family". That's very feel good language, but it's a euphemism for working against the gay community. It's working to sway public opinion by telling lies about the gay community in order to strip gay and lesbian American citizens of their equal civil rights under the law. That's what we're against.
Q: How long do you plan to keep protesting the opening of Chick-Fil-A?
A: I'm just getting the ball rolling. I'm hoping that the gay equality groups that aren't well represented here today and other individuals pick up the ball. I am one concerned citizen, concerned about civil rights and the protection of the gay community from hate, lies, and discrimination, but I'm not the only one. Somebody else needs to pick up the ball and run with it. I encourage other people to come join. The corner of Sunset and Highland will always be here.
Q: What other projects have you done to help fight against the discrimination that the gay and lesbian community face?
A: I fight against discrimination when I can. I am a licensed psychotherapist who specializes in working with gay men. I have a private practice in West Hollywood and have been doing it for nineteen years. I work with HIV advocacy to reduce the stigma attached to the name "HIV", gay men's mental well-being, and lesbians too. That's my job, that's my career, and that's my love.
Q: Where do you see the fight for equality going in five years?
A: Marriage equality is now legal in six of the fifty states. We're hoping to raise that number. We're hoping to have a society where people have equal civil rights under the law.
Q: What advice can you give those who are struggling against discrimination and anti-gay bullying?
A: Don't fight against yourself, fight against the bullying. I would love to see a fourteen year-old gay boy stage a protest. If I can organize a protest on Facebook, they can in their local community. Speak up and fight back.
Q: For those who want to join in on this fight for equality, what do you suggest they can do to show their support?
A: I think they can get involved in so many ways. First, of all don't eat at Chick Fil-A. Be careful who you vote for, learn where candidates stand on equality issues. Donate to the extent that you can to the pro-equality groups that fund their programs for justice and equality. And ultimately, just speak up. You have to care. You've got to give a damn in order to make a real change.
Reach Audrey here. Follow her on twitter.
Best way to find more great content from Neon Tommy?
---
Or join our email list below to enjoy the weekly Neon Tommy News Highlights.