Technology
Gamestop's Tablet Part Of Strategy To Create Content Ecosystem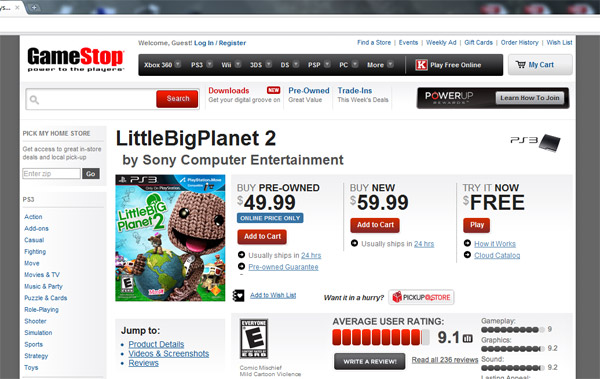 Gamestop's recent
announcement
of an Android gaming-tablet branded with its own set of services and content attracted gamers' attention last week, but the company may be interested in more than just a new hardware market.
Even before the reveal of the new tablet, Gamestop has been making a number of business moves that suggest it wants to expand beyond its brick-and-mortar beginnings to compete with digital distribution services like Steam and Onlive. Gamestop officials like chief executive officer Paul Raines have even said , "We are becoming a technology company."
With the acquisition and development of Impulse and Spawn Labs, as well as the company's actions during the incident with Onlive's coupons, Gamestop seems to want to establish a content ecosystem akin to that of Apple's iTunes or Microsoft's Xbox Live.
Such an ecosystem would give Gamestop control over content distribution as well as hardware, allowing them to offer games and services with a greater advantage to deal with publishers.
In terms of hardware, Gamestop would have an uphill battle trying to compete in the console market with the Sony-Microsoft-Nintendo trio, so their entrance into tablet gaming may prove to be a wise move, depending on how consumers react.
As part of its move to embrace mobile and tablet gaming, the company announced it would accept trade-ins of iOS devices, further suggesting that Gamestop sees value in them as legitimate gaming platforms.
There is still some question as to whether gamers will accept tablet gaming, since surveys have shown that while tablet-owning gamers do play more often, they still are not likely to ditch their consoles or handhelds.
Gamestop obviously aims to change that by giving hardcore gamers a dedicated gaming-tablet, but how will they react?
Dmitri Williams, an associate professor at USC Annenberg School for Communication & Journalism and expert on the social impact of online gaming said in an interview, "Initially there will be a period of reaction in which gamers say 'is this like what I had before?' After that, the criteria will be 'How well does this satisfy my needs?'"
Williams said gamers will judge the tablet interface on its ability to deliver, "graphics, story, performance and the ability to play with others."
Gamestop's new hardware and services will also have the potential to attract the casual gaming market, and the company will have to focus on making their ecosystem user-friendly.
"Like all gamers, casual gamers aren't focused on a particular platform," said Williams, "What they care about is that it's fun, easy to use, and can link them with their friends. If a tablet can do that, they'll use it."
Williams says the cloud-gaming service would have more to prove.
"Don't expect anyone to care about the cloud origins or bandwidth or UI or anything like that. What all consumers–-hardcore and casual–-want is an easy and seamless experience," said Williams.
For developers and publishers, an expanded distribution platform would seem attractive, but may pose some challenges if Gamestop wants to exert too much control over content or charge high licensing fees. The earlier incident with Onlive illustrated just such a conflict.
"Savvy developers will realize that they will have to pit Gamestop against Apple, Onlive and Gaikai to ensure there is healthy competition," said Williams.
However much success Gamestop finds with its ecosystem of hardware and services, the market for traditional, big-budget style games will likely endure. Still analysts like Williams think hardcore gamers will be more open to shorter playtimes and microtransactions.
"Casual players want connections with their friends, short sessions, and ease of access," he said, "And everyone still wants good games."
Reach reporter Shea Huffman here.
Best way to find more great content from Neon Tommy?
---
Or join our email list below to enjoy the weekly Neon Tommy News Highlights.