Arts+Culture
Halloween Time Begins At Disneyland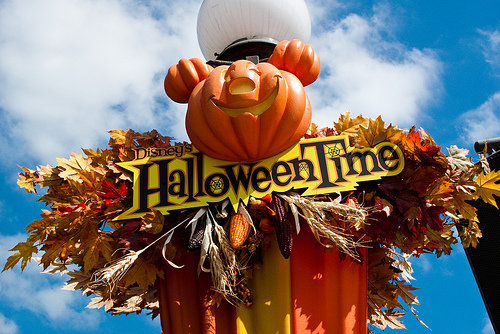 It's Halloween time at Disneyland, and to Disney aficionados it's one of the best times to head over to the park. The place is brimming with "spooktacular" decorations and once you're there, it is difficult not to join in on the festivities. Here's a rundown on what to see whether you're a Disney vet, or you're completely new to Disneyland.
THE HAUNTED MANSION
Every Halloween season, Disneyland turns the Haunted Mansion into a "Nightmare Before Christmas" masterpiece. Adorned with Tim Burton-inspired decorations, the mansion is covered with candles, pumpkins and other spooky embellishments. To top it off, the film's characters replace the ghouls in the ride! Don't miss Jack Skellington in his Santa outfit and Pumpkin Jack in the courtyard, and be sure to stop by at night when all the decorations are lit — it's the best spot in park.
CHARACTERS
Adults can't wear costumes in the park, but Mickey and friends can! Be sure to look for your favorite Disney characters — they change into their Halloween costumes during this time of the year and the outfits make for great photos! Keep an eye out for Jack and Sally in Disney's New Orleans Square, too. (Tip: The pair always comes out behind the ornament shop in the French Quarter.)
GHOST GALAXY
Space Mountain is a crowd favorite at Disneyland, and it's even better during Halloween when it turns into "Ghost Galaxy," and pitch-black ride filled with ghouls and scary music. You wont see a thing once you take off…unless the monsters attack, that is.
PETTING ZOO/PUMPKINS
For animal lovers, the park has a petting zoo across from Big Thunder Mountain. If you're a fan of pumpkin carving, there are some interesting ones on display in the same area. Carved by the pros, you can see designs inspired by "Alice in Wonderland," "Finding Nemo," "Dumbo" and, of course, "The Nightmare Before Christmas." They're impressive and are definitely worth a look.
HALLOWEEN DECORATIONS AND MERCHANDISE
Halloween décor appears throughout the park, starting right at the gates, where you can see Mickey and his crew in giant pumpkin form. The Town Square at Main Street boasts a massive Mickey Mouse jack-o-lantern that's a perfect photo-op, and the entire street is filled with pumpkins and yellow and orange streamers. The square at the end of the street (where the statues of Walt Disney and Mickey Mouse are) is filled with pumpkins that light up along with the trees, creating a beautiful display of Halloween spirit.
Disneyland also has decorations for Dia De Los Muertos in Frontierland, adding a cultural flair to the park. The area houses authentic displays and music near the Rancho del Zocalo restaurant.
Halloween time at Disneyland also brings out some fun merchandise to indulge in. There are all types of Halloween hats, apparel and trick-or-treat gear. The park also sells Halloween decorations to transform your home into a spooky sight!
FOOD
Even food gets into the Halloween spirit at Disneyland. Popcorn comes in souvenir coffins or ghost baskets, cookies are shaped like pumpkins and ghouls, and the candied apples are crafted beautifully into festive designs. The park also offers fall-flavored drinks like pumpkin lattes for those who need a pick-me-up!
MICKEY'S HALLOWEEN PARTY
Mondays, Tuesdays and Fridays at Disneyland, the park prepares for Mickey's Halloween Party. Starting around 6 p.m., children and adults alike can dress up in their Halloween costumes and party, Disney-style. The event grants early access to the park, including access its Halloween-themed attractions. Disney's biggest villains join the festivities, so dress up and take pictures during the costume party! Guests also have the chance to enjoy the Halloween Screams fireworks spectacular — an exclusive for Mickey's Halloween party attendees.
More information on party dates and ticket prices here. Halloween time at Disneyland runs until Oct. 31.
Reach staff reporter Sarah Parvini here.
Follow staff reporter Sarah Parvini on Twitter.
Best way to find more great content from Neon Tommy?
Or join our email list below to enjoy Neon Tommy News Alerts.