Style
D&G Closes Its Doors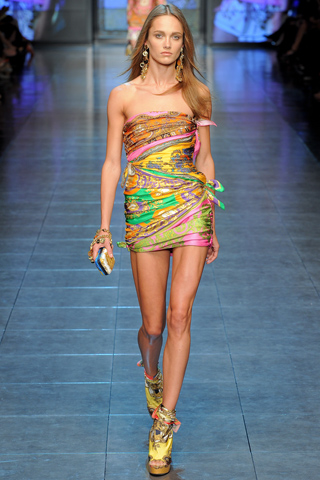 D&G is closing its doors after 17 years of offering a sportier, youthful and less expensive take of its parent brand Dolce & Gabbana.
Founders Dolce and Stefano Gabbana announced the decision after D&G's last runway show Thursday at Milan Fashion Week. The duo are interested solely in catering to luxury customers of their original label, a decision that marks their difference to the many other high-end brands that offer lower-priced lines at discount stores. They cite Chanel as a prime example of their goal image.
"We think that in order to work well, to be in the market for a long time, and to leave something after us, there must be only one brand and not two," said Gabbana to Women's Wear Daily.
D&G's last runway show offered a final collection of vividly printed foulard-inspired pieces. The summery yellow, pinks and blue scarves were wrapped into a cheery and optimistic array of skirts, dresses, tops and pants.
The D&G line of ready-to-wear apparel, fragrances, eyewear and accessories will either disappear or merge under the Dolce and Gabbana umbrella. The original label shows no sign of slowing down after its warmly received show-stopping runway display in Milan on Sunday of carnival-themed lights and finale of glittering leotards reminiscent of circus costumes.
Reach Sophie Elkus here.

Best way to find more great content from Neon Tommy?
Or join our email list below to enjoy the weekly Neon Tommy News Highlights.