Arts+Culture
Culver City Art Crawl Presents Moby and KAWS
The Culver City Art Crawl attracted a diverse crowd of art savvy patrons coming in-and-out of nearly 50 art gallery openings on La Cienega, and scanning the work of different artists along the way last night.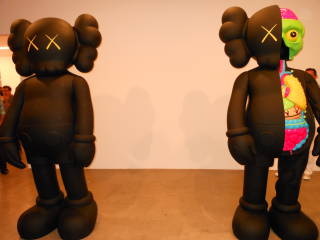 A variety of local artists were present on the streets such as Chad Robertson and his impressive mash-ups of thoughts and experiences. His new collection of paintings, Disparate Collectives, is made out of two or three different layers of images capturing a cacophony of experience as a frozen moment.
The optical illusion perceived in his pieces catches your attention very quickly and makes one wonder which journey, life event, or insight Robertson had in mind when he put the interconnectedness of events occurring together.
Taylor de Cordoba was also hosting the exhibition of a Los Angeles-based artist Kimberly Brooks, called "Thread."
Brooks is known for exploring the complexities of female identities representations around the world, and her new creations confirmed her talent. The artist questions the way we can frame beauty, and the phenomenon of fashion as both pop culture and artistic touchstone. Her paintings explored the topic revealing different looks, postures, and attitudes that differentiate women from distinct cultures and eras.
The various gallery openings in Culver City did not only showcase great local talent, but it is also stepping out of the West Coast, surprising artists from New York, which drew the masses at opposite ends of La Cienega. People along the sidewalk were whispering about Moby and KAWS' exhibitions.
Despite his popularity for his electronic music since the 1980's, Moby has felt lonely at times facing thousands of unfamiliar faces while he performs solo on stage. He has always liked to take pictures and developed great photography skills throughout the years. Moby took many pictures of his dancing crowds at different venues. Finally, when his new album "Destroyed" came out in February, a couple months later he put out a book of photographs carrying the same name. Kopeikin Gallery exhibits never-before-seen images of Moby's passionate fans that were captured in the last six months.
Also from New York, KAWS tries to manifest emotions through animated characters that he calls "Emotives". The flawless and toy-like surface of the characters presents a dystopian commentary on the contemporary city life. KAWS' distinctive "X X" portrays his animations as being either intoxicated or poisoned.
Interestingly, all of his pieces exhibited raw emotion, but when asked about this domineering aspect of his images, he responded rather mildly. All in all, his art created an intense presence, while the dark and lingering sculpture summed up his purpose of shedding light on today's urban life.
Even though the famous Venice Art Walk has exceeded Culver City's by many years, in quality Culver City exhibited a strong and original repertoire surpassing Venice's monthly Art Walk.
Reach Rebecca here.
Best way to find more great content from Neon Tommy?
---
Or join our email list below to enjoy the weekly Neon Tommy News Highlights.