Sports
College Football Week 5: Five Games To Watch
Time to get into the nitty gritty of conference play. Or for Texas A&M-Arkansas, future conference play. Four matchups between Top 20 teams will generate plenty of buzz, as will the first Pac-12 game in Salt Lake City.
(All picks without scores are straight up. Lines merely for informational purposes.)
Washington (+7.5) at Utah
Scott Enyeart: Washington - What a great Pac-12 game! Winner gets ranked! Both teams are 3-1. Utah is coming off a bye, which helps, and they are also at home. The Huskies have a strong running game, and one of the surprises of the college football season in the Pac-12 in QB Keith Price. Huskies get it done on the road.
Alix Fitch: Utah - Without star quarterback Jake Locker, Washington's season has become one of transition. They have come up with too many close wins against teams that they would easily push over in years past. Utah on the other hand has the drive and mindset of wanting to prove that they can be a solid member of the Pac-12, granting them the edge and the eventual win.
Andrew Parrone: Utah 24, Washington 21 – A tough call on this one, but Rice-Eccles Stadium will be rocking for Utah's first Pac-12 home contest. Emotion will carry the Utes through the first half, and Jordan Wynn's composure will get them across the finish line. Utah will be the first team to slow down Keith Price, who is making everybody forget about that Locker guy extremely quickly. The battle between running backs Chris Polk (Washington) and John White IV (Utah) is almost as good as it gets in the conference.
Omar Shamout: Utah 35, Washington 30 - Were it not for a late blocked field goal, the Utes may have taken USC to overtime, and might even be undefeated right now. Utah RB John White IV proved he can move the sticks in the Coliseum, and Washington's defense won't be able to stop him. The Huskies can score too though, so they keep it close in the first Pac-12 game at Rice-Eccles stadium.
No. 13 Clemson (-7) at No. 11 Virginia Tech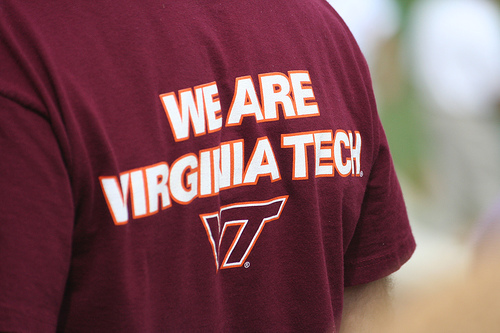 Scott Enyeart: Virginia Tech - This Tigers squad is growing on me. Dabo Swinney is building something special at Clemson. But VT is still VT, and going into Blacksburg is no easy task. The Hokies get the nod at home.
Alix Fitch: Clemson - Frank Beamer and his Virginia Tech team are in for quite a match-up against the Clemson Tigers. Virginia Tech has one of the top defenses in the country while Clemson has managed to score at least 35 points against each of their last four opponents. Both programs are undefeated but this will prove to be a test for each squad and how they will manage to go about the rest of their seasons.
Andrew Parrone: Clemson 31, Virginia Tech 27 – My brain is yelling, "No, not Clemson! Don't let them fool you again." But this team seems different than the Clemson teams of the past that would choke this game away. Va Tech is always tough in Blacksburg, but the offense isn't playing well enough to keep up with the Tigers. Clemson freshman receiver Sammy Watkins is an absolute beast.
Omar Shamout: Clemson 28 - Virginia Tech 21 - Clemson proved me wrong last week, so who am I to bet against them twice? Virginia Tech may be ranked 6th in scoring defense, but that's deceptive because they haven't played anyone from a BCS conference yet. I think Tajh Boyd and the Tigers have enough firepower to overcome the Hokies on the road.
No. 3 Alabama (-3.5) at No. 12 Florida
Scott Enyeart: Alabama - This game won't even be close. The 'Bama defense is too good, and Trent Richardson will carry the offense on his back. Tide by 10, at least.

Alix Fitch: Alabama - While both teams stand undefeated, the Crimson Tide has managed to come out with an immensely strong running game and particularly strong defense that should be interesting to see what they do against a run-first offense under Florida's new coordinator, Charlie Weis. Alabama will manage to bring home a win against Florida's rebuilding program.

Andrew Parrone: Alabama 27, Florida 14 – Alabama's defense has been a brick wall so far. But can a brick wall stop a couple supersonic bullets (Jeff Demps and Chris Rainey)? I say yes, because the Gators' passing game isn't that scary, and Nick Saban's D thrives when it only has to focus on stopping one half of the offense. RB Trent Richardson will rough up the talented but young Florida defense. Plus, it just seems right to pick against Charlie Weis whenever possible.

Omar Shamout: Alabama 28 - Florida 17 - The Gators' passing game won't be good enough to make up for 'Bama's stingy run defense, and Trent Richardson will lead the charge. The Swamp will run red with a Crimson Tide this Saturday.

No. 8 Nebraska (+9) at No. 7 Wisconsin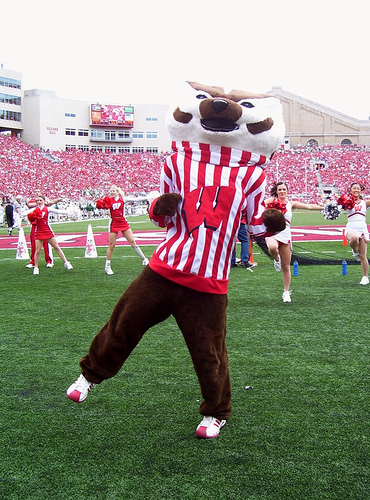 Scott Enyeart: Wisconsin - As many as 30,000 Nebraska fans are expected to invade Camp Randall for this matchup. However, that won't do much for the Huskers D, who will have their hands full with Wisconsin QB Russ Wilson. Wilson becomes the Heisman frontrunner and leads the Badgers to a win.
Alix Fitch: Wisconsin - This will be a big conference game and definitely the one to watch this weekend. Not only will they have the benefit of playing at home, but the Wisconsin Badgers have the stronger offense in the back field that will manage to run down the Nebraska Cornhuskers late into the second half. Two very strong programs with equally matched quarterbacks should lead to a promising thriller to this conference match-up.
Andrew Parrone: Wisconsin 28, Nebraska 27 – Wisconsin has been absolutely dominant so far, while the Blackshirt defense hasn't really lived up to the reputation yet. The Badgers edge the Huskers because Russell Wilson has been more effective than counterpart T-Magic at QB, and because the game is in Madison. But I have a feeling we're going to be seeing this again in two months anyway.
Omar Shamout: Wisconsin 32, Nebraska 19 - Wisconsin already has two backs with over 300 yards, but seeing a dominant running game is nothing new in Madison. The difference this year is they have a quarterback in Russell Wilson who can light it up through the air. There's nowhere to hide for the Huskers' defense this weekend. The Badgers will be on the loose.
No. 14 Texas A&M (-3) vs. No. 18 Arkansas (At Cowboys Stadium)
Scott Enyeart: Texas A&M - Aggies bounce back after the tough loss to Oklahoma State. The game is at "Jerry World", so though it's not a home game, Texas A&M should have plenty of fan support.

Alix Fitch: Texas A&M - A matchup between two teams that will possibly play in the same conference this time next year is one that should be looked at as a battle of offenses. Both teams have powerful offenses, which will make it tough to come by a win. With both teams coming off of tough losses last week, this win will play a crucial role in who will have a better chance at BCS bid. "Home field" in Arlington will be the factor that will lead Texas A&M with the win.

Andrew Parrone: Texas A&M 38, Arkansas 35 – Wow, what a great SEC West matchup! Whoops, getting ahead of myself there. In a battle of future conference rivals, the Aggies bounce back from last week's second-half meltdown to win a close one over the Hogs. Ryan Tannehill and Tyler Wilson will keep you entertained either way. And it might be the best collection of college receivers on one field until the NFL Combine.

Omar Shamout: Texas A&M 30, Arkansas 29 - This game's a toss-up, so I'll go with the Aggies to win with the same score they lost by last week.

--------------------------

Follow Neon Tommy Sports on Twitter.

Best way to find more great content from Neon Tommy?

Or join our email list below to enjoy the weekly Neon Tommy News Highlights.