National
Can Chris Christie Say No Just Once More?
As of Friday afternoon, Republican New Jersey Gov. Chris Christie is now reconsidering his decision to run for President in 2012, according to the Associated Press.
But his decision will have to be made quickly as the deadline for getting his name on the primary state ballots is down to a few weeks.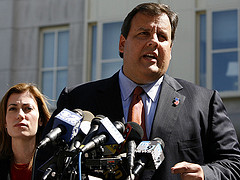 According to AP, when asked about his decision in the past, Chris Christie made it clear why he would not run.
He said...he wasn't ready, because his wife wouldn't let him and because "I'm not crazy, that's why." A more famous reply came about a year ago when he said that "short of suicide" he wasn't sure what he could say to convince people that he's not running.
Yet despite his past statements, pressure to get in the race has begun to increase, especially since he may be a hopeful candidate:
"President Barack Obama's weak approval ratings and a Republican field that has been struggling to put forward a clear front-runner are also creating an opening for Christie," said AP.
Bloomberg has compiled all the different ways a governor can say "No."
Here are a few. Let's see if Christie will re-word any of these in his next reply.
Sept. 27, speaking at the Ronald Reagan Presidential Library in Simi Valley, California: "I've been succinct about this. Politico put a minute and 53 seconds of my answers strung back to back to back to back together on the question of running for the presidency. Click on it. Those are the answers."

June 26, on NBC-TV's "Meet the Press: "The person who picked me as vice president would have to be sedated. Seriously, forget it."
June 23, on Fox News's "Your World With Neil Cavuto:"I don't have the desire to do it. Nor do I think I'm ready."

June 15, on CNN's "Piers Morgan Tonight:" "I'm 100 percent certain I'm not going to run."




Best way to find more great content from Neon Tommy?

---

Or join our email list below to enjoy the weekly Neon Tommy News Highlights.