Entertainment News
Beyonce Shows Off Baby Body On Vacation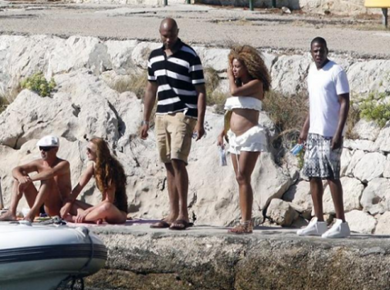 Weeks after announcing her pregnancy to the world at the 2011 MTV Video Music Awards, Beyonce showed off her new baby bump while in Europe with husband JayZ.
After spending the weekend in Italy for the Venice Film Festival, the couple romantically dined Sunday night in celebration of Beyonce's 30th birthday. The "Love On Top" singer was proudly flaunting her growing belly in Hvar, Croatia on Tuesday. As the couple had a relaxing day at the beach, the Grammy winner sported a layered white-two piece bikini.
Jay-Z looked happier than ever side by side with his expecting wife, and a friend told US Magazine that "He's wanted this so badly." Beyonce seems to be enjoying her time off and relaxing while pregnant.
Beyonce is due in early 2012.
Reach writer Jordan here
Best way to find more great content from Neon Tommy?
Or join our email list below to enjoy the weekly Neon Tommy News Highlights.