Sports
Behind Enemy Lines-Q & A With Arizona State Writers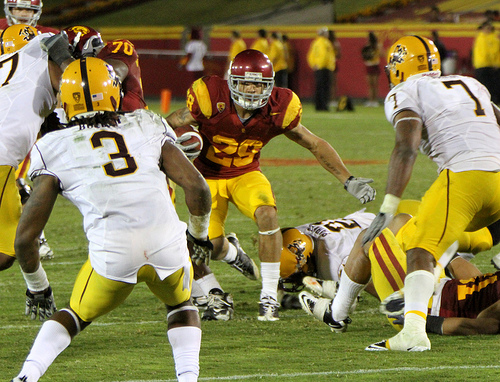 USC will face the Arizona State Sun Devils in Tempe, Arizona following three consecutive weeks of home cooking for the Trojans.
After a couple of narrow victories, the Trojans were finally able to assert their dominance against the Syracuse Orange last week, defeating them 38-17.
Arizona State, on the other hand, comes into Saturday's Pac-12 home-opener following a bitter loss. Last week's three-point loss to the Fighting Illini knocked the Sun Devils out of the Top 25 and reminded ASU of their inability to win close games last year.
To find out what we can expect from the Devils, let's talk to the guys who know Arizona State football the best.
Doug Haller and Brad Denny have graciously agreed to join me for a preview Q&A.
Doug Haller covers Arizona State and Pac-12 basketball and football for the Arizona Republic. Brad Denny is an ASU football columnist for SB Nation, as well as co-host of the Speak of the Devils Podcast.
1. The Sun Devils have played two extremely close games in the last couple weeks, beating Missouri in overtime and losing last week to the Fighting Illini, by three points. What do those two games tell us about this team?
DH: It tells us they still haven't conquered all of last season's demons. Last year, ASU lost four games by nine points. The Sun Devils lost by one at Wisconsin, by four against Stanford, by one at USC. It was a theme. They made just enough mistakes to lose, and that seems to be the case so far this season. Yes, they managed to defeat Missouri in overtime -- their first win against a ranked opponent in 10 tries -- but Missouri missed a field goal that would've won the game in the final seconds. Last week against Illinois, ASU wasn't as lucky.
BD: It reaffirms two truths that were on display throughout last season and have become the predominant storyline now in 2011.
First, the Sun Devils have the talent to play with, and beat, anyone in the nation. Whether it was Oregon, Stanford, USC or Wisconsin, ASU played each opponent well enough to where they should have won those games.
Which brings us to the second point—ASU is one of the least disciplined and most self-destructive teams in the country. The bottom line is that more often than not, ASU's biggest opponent isn't lined up across from them, but in their own heads.
2. Over the last six months, this team has incurred a number of injuries. In spite of that, how have the Sun Devils been able to recover so well?
BD: The most glaring loss was cornerback Omar Bolden, a unanimous first team All-Pac 10 selection a year ago. He passed up the NFL draft in order to return for his senior year, but tore his ACL in April. Thus far, ASU's starting cornerbacks—Deveron Carr and Osahon Irabor—have struggled, both in coverage and in run support. Likely nickelback Devan Spann, who had a strong fall camp, was then lost for the year with a shoulder injury, and his replacement, converted safety Alden Darby, has also been victimized by opposing quarterbacks.
Starting linebacker Brandon Magee was lost for the year, and even with the presence of Bolden and [Vontaze] Burfict, it was Magee who defensive coordinator Craig Bray called the most important player on the defense a season ago. However, Colin Parker has stepped in and played very well, leading the team with 24 tackles.
Starting wide receiver T.J. Simpson tore his ACL just two days prior to Bolden this spring, but senior wide receiver Aaron Pflugrad has stepped up tremendously to lead the team in all receiving categories.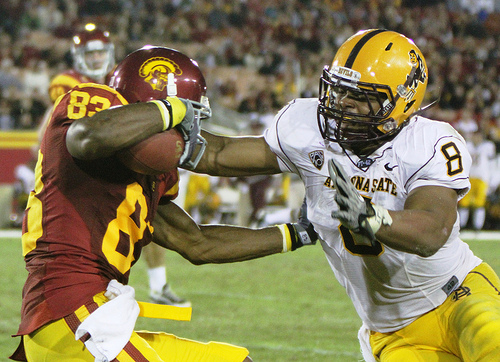 3. Arizona State was penalized 91 and 114 yards in their second and third games, respectively. How important will limiting penalties be for the Sun Devils in their Pac-12 opener, Saturday?
DH: It's always important, but unfortunately, it's just who Arizona State is. Dennis Erickson has a reputation for letting his teams play, which is fine when you're winning 42-13, but in close games attention to detail is pretty important. Last season, the Sun Devils led the Pac-10 in penalty yards, and they're on their way to duplicating that this season.
4. ASU's loss to Illinois has taken the Sun Devils out of the Top 25 after the team appeared in the rankings for the first time in three years. How, if at all, has the loss (and the way the team lost) affected team morale going into the USC game?
DH: They were disappointed. ASU has BCS Bowl hopes for this season, and they lost to a team they probably should've beaten (Illinois didn't even gain 100 yards in the second half). Making matters worse, since spring practice ASU has lost three of its top four defensive players: defensive end Junior Onyeali (knee), cornerback Omar Bolden (knee), and linebacker Brandon Magee (Achilles). Hard to bounce back from that.
5. With the exception of Arizona State's home opener against UC Davis (FCS), it faces three challenging opponents in games two through four. How important is this early test in preparing the Sun Devils for the rest of their Pac-12 schedule?
BD: Any team that schedules opponents the quality of Missouri (No. 19 at the time) and Illinois during their non-conference schedule deserves a lot of credit.
By scheduling these quality teams during the season's first month, head coach Dennis Erickson is banking on the fact that this team will finally learn the consistency in level of play they so desperately need to make a run at the Pac-12 title.
The Sun Devils' schedule over the last five weeks is decidedly in their favor, yet a span in which they can afford no letdowns. Hopefully, these early season tests can prepare them for that.
6. What's your assessment of junior quarterback Brock Osweiler in his first year as the full-time starter? What are his strengths? His weaknesses?
BD: With only two prior starts under his belt, Brock Osweiler was one of the major question marks heading into 2011, but thus far he's resoundingly answered many of them.
As any national network points out ad nauseum, Osweiler is 6'8", which gives him great downfield vision. He compliments that with a cannon of an arm and has shown the ability to rifle throws on the intermediate and deep routes. He's also very athletic (he was offered a basketball scholarship from Gonzaga) and is an effective scrambler. Osweiler also has an uncanny ability to feel the oncoming pressure very well, in a way that is reminiscent of Ben Roethlisberger. He has also become a tremendous leader, a quality that helped spearhead the Missouri win.
His accuracy has been mostly good thus far, but he can get into ruts where he puts too much air under the ball. In another similarity to Roethlisberger, he can hold onto the ball far too long in the hopes of making a play. A few of the six sacks he suffered last week were a result of this.
7. In the second game of the year, Missouri quarterback James Franklin had a big day through the air against the Sun Devils. What's your assessment of the Sun Devil secondary as it prepares to face the potent passing attack of the Trojans?
DH: You know, it's better than I thought it was going to be. When ASU lost Bolden in the spring, I had the secondary circled as a concern. But cornerbacks Deveron Carr and Osahon Irabor have played reasonably well, and the safeties have done OK. Their problem is depth. Because of injuries (reserve cornerback Devan Spann and reserve safety Ezekiel Bishop have also suffered season-ending injuries), they have none. One more injury and this whole thing collapses.
8. With Trojans' receiver Robert Woods drawing a lot of attention from opposing defenses, quarterback Matt Barkley has started to utilize other targets. For instance, Barkley spread five touchdowns around to five different receivers against Syracuse last Saturday. How do the Sun Devils plan on stopping the Trojan passing attack?
BD: With their depleted and struggling secondary, their best hope is to generate a consistent pass rush. Unfortunately, in the wake of the Onyeali injury, "depleted" and "struggling" also apply to the pass rushers.
Defensive ends Jamarr Jarrett and Onyeali's replacement Davon Coleman will have a lot of pressure on them to disrupt Barkley. Defensive coordinator Craig Bray knows his secondary can't match up very well with the receiving talent of the Trojans so you will likely see the linebackers used more in a pass rushing capacity.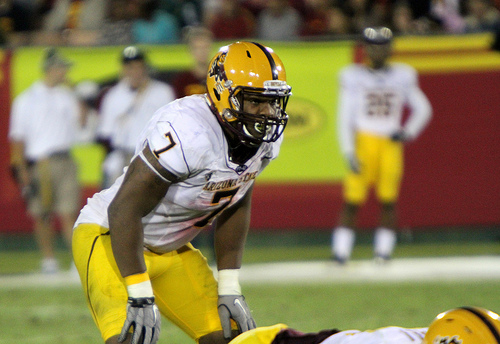 9. When asked about Arizona State junior linebacker Vontaze Burfict, Trojan head coach Lane Kiffin said, "They really don't make too many 245-pound guys that can run like him. That's why he should definitely leave this year…go to the NFL. I'm sure he'll be taken in the Top 10, so he'll be crazy to stay." What have you seen from Burfict in the early going? What's impressed you? Have you detected any weaknesses?
DH: Vontaze entered this season a little overrated. Several publications listed him as a preseason All-American and as a candidate for national defensive player of the year. Even ASU's defensive coordinator called much of the publicity "hype." But Vontaze is coming around. After not playing well against Missouri, he had nine tackles at Illinois, earning Dennis Erickson's praise. I think Vontaze is in his own head a little. He got so much off-season attention for his personal fouls and on-field behavior that he's backed off a little. He's physically gifted, no question about it. But he has yet to really dominate a game the way an All-American linebacker should.
BD: Vontaze Burfict is the highest-ranked recruit in Sun Devil history and through his time here has shown flashes of the brilliance of which he is capable.
He has certainly shown the sideline-to-sideline range and hard-hitting ability that have drawn so many comparisons to Ray Lewis. He already has four sacks, which is double what he had over his first two seasons combined. That pass rushing ability was something of a surprise, as ASU's linebackers do not often participate in rushing the quarterback.
However, the primary criticism of Burfict over his career has remained in 2011—he lacks discipline and self-control. A quick search on YouTube will revealing plenty of clips of bafflingly stupid personal foul penalties, and it's an area that continues to be a major concern. For every two tremendous plays he makes, he seems to give one back with a penalty or being caught out of position due to over-aggressive pursuit.
10. Senior wide receiver Aaron Pflugrad has already doubled his touchdown output from last season and is close to eclipsing last year's total yards in just three games thus far. In addition to benefiting from increased playing time, talk a little about how Pflugrad has perfected his game?
DH: I think Aaron kind of gets tired of the media, because he's always portrayed as the typical white receiver: good hands, runs good routes, etc. Truth is, the guy just makes plays. He's faster than he's given credit for and he always seems to find a way to get open. On 3rd-and-whatever, it's a good bet Osweiler is going to him.
11. Junior running back Cameron Marshall has struggled at times, though he did play fairly well last week. What's your assessment of the 2011-version of Cameron Marshall?
BD: Cameron Marshall may be one of the best kept secrets in all of college football, a fact that is coming to light as he was named to the 2011 Doak Walker Award watch list, an honor given each year to the nation's best running back.
Marshall is an NFL-quality player. He's a compact and powerful runner at 5'11", 215-pounds that is able to run between the tackles and gain the tough yards. Where he surprises everyone is with his speed. He is a former track athlete, who has been timed in the 4.3s in the 40-yard dash, and he's broken off quite a number of big plays. USC's Torin Harris should remember vividly just how athletic Marshall is.
Thus far, he's tallied only 153 yards rushing, but those numbers are far more the product of an offensive line that has struggled mightily in generating leverage in their run blocking. Against Missouri, the offensive line was manhandled and Marshall was often hit before he got to the line.
12. What are the keys to the game for Arizona State if they are to win their Pac-12 opener against USC?
DH: Take advantage of their scoring opportunities. ASU moved the ball into Illinois territory nine times last week, but scored just two touchdowns. Not going to win many games doing that.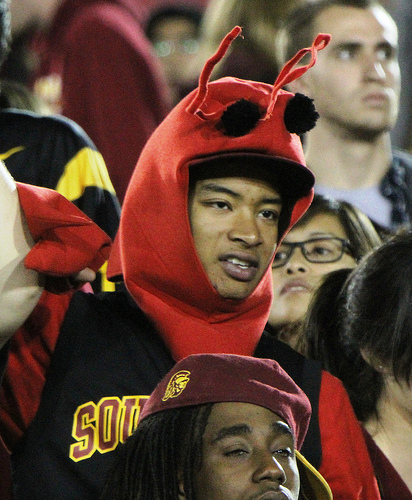 BD: First and foremost, the Devils must play smart, something they really haven't done with any consistency since 2007. They can't continue to commit nine and 10 penalties per game and hope to compete against teams as talented as USC.
They must also get to Matt Barkley. ASU's chief weakness resides in its secondary and unless the front seven can get to Barkley and make him uncomfortable, it could be a big game for Robert Woods and a long night for the Sun Devils.
Conversely, they need to protect Brock Osweiler. After only getting sacked once in the first two games, he went down six times against Illinois, which was the key aspect in the Devils' loss. It was a fumble off of a sack that led to the Illini's winning touchdown and the constant pressure that prevented a comeback.
13. What's your prediction for Saturday's contest?
DH: To this point, the Sun Devils have been pretty resilient with all their injuries. But losing Onyeali is big, and at some point you have to wonder just how much that defense can take. I think it will be close --ASU might even lead early -- but I expect USC to leave Tempe with a nice road win. USC 28, ASU 24
BD: This very well could be a make-or-break game for the Sun Devils. Having not beaten the Trojans since 1999, they must rebound from a disheartening loss and start off their conference schedule with a win over their longtime nemesis.
A win, and ASU may just need to worry about getting past Utah for the division crown. A loss, and this season could unravel quickly in Tempe.
With a raucous crowd in support and Osweiler at the helm, I think the Sun Devils very narrowly pull this one out 31-30.
___________________________
Reach Aaron by email, or follow him on Twitter.
Best way to find more great content from Neon Tommy?
Or join our email list below to enjoy the weekly Neon Tommy News Highlights.