Sports
American Soccer Is Growing As Outlaws Cheer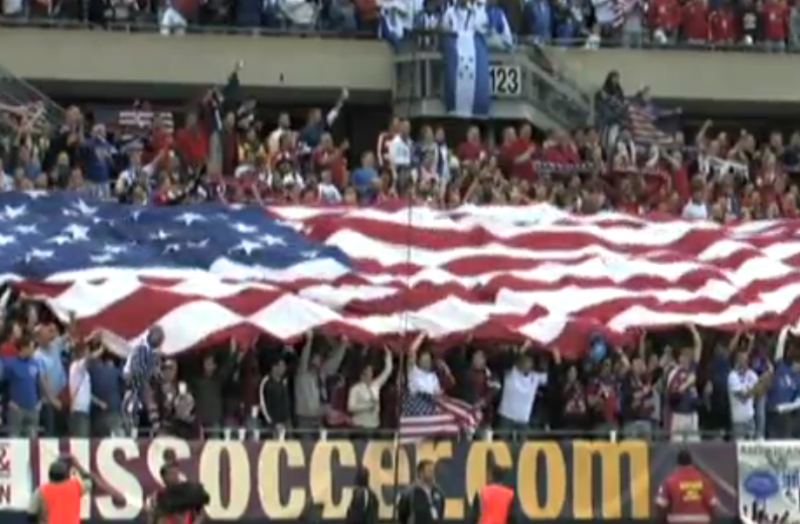 The rise and fall with soccer matches is unparalleled, particularly national team matches. The thrill as a goal goes in for your country is the highest of highs, but when your side concedes one, it's a swift, hard fall from grace.
A hardcore Yankees fan will hate all things Boston and vice versa. But when Bostonians and New Yorkers know their country is at war on the pitch, the two share a connection of national camaraderie.
Look what happened in the summer of 2010. On the brink of elimination and a second consecutive disappointing World Cup exit, the United States produced one of the tournament's most dramatic endings, as Landon Donovan scored in the 91st minute against Algeria en route to an America victory. It was the first time in U.S. Soccer history that the team finished atop their World Cup group. The country and the world went crazy. People who didn't know a lick about the beautiful game were able to rejoice with veteran fans as their country triumphed.
Enter The American Outlaws. Though they are not the first American supporters' group, the Outlaws are this generation's fast-growing fan organization.
Since their founding in 2007, the Outlaws have established 66 chapters across the nation, with 4,500 paying members and a reach of approximately 13,000 people. American Outlaws president and co-founder Korey Donahoo and regional chapter chairman Brian Hexsel are shocked at the group's rapid growth.
"It's grown a lot faster than any of us expected it to," said Donahoo. "It speaks to the growth of the sport in this country. I often say that soccer is only getting bigger; there's no way it's getting smaller."
"Considering it starting in Korey's basement four years ago, yeah," Hexsel, the 25-year-old from Newport Beach, Calif., quipped.
The support for U.S. soccer is dwarfed by the NFL juggernaut, amongst other sports. But it has come a long way in the last 21 years, dating back to when U.S. Soccer made the 1990 World Cup – its first appearance in 50 years.
"As I understand it, there really weren't a lot of hardcore U.S. Soccer fans back then," said Sports Illustrated senior soccer writer Grant Wahl. "Sam's Army was the first real fan group that everyone knew about. That started to happen in the mid- to late-1990's."
Wahl, who has worked for Sports Illustrated since 1996, is surprised at what the Outlaws have accomplished in just four years.
"We've seen these fan groups grow around the U.S. team in recent years, and The American Outlaws have kind of taken it to the next level as far as numbers and organization," Wahl said. "I know Sam's Army still exists, but it doesn't have nearly the numbers that American Outlaws does."
Donahoo, a 29-year-old civil engineer from Lincoln, Neb., founded The American Outlaws with long-time friend and Vice President Justin Brunken after attending some U.S. national team matches and noticing inconsistencies in how events were run.
"We went to some games where the parties beforehand were really big and well-organized, and we went to other games where there was nothing for people traveling from out of the state," Donahoo said. "We just thought there was a lot of room for improvement and a lot of people coming from all around who wanted somewhere to hang out and meet people."
"They're very good at organizing events around every single game, and not just the high profile friendlies and your World Cup qualifiers," Wahl said.
And that's something the Outlaws take pride in: consistency. For every U.S. home game since their inception, the Outlaws have held some sort of gathering for members to mingle and network, something that was never regular before they showed up.
Dissimilar to the "Big Four" sports in the U.S. – American football, basketball, baseball and hockey – soccer fans around the globe develop supporters' groups to unite a fan base for a club or a national team.
"Soccer is a sport that is different than other sports around the world in the sense that there really is this supporters' culture that's developed around teams, and it's a harder core of fans," Wahl explained. "They travel to watch their teams play; they are very well organized; they take up a certain part of the stadium; and you don't really see that to that degree in more traditional U.S. sports."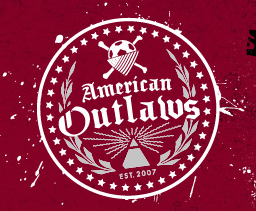 Particularly since soccer is not the primary sport in the United States, the few supporters must rally and stick together.
"We're trying to unite and strengthen the U.S. fan base, because there are not that many of us out there," Donahoo said. "We're trying to get everyone on the same page and make everyone get under the same roof and thinking the same."
One key thing the group has been able to do is wrangle social media for self-promotion. The group is very active on Facebook, Twitter and their website. During a rainy 2008 World Cup qualifier against Mexico in Columbus, Ohio, myriad U.S. supporters made the trip to the Outlaws' tailgate – without one cent spent on advertising.
The term "outlaw" instinctually develops an image of anarchist rebels without a sense of right and wrong. But Donahoo made clear that the Outlaws do not stand for hooliganism – unruly behavior most commonly associated with rowdy sports fans – or discrimination.
The Outlaws developed a code of conduct for its members to follow. The word "outlaw" only survives in a jovial spirit, not violent actions or denigrating words.
Despite misperceptions about the name, the Outlaws have grown well, including five chapters in Southern California. Orange County chapter president Jeff Sixer believes the supporters' viewing experience is unique and the group is extremely tight-knit.
"A part of going to the game day experience is hanging out with those people you don't see all the time," the 32-year-old Sixer said. "You either salivate the win or take the loss together, but you have that person to share that experience with, and you both know that you're there loving it the same way. A lot of people don't understand how involved we get."
"The big thing about The American Outlaws, if you look past calling it a supporters' group, it's more like a family," Hexsel added. "When you go the games, you see your closest friends that you only see a couple times a year or you travel to see them. You're brothers and sisters; you always have a place to go."
Since they are a national team supporters' group and not a club one, the chapters accept people of all club affiliations, even heated rivals in Los Angeles.
"There's a huge demographic of Chivas USA fans. We're pretty much the only chapter to welcome fans of two different club teams – and the two club teams don't really like each other," Los Angeles co-chapter head John Santos said of having Chivas and Galaxy fans under the same banner. "What's the point of supporting the national team if we're fighting amongst ourselves? We're welcoming to everybody."
Besides stating to be respectful to opposing supporters, the Outlaws' code of conduct pushes for each member to be seen as an equal, whether one has been to 100 matches or none. Who knew outlaws could be this welcoming?
The organization has grown quickly in a short period, but there is an arduous uphill climb remaining.
"I think it's something where if they can get new fans excited about this culture of fandom around American soccer, it combines a lot of cool things," Wahl said. "It combines patriotism and a cool sporting experience.
"The more people that can get involved and can make the next step from maybe casual fan into hardcore U.S. supporter that travels to US games around the country, that's great for the sport," Wahl added. "I think the next five, 10, 15 years, it's only going to continue to grow, and it's good for the sport in general. I can't wait to see what it ends up being."
The long road ahead doesn't scare Donahoo.
"I definitely am [excited for the future]," he asserted. "Sometimes we're tearing our hair out keeping up with all the things we promised, and all the things we want to do.
"But I don't think it's going anywhere but up, and that's a good thing."
______________________
Reach Will by email, or follow him on Twitter.
Best way to find more great content from Neon Tommy?
Or join our email list below to enjoy the weekly Neon Tommy News Highlights.