Entertainment News
2011 Emmy Awards Nominations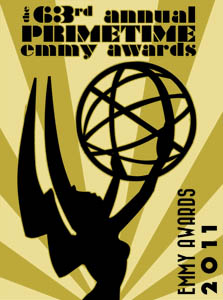 The nominations are in! Live on Thursday July 14 from North Hollywood,
Melissa McCarthy (Mike & Molly) and Joshua Jackson (Fringe) announced
the nominees for the 63rd Prime Time Emmy Awards, where a few old and new faces could be seen.
For the fourth consecutive time, "Mad Men" has been nominated for Outstanding Drama Series, winning it the last three years. Competing against the strong returner are "Friday Night Lights" and "Boardwalk Empire," making it both their first nominations for one of the big awards of the night.
"Parks and Recreation" and "The Big Bang Theory's" also get their first nominations for Outstanding Comedy Series. This category also has a list of returners, such as "Glee," "The Office," "30 Rock" and last year's winner, "Modern Family."
Newcomer, "Game of Thrones," may just have debuted earlier this year, but it is nominated for a whopping thirteen categories, including Outstanding Drama Series.
After winning her fourth Emmy last year, Edie Falco is nominated again for Outstanding Actress in a Comedy for "Nurse Jackie." She will be running alongside newcomers, Melissa McCarthy of "Mike and Molly" and Laura Linney of Showtime's "The Big C," to win the Emmy.
Outstanding Actress in a Drama also has newcomers like Kathy Bates of "Harry's Law," Mireille Enos of "The Killing" and Elizabeth Moss of "Mad Men," but Betty White of "Hot in Cleveland" is the only new nominee for Outstanding Supporting Actress in a Comedy.
"The Big Bang Theory" has two nominations this year for Outstanding Actor in a Comedy, including last year's winner, Jim Parsons, and "Modern Family" has four for Outstanding Supporting Actor in a Comedy.
Nominated 19 times, "Mad Men," is the most nominated series and CBS led all the networks with 50 nominations.
Tune in September 18th on FOX to watch who takes home these awards.
Reach writer Alisa
For a complete look at Neon Tommy's coverage of the Emmy Awards, click here
Best way to find more great content from Neon Tommy?
---
Or join our email list below to enjoy the weekly Neon Tommy News Highlights.