32 Syrian Protestors Killed- UN Says "Enough Is Enough"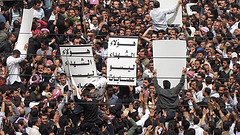 At least 32 people were killed Friday in a protest against President Bashar al-Assad outside the Syrian capital of Damascus, in neighboring suburbs, and near the Turkey border, according to Bloomberg BusinessWeek.
The protests, demanding that President Bashar al-Assad step down from his dictatorship, have continued since March of this year. Since then, the United Nations reported that more than 2,600 people have died from the uprisings.
"They [the Syrian protestors] have faith and believe that, if the protests stop, there will be revenge and killings that no one will survive from...That is why people are insisting to continue until the end," Iyad Sharbaji, an activist in Damascus, told the New York Times.
UN officials continue to urge Assad to step down and are appealing to other leaders of the Arab League to convince him.
"Enough is enough," said United Nations Secretary-General Ban Ki-moon today after hearing the latest protestor deaths.
Best way to find more great content from Neon Tommy?
---
Or join our email list below to enjoy the weekly Neon Tommy News Highlights.