Sports
USC Football Fall Notebook-Marc Tyler Returns To The Field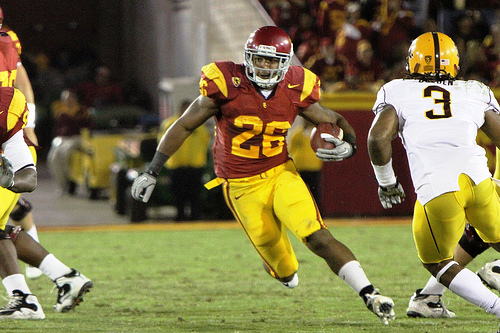 Surprises are hard to come by in fall camp, so Marc Tyler's appearance at Wednesday's practice caused quite a stir.
The senior running back suited up with pads and ran a few drills with the service team, but didn't participate in the full practice.
"It's the next step in the process of Marc hopefully coming back," head coach Lane Kiffin said. "He's not cleared for the second game…this is still all up to Marc, this will change nothing regarding his playing status."
Assuming Tyler stays on his best behavior, Kiffin said, he will be at practice each day going forward.
Another Trojan running back, freshman Amir Carlisle, addressed the media for the first time Wednesday. Carlisle, who's been a favorite target of the defensive units in practice, is listed at 180 lbs. but said he's currently at 183 and hoping to get up to 185.
"I may not be 200 plus [lbs.] but I'm gonna go out and give it my all each and every play," he said. "I really pride myself on toughness, so if I get hit hard, I'm gonna get right back up."
WOODS PRAISES FORMER TEAMMATES: In a young receiving corps, freshmen and Junipero Serra High School teammates Marquise Lee and George Farmer have a chance to make an immediate impact. Serra alum Robert Woods said he thinks they're doing well. "They've both been performing pretty well, making plays, " the second-year WR said. "I had expectations for them and they're meeting them, so that's pretty good."
PREPPING FOR MINNESOTA: Injuries are affecting position battles for opening day against the Minnesota Golden Gophers, Kiffin said. "I wish we had it a little bit more nailed, " Kiffin said. "We pulled some guys into different spots today to help us out." Freshman WR Farmer, for one, took some snaps at quarterback for the service team.
INJURY REPORT: Freshman FB Charles Burks will have knee surgery Thursday and be out for the year. DE Zack Kusnir, DT J.R. Tavai, S Marshall Jones, TE Christian Thomas, WR De'Von Flournoy, CB Brian Baucham, CB Taylor Ashton, and TO Jeremy Galten did not practice. OLB Dion Bailey, LB Chris Galippo, and RB Curtis McNeal were all listed as limited.
USC ISSUES STATEMENTS: It was a busy day for the Sports Information Office.
The university released a statements from Kiffin and Athletic Director Pat Haden on the NCAA's ruling that Tennessee committed no major violations while he was head coach of the football program.
Kiffin's statement is partially reprinted below:
"I'm pleased that the NCAA based its decision on the facts and not on perception. I'm also very grateful that the Tennessee football program was cleared of any wrongdoing.
"As I have said before, we always have been committed to following NCAA rules and bylaws both at Tennessee and now at USC, and we always will be. Now that this has reached its conclusion, I am looking forward to continuing to prepare our team for the upcoming season."
Additionally, USC released a statement from university president Max Nikias declaring that the school will not seek a further appeal of the NCAA sanctions against the football program.
_________________________
Reach Kate by email, or follow her on Twitter.
Videos courtesy of staff reporter Scott Enyeart. Reach Scott by email, or follow him on Twitter.