International
Syria Sanctioned: Will New Bans Pressure Assad To Quit?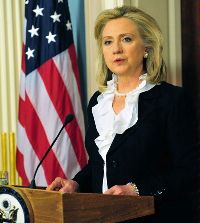 President Barack Obama imposed a new set of sanctions on Syria on Thursday as he and European leaders demanded clearly for the first time that President Bashar al-Assad step down as the head of the Middle Eastern nation.
The sanctions ban Americans from making new investments in Syria, exporting services to the country and importing oil and petroleum from Syria. The White House in a press release called the measures "the strongest financial action we have taken against the Syrian regime thus far."
But the White House also acknowledged that they've placed previous restrictions on Syria, including freezing American bank accounts, suspending American licenses for aircrafts and restricting the travel of Syrian diplomats in America. None of the measures have been enough to cause the Assad regime to stop its violent crackdown of protests.
The U.S. draws about 9,000 barrels per day of petroleum from Syria, according to Energy Information Administration statistics. Canada, where the U.S. draws most of its oil from, exports 2,535,000 barrels per day to the U.S.
An oil market analyst from Switzerland told Reuters that the sanctions are unlikely to have a "huge impact."
"There are sanctions on Iran and Iran is still exporting oil," he said. "Sanctions never seem to work, so I don't think it will have a big effect - its trade flows are not huge."
The European Union will consider matching the American sanctions on Friday. Because most of Syria's oil goes to the EU, such sanctions would have a more serious effect. European officials are worried, however, that broad sanctions could end up having a seriously negative effect on regular Syrian citizens as well.
U.S. Secretary of State Hillary Clinton said that as the U.S. increases "pressure on the Assad regime to disrupt its ability to finance its campaign of violence, we will take steps to mitigate any unintended effects of the sanctions on the Syrian people."
Like reporter Paresh Dave on Facebook, follow him on Twitter, circle him on Google+ or send him an e-mail.
Best way to find more great content from Neon Tommy?
---
Or join our email list below to enjoy the weekly Neon Tommy News Highlights.