International
Gaddafi's Daughters Come Into Focus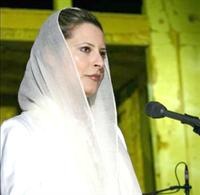 Col. Muammar Gaddafi became the grandfather of yet another child in recent days when his daughter gave birth in the Sahara desert amid her flee from violence in Libya, according to Algerian news reports.
Aisha Gaddafi has been referred to as Gaddafi's only biological daughter, though separate news reports this week are starting to question whether his daughter, Hana, actually died in a 1986 U.S. bombing like he has claimed. The Algerian government said Aisha's pregnancy was one of the main reasons they agreed to be a haven for her, two of her brothers and Gaddafi's wife.
The Associated Press story on Aisha says she's a 30-something-year-old lawyer who helped defend Saddam Hussein before his hanging. Between 2009 and the beginning of this year, she worked for the United Nations.
The exact number of Gaddafi grandchildren is unknown. The embattled Libyan leader lost three grandchildren earlier this year in a NATO airstrike.
The revelations about Gaddafi's daughter comes as NATO plans a strike on his birthplace and Libyan rebels set a Saturday deadline for Gaddadfi loyalists to surrender.
Like reporter Paresh Dave on Facebook, follow him on Twitter, circle him on Google+ or send him an e-mail.
Best way to find more great content from Neon Tommy?
Or join our email list below to enjoy the weekly Neon Tommy News Highlights.