Columnists
Writing Poems During August
Editor's Note: "Writing Poems During August" is part of Michael Juliani's poetic series, "From Young Rooms."
Standing on the ledge of the stairs that lead down from my apartment stairwell like a tongue— peachy twilight, the sun is going down over Los Angeles and I'm packed and ready for the library, long sleeved collared shirt dimpled with hardened toothpaste stains.
A homeless dog rips a bark through the alley and I try to find him through the wall with my eyes. The middle of Los Angeles. Urban and consciously beleaguered—the natives who ride bikes and spray paint Hispanic church walls are angry, an energy coming from them like they're covered in vibrating thorns.
From August, the anniversary of my loss of virginity, (one year, I note in my notebook, the night of Aug. 14), I have a hum and soup to my days, an entry into art that came from listening to a bunch of honest music and trying to mimic the effortless, self-possessed release. The calm emotional touch of a song that's part of your bloodstream at the right time, an azure feeling—a perfectly lukewarm sweater—that's nothing but real.
I'm belly down on my blue carpet (at home, right before school) that's covered with stains from my whole life, brown splotches crusty, soda and ice cream and a little blood, and I exude poems whose true value doesn't escape the warmth they give me, even when I think about them absently at lunch or somewhere else. That myth of "doing art for me" isn't such a myth when it finds you. Especially during weekends when there's theoretically a lot of time.
Sunday has always been an important day in my life. Lately it's been the day of sleep past NFL football (from L.A., I don't really care) and other people's sermons. This moment on the stairs I'm describing is probably a Sunday, after I've showered and lunched and spent a number of hours either with my girlfriend drinking tea in her apartment or reading on my bed or listening to music on my computer trying to do work or writing.
Leaving my apartment I felt a bit shitty about my life for a couple zooming seconds—one of those deject "alternative" person's moments where realizing the whole world has been at some kind of work for hours while you've been preparing for self-indulgence with wasted time and placation, the shame of the freak begins to creep into the forefront. But then again that's part of the appeal.
You could chart my life in terms of versions of Sundays. A chunk of it was on a baseball field in gray pants tucked below the knee, spitting sunflower seeds, having good years and not so good years at the plate. My worst problem was ground balls. I never stopped being afraid of them, what they could do to my face, snagged on a jagged pebble, if I really tried to get them the right way. Beet red cheeks burning from the inside when inevitable ones went through my legs.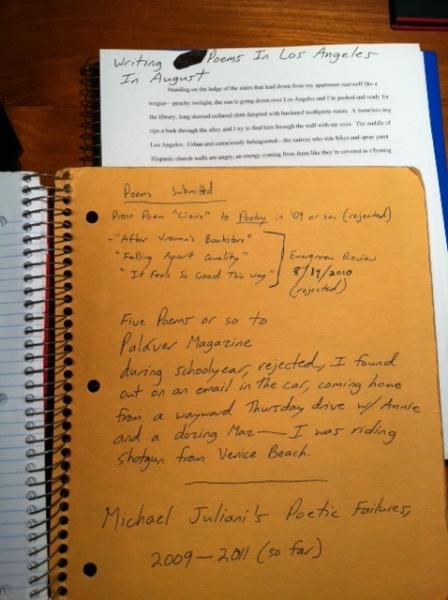 My father would come around the chainlink fence of the dugout (when he was still allowed to come to my things) and he'd demand a nice hello. He began to hold himself to the basic rights of a common stranger, the same courtesies spent on someone I'd just met, but I'd known him for years, and that was why I'd merely turn my thin shoulder and nod or say, with a charge of some kind, "hey."
Dad, a music student from the eighties with a pale pitbullish face of jowls and sharp black stubble hairs, 6 foot 2, a person who came from a profoundly fucked up Bay Area family—(he was told to find his own ride to his mother's funeral when he was in college). I felt he was wasting my time trying to get me to forgive him his anger by being unconditionally kind and compliant, a sort of demand a child might make of a parent.
Other Sundays, birthed from dread, were when I'd wake up in the morning and wish I could take a fourteen-hour shower in order to avoid the day. My "old man" would be waiting on the sidewalk under a tree in his black Camry waiting to take my sister and me on our post-divorce, court sanctioned weekly lunch date. This was where, around my hometown, feelings were beginning to stew, twelve, thirteen, fourteen years old, I was beginning to grow armpit hair, pubic hair, the anvil of the feminine existence took new shapes, rounding around the hips, miniskirts at the mall, my eyes playing at the hems. I was out with Dad trying to protect my sister from him, watching the ass of our forty-year-old waitress move to the tune of rattling dishes and silverware.
There are poems about my father, but in the aftermath of August 2010 I was riding the crest of literal beauty and its foam, in some calm ways taking a long lunge up the stairway to young adulthood, the next stage following the sweaty bath my teen years provided me. I wrote people telling them how little I cared about perceptions of me, anything they could say would crumble and wither under the weight of my peace. It wasn't holier-than-thou (I don't think), it was holy-on-my-own-regardless-of-you.
People seemed to encourage and respond well to this honesty of strength, they had seen me doing things a lot worse (but still, in the young way, normal). Most didn't even know, except maybe in energy. The leaf-filled trees and architecture of campus, steaming with art. There weren't any rooms. It didn't feel like I needed anyone's help for anything.
That's when I started to journal, too, which at first was a competition to see how fast I could write a page out of first thoughts appearing like a train of flash cards in my head, a moving neon line of mental words blocked into a brain image of steam. For example, "the aesthetic wallpaper b/c then I'll be somewhat neon black and white & emotionally exhausted sexy on a lap to do many things once a day not an inkling to stop who needs that." One night I even stopped writing words and the lines turned into an invented language of shapes and squiggles rivaling nothing intellectual or anything beyond primal and mad need. Thwack of pen on paper like skin on skin.
This was also because I had been very jealous of musicians who could just scream. The ethos of punk rock started to mean very much to me—Henry Rollins, Iggy Pop (particularly "Search And Destroy"). (I would put on Fear's "I Love Livin' In The City" and walk around campus imagining barking the words at people who seemed too tight-assed, grinning privately.)
Throughout high school I was trying to let myself exist without having to be too noticed, I feared that any angry face of mine would appear hideous to the world, to the tender people in front of me. Adolescents give other people too much credit. Wrapped up in the loneliness of not ever knowing what happens at home for your friends or anyone deemed normal (which, really, is everyone you don't know who hasn't done something completely and obviously stupid or wrong).
Whenever I'm in trouble I think of my girlfriend. The different girls in my life I've felt close to in varying degrees, in no rational sense of intensity, became the wisp of savior in some cross-town (or –country) place, the person who will believe your story due to their living inside you. She's like a train you can hop to the youthful standard of judgment, where for most you seem mild and okay as long as you don't carry any weapons or haven't been to prison. It's the weakness involved that seems to unite us, in theory and in mind, and it becomes something that real adults forget or let go away with maturity.
The opposite of this young strained tether, for me, is any kind of personal writing where I can make most or all of the rules. With it comes a litany of pieces that make up the palette, which is my personality, my life before you. The multitudes swimming and coming to attention in substituted swerves—one aspect of life more important than another for a moment, the rest at the bottom of the deep end for some weeks, or months, until it's their turn.
When I figure out life on a big scale, most of the molecules of thought at the front (or most important) center of the brain and heart—like I had in August last year, a year ago—the incredible clarity always leaves, scattering from a tight ball formation like spiders or rolling marbles. I clamored to keep it there, the whole thing, but its residue is still with me.
And for the rest of my life I'll be using what I learned in this pivotal mound of romantic days, the last half of the month leading into the whole second year at brick-mortared, abounding USC, a place where someone in the middle of puberty might lose his mind. There's been a great deal of shedding, things falling from me and laying densely on the ground like stagnant dumbbells.
When you start to look better physically for any number of reasons (like discipline against bad, unhealthy habits), people speak to you like you're in remission from disease. My mother, especially, quietly while I would fix myself in the mirror, my face fuller and with more regular color. "You're looking so much better now Michael." When I'm mad now I say, "Mom, sometimes I go to parties where there are drugs and I don't do them. Doesn't that count for something?"
The truest thing is that it's a continuum—passion, inspiration, movement, achievement, sex, destruction, waywardness, all on the same plane somehow leading toward an eventual death where your life becomes a story told by other people, often sugarcoated in misunderstanding. It's relieving and awful at the same time to know that no one will ever have the ticker tape of another's mind typed out before them in the style of legal stenography. Arriving at things mentally is your own business. Even your grave gets only a few words (and believe me I've thought about this).
In the happy hole of total artistic bliss, the stumbling and falling-on-the-face of normative culture (which includes me, most of the time) seems like a foolish, but forgivable mistake. Going from a day (any day) of my nose in books, music, movies, into a night at an attic party where everyone's on the same thing, drinking the same beer, allowing the same music, seems both a shame and a good experience, a place to belong for a moment even though I'm on the balls of different feet.
I'm constantly trying to learn to dissolve within other confidences. Like with people you love, learning to accept the bright and dark colors of life as it is means maturity, a difficult but freeing plateau to earn.