Sports
US Soccer's Cup Run is Over, But American Soccer Fandom Must Continue
This is one writer's plea for true, unyielding fanaticism. It is a message that does not ignore those who rabidly follow the sport of soccer, but rather puts the onus on those (including himself) who have aimlessly cheered on Team USA during their astonishing World Cup Run to prove once and for all that genuine patriotism can extend to local pitches around the country, regardless of what's at stake.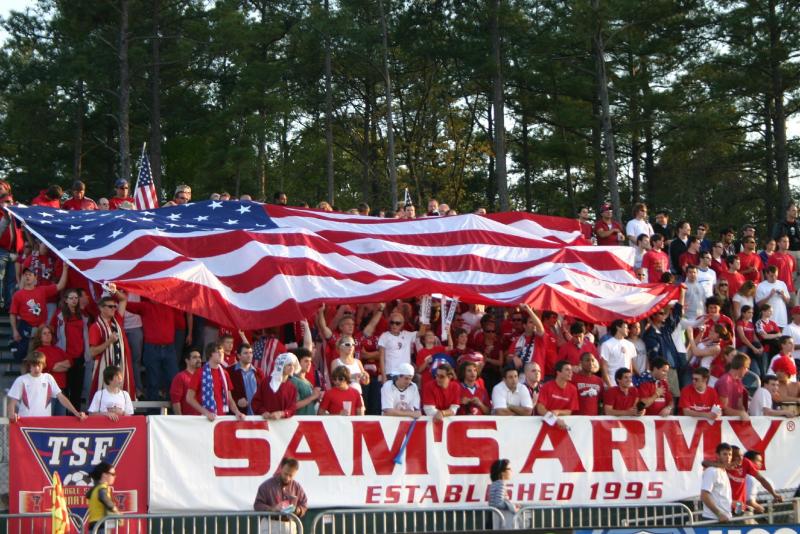 Odds are when you go to your front door step tomorrow morning, the front page headline in the sports section of your local newspaper (if you still subscribe to such a thing) will read in big bold letters something to the effect of "U.S. Hard Luck Losers in Final."
If your curiosity level is a little higher than normal for a Monday, given what transpired on the pitch Sunday afternoon, you might thumb through a few extra pages of the section, taking note of the key points and indelible images from the Stars and Stripes' heartbreaking loss to Japan.
But as your coffee runs out and your morning commute approaches, you'll probably put down the sheets of paper and simply move on. Names that injected themselves into your memory bank like Abby Wambach, Hope Solo and Shannon Boxx will quickly become a thing of the past. And, in about a week or so, an historic accomplishment (even in a losing effort) will go by the wayside, giving way to something more prevalent and Twitter-trendy.
Sports have always been about as transient as the Army brat that grew up never having a place to call home. If it's not the World Cup this week, it'll be the NFLPA agreeing on a new collective bargaining agreement or the Padres' shipping away their two talented relievers (Health Bell and Mike Adams) to championship contenders at the MLB trade deadline.
But even for those fleeting moments that become past tense quicker than ink has time to dry, no singular sport fades in and out of the public eye quite like American soccer.
This year will likely be no different, and it's an issue that transcends gender lines. To think otherwise would be far too easy of an excuse.
Maybe the sport is too methodical for our collective attention span. Maybe its intricacies and subtle hints of artistry are too highbrow for the modern day American sports fan who wants his or her highlights conveniently crammed in to the short time frame of a workout or lunch break. Maybe we as Americans are simply too close-minded to accept the role of the novice student when it comes to the global game, because to do so would be a knock to our spot high above the athletic pedestal.
I guess we've slowly taken to the rule of thumb that if it's not topical enough to post on a Facebook status, it likely isn't worth our attention. At least that's the way the sport has been treated as soon as the light switch turns off on a major international tournament, or to be more exact, a World Cup.
Playing the king of the water cooler once every few years just isn't good enough anymore. The sport deserves better, as do the men and women who represent the red, white and blue. Because, in spite of our country's blighted reputation around the world, their talent year after year seemingly continues to mask our ignorance and insecurity.
As a nation, we didn't deserve the World Cup trophy and the abundance of praise that comes with the distinguished title. That isn't a shot at coach Pia Sundhage and Co., because to be honest there hasn't been a more thrilling exhibition of patriotism on an athletic field in quite some time (my apologies to Bob Bradley's 2009 Confederations Cup squad and basketball's 2008 Redeem Team in Beijing) than the one the American women have displayed throughout Germany this past month. For a six-match span, they helped us forget about NBA and NFL labor conflicts, perjury trials and All-Star Game absences.
I am well aware that winning has and will always breed fanaticism in a way no other individual aspect can. But you won't see me applauding those that now consider themselves contributors to the growth of the sport. Making it a point to flip on the television set for a women's soccer match here and there is not the action of true enthusiast. In fact, that pseudo-sense of action only seeks to harm the maturation process, if anything.
Every step, even if it's done in an effort to stay in the know, should be received warmly. I get that. But, what I don't get is the total disregard we have shown for these athletes once they are thrust back in to their professional gigs.
It is the reason the Women's United Soccer Association evaporated with little more than a hush and it is why the MLS (outside of cities like Portland and Seattle) relies on foreign-born superstars and top-notch squads from overseas to pack a stadium. We simply don't care enough during the off years of the World Cup, and so the world (and even some of our top players) views our version of club soccer like we view Minor League Baseball, second-rate.
Look, the solution isn't a simple bullet point list of suggestions like building more recreational parks, infusing more money into athletic programs, etc. But the message is clear, now more than ever. US Soccer needs the jubilance that you showed in their comeback victory of Brazil. And they also need the compassion and anguish you felt when things came undone during the final shootout.
My short-term advice is to show that level of support in some fashion over the next few years. If you attend high school or college, attend a few games and get to know the players. If you live in cities like Atlanta, Boston, Chicago, New York City, Philadelphia, Seattle, Vancouver or Washington D.C., take in a WPA or MLS contest or two. If you have siblings or children of your own, learn about the game with them. Who knows, maybe they will be the next Alex Morgan or Carlos Bocanegra.
Of all things the United States trails other major countries around the world in (education and health care system, just to name a few), fanaticism should not be one of them. So here's to hoping that the next time chants of "USA! USA! USA!" pour out through your lungs, it's inspired by authentic admiration for the sport of soccer, rather than surface patriotism.
----------------------------
Reach Dave by email.