Science
Space Shuttle Era Finishes With Atlantis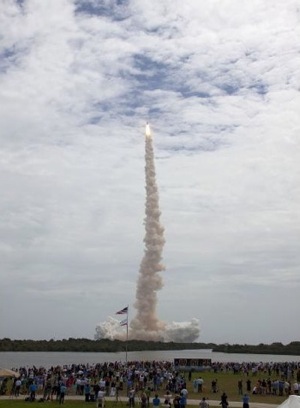 The last space shuttle launching is now a memory for as many as one million onlookers, and more elsewhere, who witnessed the era-ending flight on Friday.
Despite weather concerns, shuttle Atlantis and its four-member crew blasted off from Kennedy Space Center in Florida at 8:29 a.m. PDT. The flight marks the 135th of NASA's 30-year shuttle program, and the 33rd of Atlantis.
Atlantis' crew, commanded by Chris Ferguson, includes pilot Doug Hurley and mission specialists Sandra Magnus and Rex Walheim. The 12-day mission to the International Space Station will deliver more than 8,000 pounds of supplies and spare parts.
"On behalf of the launch team, and all the thousands of people here at KSC, we're just very, very proud that we finished strong from the launch perspective," said Shuttle Launch Director Mike Leinbach, at a post-launching news conference.
The first shuttle flight, Columbia STS-1, launched April 12, 1981. Since then, more than 350 different individuals have flown, and more than 2,000 experiments have been conducted, aboard the reusable winged-vehicles. The missions helped built the space station, delivered scientific instruments such as the Hubble Space Telescope and Alpha Magnetic Spectrometer-2, shaped a more diverse astronaut corps and increased international partnerships.
But among its darkest hours, the program experienced two shuttle explosions that killed 14 astronauts onboard: Challenger's STS-51L mission in 1986 and Columbia's STS-107 mission in 2003. A year after the Columbia accident, in 2004, then-President George W. Bush announced goals to complete assembly of the space station and then retire the shuttles.
The life of the shuttle program has cost $113.7 billion (not adjusted for inflation), according to NASA.
Under a compromise plan approved by Congress and signed into law by President Barack Obama in 2010, NASA will rely on yet-to-be-ready commercial spacecraft to transfer crew and cargo to the space station once the shuttles retire, while the agency focuses on developing a crew capsule and heavy-lift rocket to go beyond low-Earth orbit. (The government-owned capsule and evolvable rocket must also be able to provide backup transportation to the space station, which is in low-Earth orbit, if commercial- or foreign-supplied ones cannot.) In the interim, NASA will continue paying for seats on Russian Soyuz capsules to take astronauts to and from the space station; it'll use other Russian and foreign spacecraft for cargo transfers.
Obama, in a statement, congratulated the agency on a "picture-perfect" launching. He added, "And I have tasked the men and women of NASA with an ambitious new mission: to break new boundaries in space exploration, ultimately sending Americans to Mars. I know they are up to the challenge – and I plan to be around to see it."
Atlantis and its crew are due at the space station on Sunday, bringing the shuttle-station complex to 10 residents. The shuttle astronauts are scheduled to return at Kennedy on July 20.
NASA's shuttle fleet began with Enterprise, a test orbiter that never flew in space. Construction of Columbia, Challenger, Discovery, Atlantis and Endeavour followed. Discovery, Atlantis and Endeavour― as Enterprise has-- will become museum pieces.
"[T]he launch of #STS135 was the most awesome experience of my life!" tweeted @NefariousNewt of New Jersey, who saw the liftoff.
It'll be awhile before NASA astronauts are launched on U.S.-made spacecraft again: The agency said commercially provided crew transportation to the space station probably won't be available until around 2015.