USC Sports
Psycho Fan Crashes Pac-12 Media Day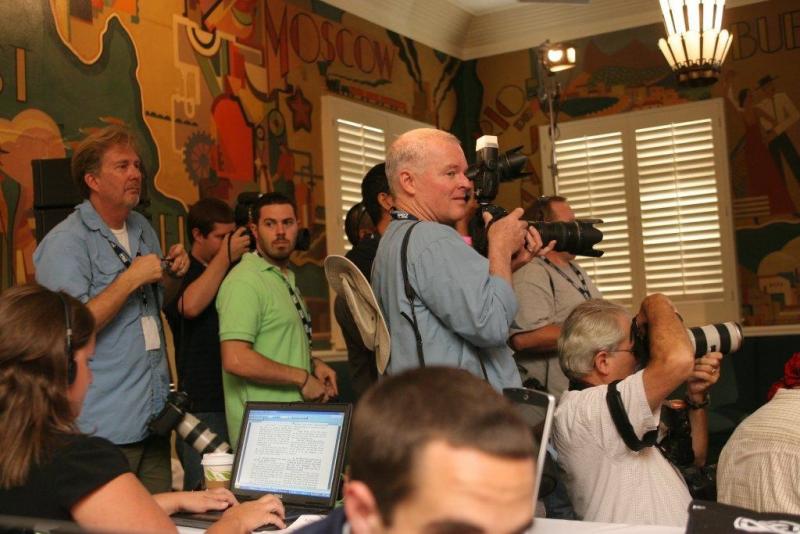 Having previously profiled super fan Roy Nwaisser --better known as USC Psycho among Trojan fans -- we offered him a unique opportunity.
"Hey Psycho, what are you doing on Tuesday?"
I hate those questions. I'm not going to answer that until I know what you're trying to corner me into doing.
Turns out the question was an opportunity to attend Pac-12 Media Day as a member of the working press and write about it.
OK, that's easy. I've got nothing going on Tuesday. I'm in. I am SO in!
The offer is from Neon Tommy Sports and I can't figure out if they're crazy, desperate for content or brilliant. I'd like to think the latter. You may think one of the former. I don't care. This is going to rock. There are no expectations. I can write whatever I want but I can't do anything to disparage the good name of USC or the publication.
In the days leading up to the event, I get emails and press releases with information about the event. Exciting stuff. I feel like a real member of the press, so I start to wonder if I should be doing anything to prepare for my assignment. Might be a good idea to do some research or something first. And just like most of my good ideas, I think about it but don't follow through with it.
I want to cover this event from the fan's perspective anyway, so maybe it's best that I just show up totally green; just like the millions of people who are reading this would do. (I think this is what writers call taking creative liberties.)
When I get to media day the first thing I notice is that admission to this gig is super lax. They'll let just about anyone in here. Not on the credentials list? No problem, we'll just write your name at the bottom of the list and give you a pass. No questions asked. Kind of surprising since I'm told this joint is on the list of top 100 terror targets in the USA. Next year, if anyone would like to follow in my footsteps (and I can't imagine why anyone would) feel free to just show up with a reporter's pad. But don't tell them I sent you.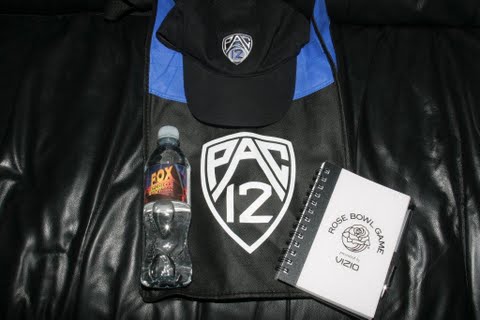 As I check in, I'm handed a Pac-12 swag-bag complete with a Pac-12 baseball cap, bottled water and a left over notepad from the Rose Bowl. Writers probably get a lot of stuff like this from the events they cover. Since I'm now an investigative reporter, I'm going to try to sell this stuff on eBay and find out how much supplemental income writers can make by selling their swag.
Breakfast is served for the attendees, but it looks like a bunch of cold Egg McMuffins and Croissandwiches. Doesn't look good to me. It's free so I'm not complaining, but I'm not eating it either. I opt for some fruit and a cup of coffee then take my seat in the media room.
At the front of the room is a stage with a table where the head coach and one player from each Pac-12 team will take questions for up to 15 minutes. Just like I did when I was in school, I took a seat way up front in the second row. Nerd habits die hard. I also want to be close enough to the stage for Rick Neuheisel to see me when I snarl at him.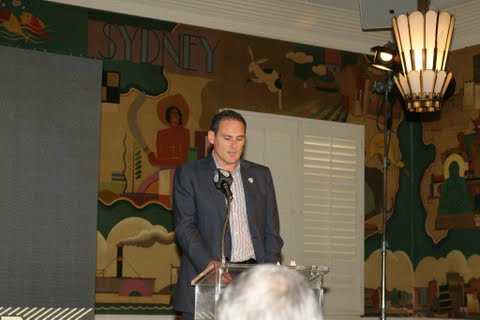 The program begins with a video montage and then opening remarks from Pac-12 Commissioner Larry Scott, which aren't very enlightening. Mostly stats about how great the Pac-12 is and kissing up to Fox who is a major media partner and broadcasting the Pac-12 Championship Game. It's all puffery and it's expected from him at an event like this. I assumed Scott would field questions like everyone else but he doesn't. I think it's shifty. If this is Pac-12 Media Day and the point of the day is for the media to ask questions, then the commissioner should field some questions too.
Now the team representatives start taking the stage one at a time. And with each passing minute my excitement to be here fades. I'm a total homer. I love USC. I don't care about Cal, Washington State, Arizona, Colorado… There are some fun nuggets every now and then to keep me interested, like when Arizona State coach Dennis Erickson said, "It's great to be here. Happy to be anyplace at this time," in reference to his old age. Or when UCLA coach Rick Neuheisel said, "Excited to be here. As a coach on the proverbial hot seat I guess you're excited to be invited to any of these things." Doesn't sound quite so funny when I write it… I guess you had to be there. Sorry.
Even though I don't care about what most of the coaches have to say it was interesting to see how different they are. For instance, Cal's coach Jeff Tedford got real defensive when questions came up about his relationship with beleaguered high school scout Willie Lyles. Oregon's coach Chip Kelly was evasive about the same subject.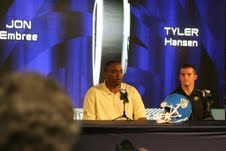 I don't know anything about him, but the coach I was most impressed with was Colorado's Jon Embree. Can't really put a finger on why, he just seemed like a very poised, confident, professional straight-shooter. Personal biases aside, the guy who was the most opposite was UCLA's Neuheisel, who seemed nervous, uptight and shifty. I guess being on the hot seat will do that to a guy. So will prolonged exposure to bRuins.
It was also interesting to watch the press' reaction to all the coaches. The photographers weren't too excited about any of the coaches, but when Neuheisel was speaking they turned into the paparazzi. Every photog was frantically firing away at him. I really don't know why. Maybe it's because this might be the last chance some of them will get to take pictures of Neuheisel as a football coach. Their next opportunity might be in a Wienerschnitzel uniform.
The longer the event lasts the fewer notes I find myself taking, until I'm not taking any notes at all. But I continue to make observations. For instance, why do reporters ask stupid questions like "Do you think your team can win the Pac-12?" And wondering if coaches purposely ramble on and on when they're asked easy questions in an attempt to kill time and avoid tougher questions. USC's Lane Kiffin is a master of this technique, he started his session by giving an extensive recap of the team at just about every position. He rambled on for so long he joked that there was only one minute left for questions when he was done.
Speaking of Kiffin, when he and USC QB Matt Barkley came out my interest level shot back up. USC is the only team here I really care about and Kiffin and Barkley are the only people I want to hear from. They're the 11th tandem to take the stage and by this point I've come to appreciate that this is a workplace. It's not an amusement park for football fans. Everyone here loves their job and it has a lot of perks, but they really need today's info to do their jobs well. I came here to be entertained but everyone else is here to work. If this was my job, and I wouldn't complain if it was, I would've been a lot more engaged and a lot less eager to ask Neuheisel if he still thinks the football monopoly in L.A. is over. Of course, that would make me guilty of asking a question I already know the answer to -- hell no, it's not anywhere close to being over. But it would still be fun to ask.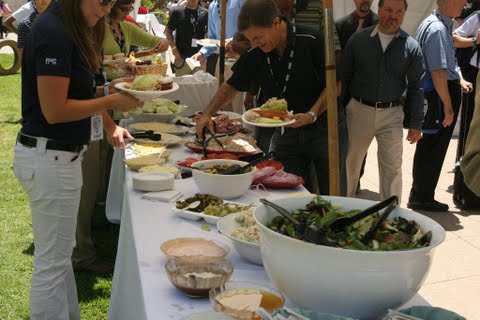 After all the teams have had their turn on stage the event breaks for lunch. Nothing too exciting for lunch either: sandwich bar, various salads and cupcakes with the logos of all the teams on top. All the coaches and players have lunch with the media which gives us time to get more in depth with them. Some radio stations are also there broadcasting and interviewing people live from the event.
Before lunch, I wondered why the heck reporters needed to fly from all over the country to Los Angeles for this event. During lunch I understood why. So they could have extended access to everyone all in one place. And lunch is when reporters get the really juicy stuff.
I sat with Pac-12 Commissioner Scott during lunch and talked to him about compensating players as well as the NCAA's enforcement of rules and the perception that rules were not being applied fairly.
Scott feels there is a gap between what players on scholarship receive and what they need to get by. Scott is in favor of increasing benefits to players but not crossing the line to a point where they could make money from playing sports.
With respect to NCAA rule enforcement, Scott was clear that he fully expects the NCAA to be evenhanded in the way it handles rule violations. Scott said he was concerned about some of the things being reported by the media about other cases, so he talked to NCAA president Mark Emmert yesterday. Emmert told him the media has gotten ahead of the NCAA with respect to what the outcomes of the other cases might be so it's too early to say that punishments haven't been evenhanded. Scott specifically said it's too early to make comparisons with the situation at USC.
Scott also said both he and Emmert want to see reform with respect to NCAA rules, enforcement and compliance. In fact, compliance is one of three major issues Emmert plans to tackle in the near future.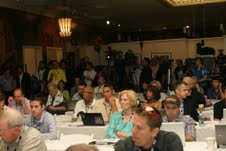 After lunch the media is provided with a complete transcript of every word said during the morning program. At some events these transcripts only include excerpts instead of the full text. These tools make it a lot easier for reporters to write their articles (including yours truly), but it's also why you find so many articles using the exact same quotes and why articles written by different people can seem like carbon copies of each other.
What I learned today is that these media events aren't exactly fun. These events are like spring camp for sports reporters, they're necessary to do the job well but covering the games is a whole lot more fun.
I finally headed back to the media room, fired up my laptop and wondered what the heck I'd write about. I don't have a beat; I wasn't given an assignment. I had the unique opportunity to write whatever I want--which has pros and cons. The big con is I didn't know where to start; not so much writer's block as lack of direction and focus.
After sitting there staring at my screen for too long I started to write. And write and write and write. And I'm sorry to say this was the best I could come up with. Thanks for reading.
___________________________
Roy Nwaisser is better known as USC Psycho among Trojan fans. Follow Roy
on Twitter
.