Sports
Pac-12 Media Day: The Best Of The Best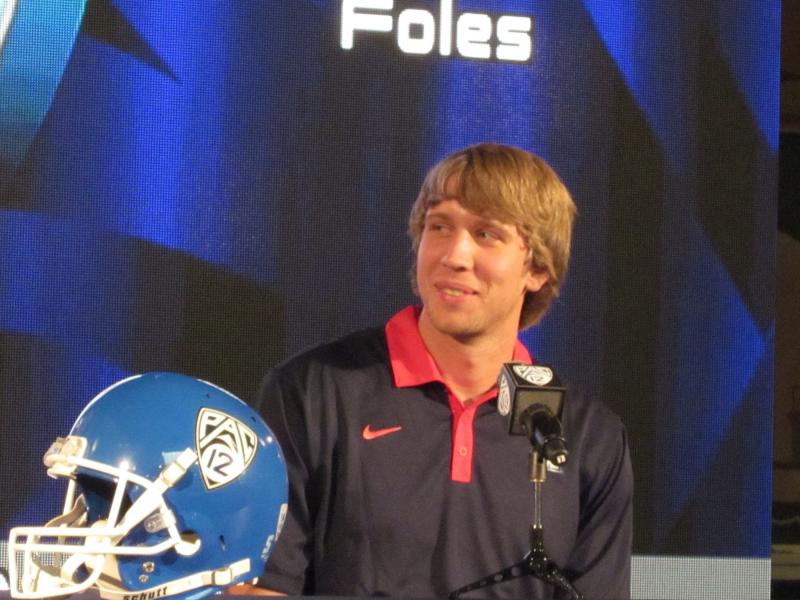 It isn't every day you get some of the top coaches and players in college football together in the same room. But since Tuesday was one of those lucky days, we've compiled the best of the first-ever Pac-12 Media Day. Read on for what the head coaches and star players from each school in the Pac-12 said about their newly formed conference, expectations for the season, and more.
Cal Golden Bears:
Cal coach Jeff Tedford was first up, at what was his 10th Pac-10/12 Media Day. He was accompanied by senior WR Marvin Jones. Tedford addressed the struggles of last season, specifically pointing out inconsistency at the quarterback position. Tedford noted he intends to be more involved in both offensive game planning and game day play-calling, much like he was early in his stint at Cal. Tedford downplayed the conference's expansion of weeknight games, noting that Cal will be playing home games at AT&T Park this season while their stadium is renovated. Team unity and chemistry was a characteristic of this year's squad that both Tedford and Jones shared excitement about. Tedford was asked about his relationship with Will Lyles and Lyles' controversial scouting service, to which Tedford reiterated that he was confident the program had done nothing illegal.
Quotes Of The Session:
Jeff Tedford on his team's chances of winning the Pac-12: "I think our kids absolutely believe that if we play to our full potential, then we can win any game that we play."
Marvin Jones on team unity: "When we workout, we have shirts that say "Team Matters" across the chest. And nobody can take the shirt off even if you're hot."
Oregon Ducks:
Much anticipation surrounded Oregon's session. Currently under NCAA investigation (no allegations have been officially charged), much of the media in attendance was chomping at the bit to question Ducks coach Chip Kelly about the matter. Oregon pre-released a statement hoping to avoid questioning, but to no avail. Kelly was joined by Mackey Award Candidate, tight end, David Paulson. Kelly spoke highly of returning running back LaMichael James, emphasizing his belief in an ability to run the football well in order to be successful. Kelly praised the media for picking the Ducks to win the conference in the annual Pac-12 preseason media poll, noting that they'd correctly predicted 10 out of the last 11 winners.
Quotes Of The Session:
Chip Kelly on what he'd like to discuss about the NCAA investigation: "I'd love to answer all the questions, to be honest, and we will at the appropriate time, when the report from the outside law firm is made public. I'd like to talk about the whole situation and clear up a lot of misconceptions."
David Paulson on how the NCAA investigation has affected the players: "I don't think it's really affected us as players. We're really just focused on getting better...trying to come together as a team".
Oregon State Beavers: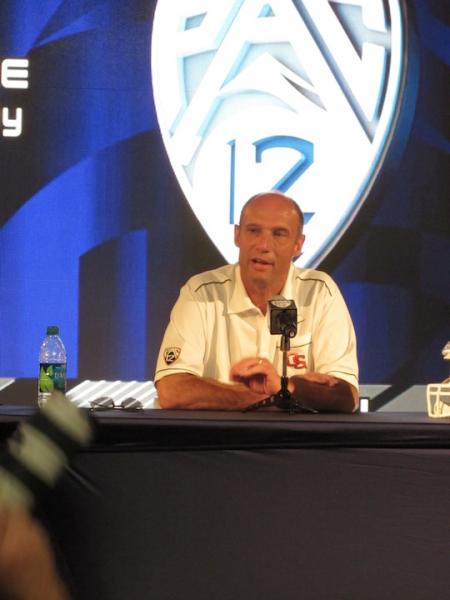 Oregon State's Mike Riley enters 2011 as the Pac-12'a most senior head coach. This marked Riley's 11th Media Day. Joining Riley was senior safety Lance Mitchell. Riley addressed the return of star wide receiver James Rodgers from injury, and noted he would be conservative with him as he works his way back. A popular topic Riley and Mitchell each addressed was the new rule on "excessive celebration" and the subsequent potential loss of points. Both noted they understand the emphasis on the new rule, but noted that "a lot of stuff after the play" isn't really allowed in their program to begin with. The early departure of RB Jacquizz Rodgers came as a surprise to many but Riley praised the decision, pointing out how diligently Rodgers explored the process, and spoke highly of the situation Jacquizz has landed in the with the Atlanta Falcons. Riley had lots of positive things to say about commissioner Larry Scott and the evolution of the Pac-12 under his direction.
Quotes Of The Session:
Mike Riley on being content with their relationship to larger programs: "We've always been very comfortable with our world. We have a tremendous base of fans, donors, boosters and we're proud of what we've accomplished."
Lance Mitchell on the OSU defense: "In past years we've had a really solid defense...We definitely want to get back to that status of shutting out teams."
Stanford Cardinal:
Coach David Shawm who takes over for the departed Jim Harbaugh, was joined by "all-everything" QB Andrew Luck. Shaw opened addressing comparisons and differences to Harbaugh, noting that they were both strong-willed competitors yet only shared minimal personality differences. Both Luck and Shaw noted that their familiarity with one another (Shaw was the OC under Harbaugh) would make for a smooth transition. Luck, who was sporting a lumberjack-like beard addressed his remaining two years of college eligibility, Shaw addressed the return of WR Chris Owusu from injury, electing to go slowly and limit the grind he takes in practice to ensure he plays in every game.
Quotes Of The Session:
David Shaw on succeeding Jim Harbaugh's "edginess": "Coach Harbaugh came in and fought a lot of battles I don't have to fight. My job is to maintain a competitive spirit."
Andrew Luck on his future NFL plans: "I am viewing thing as my last college football season and approaching it like such."
Washington Huskies:
Steve Sarkisian returned to L.A. where he earned his stripes as an assistant at USC under Pete Carroll. Sark was accompanied by RB Chris Polk, also a product of Southern California. Longtime Husky QB Jake Locker has graduated and Sarkisian described the transformation the offense would take as it entered the "Keith Price Era". He noted that a greater emphasis will be placed on the running game - which Polk appreciated. In fact, the majority of the questions directed towards Polk centered on the departure of Locker. Sarkisian shared the plans for the renovation of Husky Stadium, pointing out the way it's helped recruiting, as well as what it means to both the university and the fan base.
Quotes Of The Session: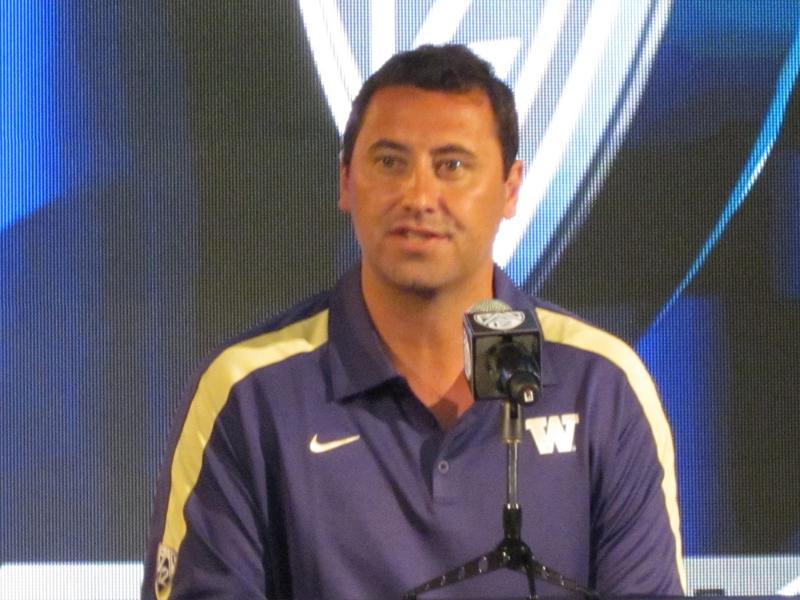 Steve Sarkisian on the addition of Utah and Colorado to the conference: "You're talking about two great programs, two tough places to go play. So, great additions to conference in my opinion.
Chris Polk on stepping up as a leader: "I can't be the guy in the back anymore. I can't be quiet. I'm going to have to step up and accept my leadership role, especially with these young guys coming in.
Washington State Cougars:
Coach Paul Wulff is easily the most intimidating looking coach in the conference. Joining Wulff was WR Jared Karstetter, the team's leading receiver each of the past two seasons. Coach Wulff pointed out RB Rickey Galvin and LB Sekope Kaufusi as players who aren't household names but could make an impact this year. The offensive line returns four of five starts, a face that Wulff was excited about. Speaking on QB Jeff Tuel Wulff said that they need to put him less predictable passing situations, but also that Tuel needed to take the next step as a leader and be able to, "put the team on his back." The struggles WSU has gone through as late, as well as low media expectations for the team made for a relatively short session.
Paul Wulff on competing with upstart programs in the Pacific Northwest: "You know, I don't know that it's affected it a whole lot. We've gone about our business of trying to recruit the type of person with the right DNA. When I say that, I mean from the neck up."
Jared Karstetter on the lack of respect from other Pac-12 teams: "I think we were more competitive especially the end of last year. Any sort of lack of respect that we feel as a team, I think that we just use that as motivation to go out there on game day and compete and prove ourselves."
Arizona Wildcats:
Arizona head coach Mike Stoops was joined by his star quarterback, senior Nick Foles. Stoops, known for his fiery emotions on the sidelines, displayed a casual, relaxed attitude, and when asked about his colorful personality joked, "I disagree with that 100%." The coach said he wasn't at all bothered that Arizona is predicted to finish fourth in the division; instead he highlighted his talented group of receivers and expressed confidence that they and Foles would balance out an inexperienced offensive line. A key point of focus this year, Stoops said, will be ensuring that Arizona delivers all season and doesn't fall apart in the last few games (as the Wildcats did in 2010.
Quotes of the Session:
Coach Stoops on why Arizona is projected to finish 4th in the Pac-12: "They must think I'm a bad coach."
Foles on his coach's notorious intensity: "If you see your coach that fired up, it's going to make you fired up. Everybody knows Coach Stoops is a great defensive mind. I know everybody knows he ran over a goal post or something."
Arizona State Sun Devils: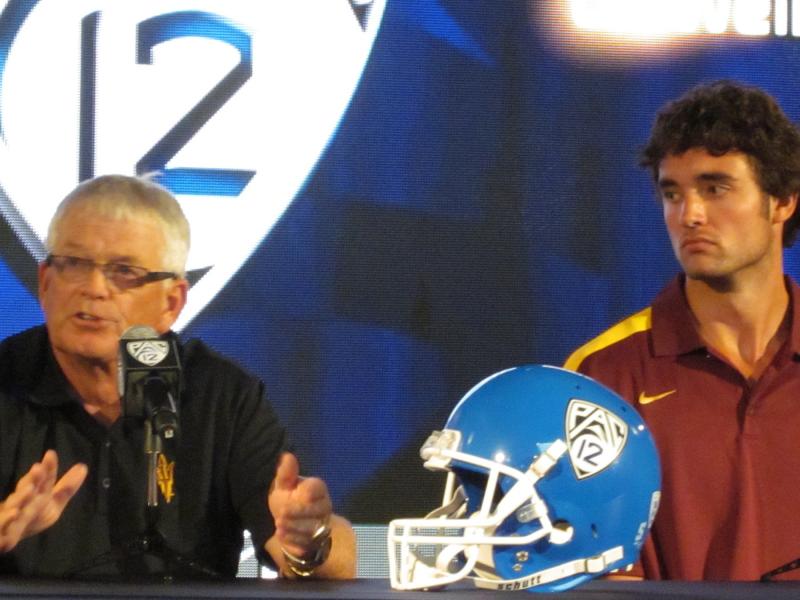 Sun Devils coach Dennis Erickson seemed delighted to attend his 5th Pac-10/12 media conference. He brought along the tallest player of the day, 6'8" junior QB Brock Osweiler. Osweiler didn't field many questions, but his height alone made him an intriguing figure among the players in attendance (though he'll have to play in more than five games this season to be compared to the likes of Foles and Luck). Erickson was quick to praise Osweiler's performance in spring football, and also said he's excited to be two-deep on defense and return five offensive starters. The coach brushed of questions of criticism when it comes to not taking his team to a Bowl game. As far as Deantre Lewis, the running back who was shot earlier this year, Erickson said he's recovering well but his return is questionable.
Quotes of the Session:
Coach Erickson on the new rule penalizing excessive celebration: "It takes some of the emotion out of the game of football. Football has to be fun. You've got to have some emotion in it."
Osweiler on the possibility of finishing second in the division but going to the Pac-12 championship (if USC takes first): "If you get in the game and you win it, you're going to the Rose Bowl. So whatever it takes to get there."
Colorado Buffaloes:
If head coach Jon Embree and senior QB Tyler Hansen are any indication, Colorado is absolutely thrilled to be in the Pac-12. In what was the briefest opening statement by any coach, Embree said just that. But he acknowledged his team has some hurdles to overcome. When asked about the Buffs inability to win on the road (they've lost 18 straight road contests), he became stern, saying, "We need to address that issue immediately. I'll leave it at that." But Embree expressed faith in his quarterback, saying he believes Hansen fits in with the talented crop of quarterbacks in the conference. To supplement Hansen, he said, he's also putting a lot of focus on his team's running game.
Quotes of the Session:
Coach Embree on being told by AD Mike Bohn the Buffs would play 13 games straight with no break: "I just told him I was glad he didn't put the [Green Bay] Packers on the schedule."
California-bred Hansen on joining the Pac-12: "I grew up a Pac-10 fan, watching Pac-10 games. So being my senior year and being part of the Pac-12 is something that's really special."
UCLA Bruins:
Leader of the Bruins Rick Neuheisel was one of the only people to "break" actual news at Media Day—he surprised the crowd by telling them that freshman QB Brett Hundley will be undergoing knee surgery for a torn meniscus, thus rendering him unable to join camp for a few weeks. But Neuheisel said there will be a battle to earn the title of signal-caller, with Kevin Prince, Richard Brehaut, Nick Crissman, and Darius Bell all ready to "fight and scratch" for the job. Neuheisel called on his player representative for the day, UCLA leading rusher Johnathan Franklin, to step into a leadership role.
Quotes of the Session:
Neuheisel on being at Media Day: "As a coach on the proverbial hot seat, I guess you're excited to be invited to any of these things."
Franklin on being a leader: "I have to be that guy to bring the spark to the team. I have to be the guy to carry the team to the top once again. I'm ready for that challenge, that's why I came to UCLA."
USC Trojans: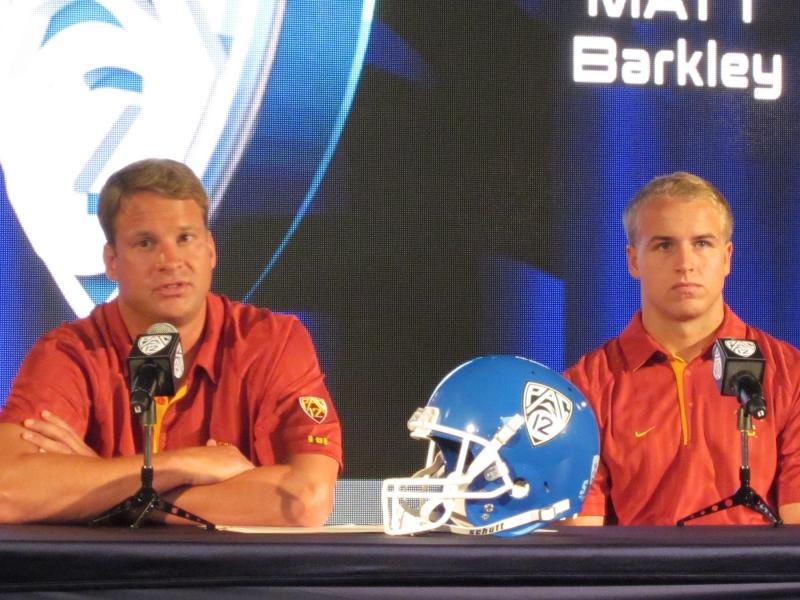 If the Pac-12 gave a Media Day award for filibustering, Trojan coach Lane Kiffin would have had it locked up. Kiffin made no secret of his goal to use up as much of the allotted time as possible with his own opening words, instead of fielding media questions. An uncharacteristically good-natured Kiffin addressed everything from the sanctions to Marc Tyler to breakout position players. And he kept his amiable attitude even as the media pressed him on the sanctions ("There is a lot of build-up before the season about no Bowl games…but once you get going…you're walking down that Coliseum and getting ready to play, I really don't think they think much about that.") and Tyler ("Until Marc gets it right, he won't be back in our program."). Quarterback Matt Barkley matched his coach's good humor with a couple of jokes at Kiffin's expense.
Quotes of the Session:
Kiffin on whether he's worried about players having low morale in the face of the sanctions: "Our guys come to USC to get a degree from a private university and to go to the NFL. That's still there for them, so none of that has changed."
Barkley on how he plans to stand out of the talented pack of Pac-12 QBs: "I think being consistent this whole year and not trailing out like I did the last two years, but finishing this year strong."
Utah Utes:
Rounding out the morning were the representatives from the other brand new Pac-12 school, Utah head coach Kyle Whittingham and senior offensive tackle Tony Bergstrom. Whittingham immediately echoed Colorado's sentiments about being "ecstatic" to join the conference, and pointed out, "with a big challenge comes big opportunity." Whittingham said his goal is to win the South, thereby continuing Utah's reputation as a "BCS buster." QB Jordan Wynn, he said, will be 100% ready to play after having shoulder surgery, but they still plan to take it easy with him in camp. The 7th year coach said his school is already reaping the benefits of being part of the Pac-12—they seen "a big spike" in recruiting, with seven verbal commitments to Utah the day the merger was announced, and huge support from Utah's fan base.
Quotes of the Session:
Whittingham on what it will be like to face USC in Utah's first conference match-up: "Batptism by fire."
Bergstrom on what it's like to join the Pac-12: "We've worked hard and feel like we work as hard as anyone in the country, so this is kind of our payoff for that."
_________________________
Reach Scott by email, or follow him on Twitter. Reach Kate by email, or follow her on Twitter.