Sports
College Football Preview: No. 14 Arkansas
(Neon Tommy will be previewing the 2011 College Football Season throughout the summer. You can find links to each of our Top 25 previews here. Today, we preview the team ranked 14th, the Arkansas Razorbacks.)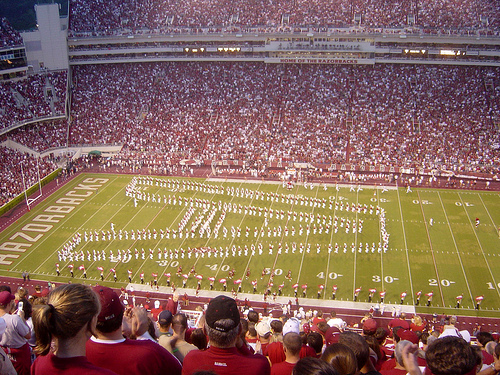 Head Coach:
Bobby Petrino (64-24 overall record, 23-15 at Arkansas )
Arkansas's 2010 season:
10-3 (6-2), Lost to Ohio State in the Allstate Sugar Bowl 31-26
Offensive Analysis:
-- Six returning starters
-- Impact Players: RB Knile Davis, RB Ronnie Wingo, WR Jarius Wright, WR Greg Childs
If Bobby Petrino wants to get his team over the hump to compete for the SEC title in 2011, he'll have to replace an NFL caliber quarterback and tight end, and three of five offensive lineman.
QB Ryan Mallett and Razorbacks captain D.J. Williams left for the NFL, leaving junior Tyler Wilson to run Petrino's offense. Wilson has completed 34 passes on just 51 attempts in his two years at Fayetteville.
Even with an inexperienced quarterback, Petrino and company could have one of the most successful and talented offenses in the SEC. Last year's top SEC running back, Knile Davis, returns after running for 1,322 yards and 13 touchdowns. The running game will also be deep with junior running back Ronnie Wingo and senior running back Broderick Green taking handoffs.
A talented and veteran group of receivers who combined for three 85-plus yard touchdown receptions last season, will look to streamline Wilson's transition to being the number one signal caller in 2011.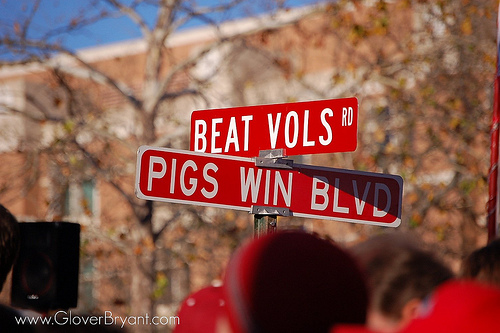 Defensive Analysis:
-- Seven returning starters
-- Impact Players: DE Jake Bequette, MLB Jerry Franklin, S Tremain Thomas
The 47th ranked defense in scoring last year (23.4 PPG) must negate their opponent's run-game to fend off an always-brutal SEC schedule. The Razorbacks finished 71st against the run in 2010, allowing, on average, 162 yards per game on the ground.
However, a strong core of players including SEC All-Americans Jake Bequette, Tenarius Wright, and Jerry Franklin look to develop a potential national championship-caliber defense.
The defensive line is stout and seven deep, led by Bequette who recorded 8.5 tackles for loss and seven sacks last year. LBs Franklin and Jerico Nelson combined for 187 tackles in 2010, while CB Thomas accounted for eight turnovers-- four interceptions and four forced fumbles.
Strengths:
The offensive onslaught Petrino will have at his fingertips during the 2011 season could mean long nights for opponents' defensive coordinators looking to find a way to stop a multi-dimensional attack.
Look for opposing defensives to begin by forcing seven or eight in the box even with Petrino's spread scheme. If QB Wilson can pick apart defenses that keep him on the run, and use the bevy of talent that surrounds him in the receiving corps, the Arkansas offense could rival those that Petrino had back in his Louisville days.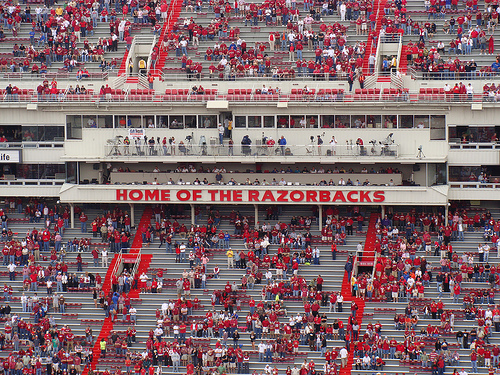 Areas of Concern:
As previously stated, Petrino's team must replace three of five starting offensive lineman. With that, the two returners--Travis Swanson and Alvin Bailey--are just sophomores. The 2011 Razorback offensive line will be young and inexperienced to say the least.
With the Saban's and the Miles's of the SEC developing intricate blitz schemes to confuse both Wilson and the offensive line, the Razorbacks could be looking at an uphill battle if they can't develop a strong core upfront.
Final Thoughts:
The Razorbacks have the talent to compete and win in every conference in football-- except the one they are in. With trips to both LSU and Alabama, and back-to-back home games against Texas A&M and Auburn, the road looks mighty tough for one of the most talented teams in the country.
Prediction: 10-2
_____________________
Reach Eric by email, or follow him on Twitter.