Music
New Kids On The Block And Backstreet Boys Unite At Honda Center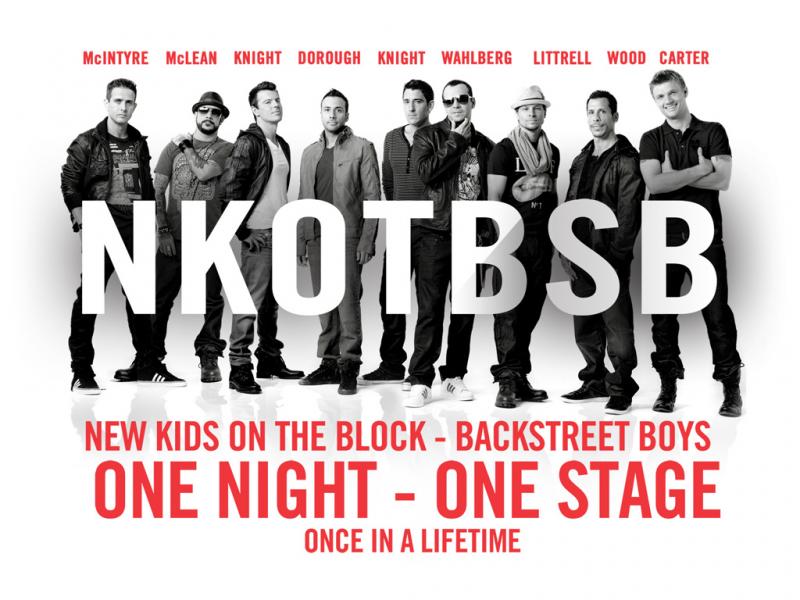 It was the night of boy bands at Wednesday's
NKOTBSB
concert stop at the Honda Center in Anaheim, Calif. Fans were transformed to 1989 (for New Kids On The Block) and to 1999 (for Backstreet Boys) as two of the most successful boy bands took to the stage to perform new hits and old classics.
The groups, who played for two hours and twenty minutes, came out from the beginning with huge energy. As each boy's (or should I refer to them as men now) picture was displayed on the giant screen, women of all ages screamed and screeched for their favorite guy. Then Coldplay's "Viva La Vida" began to play as background music as the two bands united to sing New Kid's "Single" and Backstreet Boy's "The One." From then, the two groups would switch off or have blocks of songs, then take a break for the other band to perform.
Throughout the night, it appeared to me that there were slightly more Backstreet Boy fans in the crowd. However, the New Kids moms brought more excitement, screams and the bigger party. Sure the Backstreet Boys performed their love songs such as "Shape Of My Heart." In fact, four lucky ladies, including one precious little girl, were chosen to come on stage and be serenaded by the boys. Nonetheless, New Kids managed to bring more people to their feet, even if those in attendances didn't come to the show knowing their songs.
The crowd loved New Kid's "Step By Step" which included a little dose of Salt-N-Pepa's "Push It." After some guys took their shirts off during "Cover Girl," the moms flipped out. The top song of the night from New Kids must have been "Tonight." Besides the great lyrics and beat, the group also spread out into the audience to meet with fans near the floor section. During the song, many in attendance were singing along and everyone had their hands in the air.
Backstreet Boys couldn't let their fans down. Right after New Kids went into the audience, Backstreet Boys followed as they performed "Shape of my Heart." The reaction from some fans standing by both groups had a response similar to young teens seeing Justin Bieber perform.
Opening up for the first time this tour was "Glee's" Matt Morrison. The opener for the first half of the tour was "American Idol" star Jordin Sparks. His set began with a video of him and Sue Sylvester, AKA Jane Lynch, riding in a car together. Morrison was singing along to a wide variety of songs that tortured Sylvester. She later told the crowd, "Enjoy the show, losers."
To my surprise, Morrison was phenomenal as an opener. He sang a wide variety of songs from both his self-titled debut album and his covers from FOX's "Glee." Highlights from his performance included his own song, "Don't Stop Dancing," dedicated to "triple threats" Patrick Swayze and Michael Jackson, two men he continues to look up to. Also, his rendition of Kanye West's "Gold Digger" got his home-town crowd pumped.
As a whole, all three performances made it a night to remember. As a guy who grew up with the Backstreet Boys, I expected to enjoy their performance the most. With New Kids On The Block, I only recently discovered their huge hits after watching their crazy fans unite for their reunion performance on the "Today" show back in 2008. To my surprise, the New Kids might have been the winners of this show. They certainly still have the "Right Stuff."
Here's to 98 Degrees and NSYNC...... you guys are next to step it up and reunite.
Reach Associate Entertainment Editor Mike Vulpo here
SET LIST
Single / The One (Mash-up) – NKOTBSB
Summertime – NKOTB
The Call – BSB
Dirty Dancing – NKOTB
Bye Bye Love – BSB
The Right Stuff – NKOTB
Larger Than Life – NKOTBSB
Blow Your Mind – NKOTB
Valentine Girl – NKOTB
If You Go Away – NKOTB
Please Don't Go Girl – NKOTB
Show Me the Meaning of Being Lonely – BSB
10,000 Promises – BSB
I'll Never Break Your Heart – BSB
Inconsolable – BSB
Drowning – BSB
Incomplete – BSB
Step By Step – NKOTB
Cover Girl – NKOTB
My Favorite Girl – NKOTB
Games – NKOTB
Click Click Click – NKOTB
Tonight – NKOTB
Shape of My Heart – BSB
As Long As You Love Me – BSB
All I Have To Give – BSB
If You Stay – BSB
Quit Playing Games (With My Heart) –BSB
I'll Be Loving You Forever – NKOTB
I Want It That Way – BSB
Don't Turn Out the Lights – NKOTBSB
ENCORE
Everybody (Backstreet's Back) – BSB
Hangin' Tough / We Will Rock You (Mash-up) – NKOTB
Everybody (Backstreet's Back) / Hangin' Tough (Mash-up) - NKOTBSB