Music
Review: Dudamel And Lang Lang At The Hollywood Bowl
Summer is a strange season for the world of classical music. Concerts during the rest of the year are decidedly intimate, indoor affairs. But with the July heat comes the urge to get outdoors, and it seems even the typically-reclusive orchestral musicians are glad to shed the confines of the concert hall for more spacious outdoor accommodations.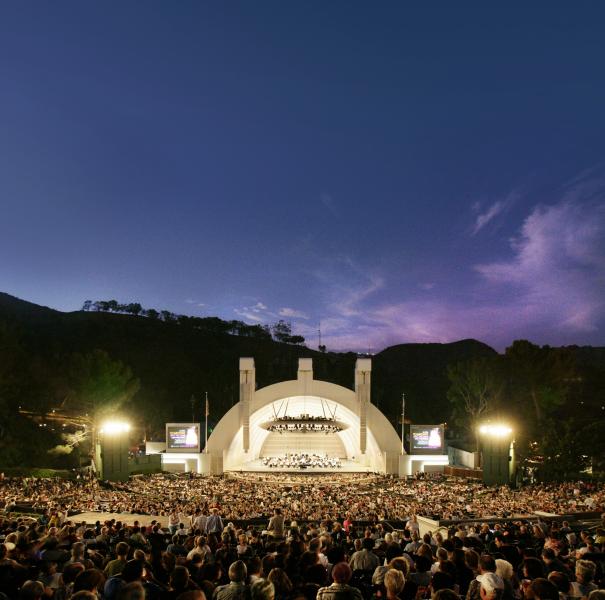 And it's at this time of the year that those same musicians, a nomadic bunch to be sure, quite literally run for the hills, with the music festivals of Colorado (Aspen and Vail in particular) winning more than their fair share of the summer's music.
Here in Los Angeles, we are fortunate to have our Philharmonic home for the summer – if, with traffic on the 101, it can sometimes feel like the Hollywood Bowl is a full couple states away.
But an hour of gridlock (and a good deal of bottled-up road rage) is a small price to pay for an evening of quality music, and last night was surely no disappointment.
The Phil seemed determined to start the summer season off right, with a genuine celebrity cast, Music Director Gustavo Dudamel and the pianist Lang Lang, starring in the first concerts of the classical series last Tuesday and again yesterday evening.
The program was Russian through and through, opening with a fine reading of the Polovtsian Dances from Alexander Borodin's unfinished magnum opus, the opera Prince Igor. Russian composers, especially those of the late 19th and early 20th century (think Tchaikovsky, Rimsky-Korsakov, and Stravinsky), have always had a sort of monopoly on dramatic dance music, and Borodin's are quite a special treat indeed – rustic tunes, woodwind pirouettes, and foot stomping galore. Dudamel's band gave it a spirited treatment.
An impeccably executed Prokofiev Piano Concerto No. 3 followed. No matter how many times one encounters the work, the opening few bars have a way of seducing you into a false sense of calm. Don't be fooled. This is highly caffeinated music – rapid and boisterous with little exception. It would seem, then, that our super-star duet of Dudamel and Lang Lang were a good match for this music; these young men are nothing, if not energetic.
But Lang Lang's liveliness has also earned him a reputation as something of an instrumental wild-man over the years. After a conversation with Lang Lang about a decade ago, my dear friend and mentor Tim Page wrote that, when quoting the "eager and animated" young pianist for a piece in the Washington Post, he was "tempted to place exclamation points at the end of most of Lang Lang's sentences."
Much the same could perhaps be said of Lang Lang's musical sentences. There is a sort of insistence in his playing – a pianistic shouting that isn't so much about volume as it is intensity. It is a style that speaks straight to the hearts of many listeners. It's also the kind of playing that has led some critics to view him as an unserious or even pandering musician.
Surprisingly, Lang Lang kept his – let's call them "eccentricities" – to a minimum. He approached the Prokofiev with an uncharacteristic stoicism, and it was a presentation that would likely impress anyone who – as this critic did – grew up on the no-nonsense Prokofiev recordings of Martha Argerich.
Unfortunately, that aforementioned wild-man-Lang Lang still made an appearance, with a spazzy encore performance of Liszt's Liebestraum that brought the young woman next to me to tears; I felt a bit like crying as well, but for very different reasons.
When Lang Lang wasn't too busy wallowing in his own pianistic ego with a musical pacing that could be called erratic at best, he was – if it can be believed – attacking the instrument with as much force as in the most intense moments of the unmistakably percussive Prokofiev (this, in a work titled "dream of love").
One can only hope that the reformed-Lang Lang that showed up for the Prokofiev will win the battle for this gifted young pianist's future.
The concert closed with Modest Mussorgsky's Pictures at an Exhibition, a staple of orchestral programming that never seems to wear out. There is no doubt that Pictures, originally written for piano, wouldn't enjoy such popularity if not for Maurice Ravel's expert orchestration. But this is still music of incredible imagination – in turns, bold, monstrous, frisky, and even, yes, picturesque. It has earned its rank as a classic, and Dudamel treated it with the reverence it deserves.
The evening grew cold quite quickly, and the chill in the air made life substantially more difficult for the wind and brass players, whose instruments are particularly sensitive to changes in the climate. But intonation issues should be forgiven without hesitation in such circumstances.
Those few blemishes aside, this was one of the best Pictures I have encountered. Mussorgsky's scenes were made vivid – from the clumsy gnome, to the un-hatched chickens, to the great gates of Kiev.
Kudos to the Phil's saxophonist, whose solo in the "Old Castle" movement was pure magic, and to the tuba player whose hushed playing in "Bydlo" was pianissimo perfection – creepy and cold, with just the right amount of dread. Spooky stuff.
Then, with a grand frisson of hair-raising Mussorgsky excitement, the summer season was underway. And with playing like that still ringing in the ears, the post-concert traffic crush almost didn't seem that bad. Almost.