Mr. Infamy: Being Reggie Bush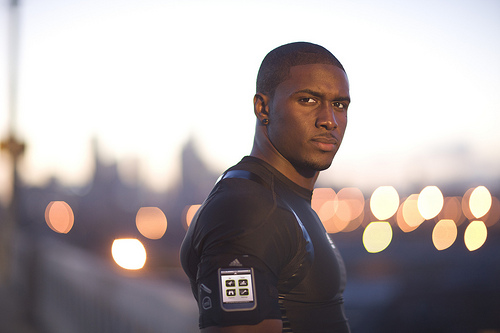 Every new college football coach begins his introductory press conference the same way: by declaring that this is his dream job, then raising his right hand in the air and muttering some sort of rallying cry (like "Hook 'Em Horns" or "Fork 'Em"). Within seconds, a school employee or fan, located somewhere in the vicinity, will subsequently mutter the exact same phrase. It's a typical setting, a bit corny, but a familiar display that serves as an important element of college football.
Tradition matters. It matters for fans. It matters for alumni. It matters for boosters – the ones who write the checks.
Coaches embrace that, largely to keep their jobs. And when they don't, things don't end particularly well – unless they win, and win handily.
How did this become a prerequisite for holding a head coaching job in college football? I have no idea. But for decades at least, programs have wanted "one of their own" to assume the top job. Or at least someone who acts as if he is. Should evaluations be conducted solely on Xs and Os? Probably. But they aren't. This is the world we live in.
A coach needs to win first and foremost, certainly. But a seamless transition into the culture has become almost as important. Ask Rich Rodriguez about that after leaving West Virginia for Michigan, where he was maligned in Ann Arbor for not promoting "family values." As a result, despite steadily improving the team's overall mark by two wins per season and finishing with a 7-6 overall record in 2010, he was let go, while Athletic Director Dave Brandon went off searching for something called a "Michigan Man." Rodriguez didn't win enough, granted, but his tenure was cut short in large part because he wasn't "of Michigan."
We live in a world of college athletics where the placation of fans remains critically important. It's why Rodriguez was run out of town. It's why Tyrone Willingham was unable to make it to year four at Notre Dame. And in regards to the USC program, it's why Reggie Bush has been consistently criticized and jeered (at least digitally) by fans ever since last June's ruling by the NCAA.
For the past week, Bush has been similarly disparaged following reports that he has yet to return his copy of the Heisman Trophy to the Heisman Trust after hinting at doing so last September.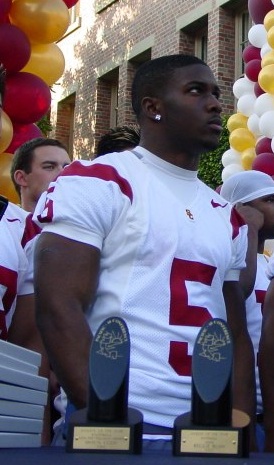 "I know that any young man fortunate enough to win the Heisman enters into a family of sorts," Bush said in a statement at the time. "Each individual carries the legacy of the award and each one is entrusted with its good name. It is for these reasons that I have made the difficult decision to forfeit my title as Heisman winner of 2005."
While Bush did not explicitly declare that he would return the award following the forfeiture, he did indicate as much in an interview with The Times Picayune.
"My mom and dad didn't want me to give it back," he said. "But that's just the motherly and fatherly nature of parents."
The problem in all of this: Bush's Heisman currently sits in the San Diego Hall of Champions after Bush and his family loaned it to the museum March 22, sources told Sports by Brooks.
And interestingly enough, neither Bush nor the museum intends to return it to the Heisman Trust any time soon.
Is it particularly important? Not really - unless you're associated with the Heisman Trust.
But it struck a chord amongst most 'SC supporters. Bush, who promised to ship the award east in an intoxicating, P.R.-heavy release a year ago has gone back on his word. It carries little significance on the field as the upcoming season looms for the Trojans – the final year of the two-year bowl ban and a chance to build upon a ho-hum 8-5 season a year ago--but it once again puts the former tailback in the limelight for seemingly the wrong reason.
The backlash to Bush's sudden defiance serves yet again as a stark reminder as to how the former Heisman Trophy winner, despite his role in helping lead USC to two national championships in his three seasons on campus, has become so maligned, so despised by the majority of fans, who once wore a No. 5 jersey by the thousands.
What changed?
The simple answer is USC got placed on four years' probation. It received a bowl ban. It lost 30 scholarships over three seasons. It was forced to vacate its 2004 BCS title.
It went from the Rose Bowl in 2008, to the Emerald Bowl in 2009 and to no bowl in 2010. The program, in a sense, deteriorated, and Bush still remains the perfect scapegoat.
But is that fair? As we've seen in recent months, NCAA violations aren't particularly rare. Student-athletes nationwide have been linked to extra benefits worth thousands of dollars. Cam Newton at Auburn. The Tattoo Five at Ohio State. And heck, this stuff isn't limited to 2011 either – ask Craig James.
In it of itself, Bush's decision to accept limousine rides, a '96 Chevrolet Impala and a rent-free home in Spring Valley, Calif. for his family wouldn't normally equate to this much animosity directed toward him. It's odd, in a sense. Terrelle Pryor never got this much backlash at Ohio State, and neither did the Pony Express at SMU, which resulted in the death penalty and over 20 years of relative obscurity for the program. In fact, SMU might not ever be the same again. Ever.
But Bush is different, and oddly so.
1.) By accepting $290,000 in extra benefits from sports marketers Lloyd Lake and Michael Michaels from December 2004 onward, Bush placed USC at risk by violating NCAA rules (again, so did others). Yet, details of the arrangement between Bush and Lake surfaced only after Bush, for whatever reason, chose not to cooperate and repay Lake the money loaned, and as a result, Lake went to with Yahoo! Sports in September 2006, detailing the relationship which eventually led to the NCAA investigation, Notice of Infractions, etc., etc. If Bush repays Lake, it's more than fair to wonder whether the information ever comes to light. That has always irked many. It always will.
2.) Not only did he help Lake's story become public, but Bush further failed to comply with the NCAA investigation and legal proceedings at least initially. In the months after, he gave Lake the cold shoulder, and in November 2007, Lake sued as a result – which lasted nearly three years until Bush finally settled in April 2010 (instead of giving a court-ordered deposition).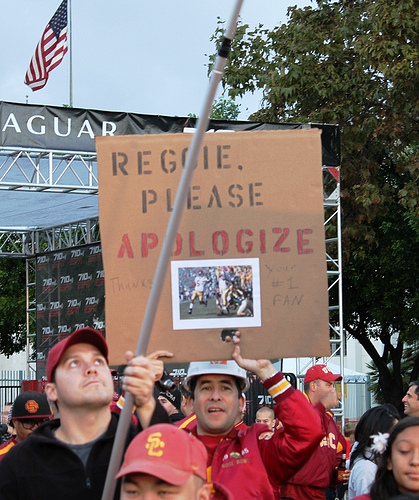 Bush's dealings with Lake cost USC and cost it dearly.
Bush became Target A not as a result of the technical violations, but by committing college sports' deadliest sins: he went against the program and he didn't seem to care.
In spite of all the touchdowns, in spite of all accolades, he didn't exercise contrition. He didn't appear to "have USC's back" so to speak. In short, he didn't wear cardinal and gold on his sleeves, and yes, that matters a great deal.
He didn't utter "Fight On!" He didn't ever declare that he was "always proud to be a member of the Trojan Family" or would "always support USC." In fact, he never mentioned he was sorry – not once in five years. No apology was has ever been issued. It probably never will.
It shouldn't come as a surprise, though. Reggie Bush has always been about Reggie Bush. He had "619" scripted on his eye black as a tribute to his hometown, not USC, rubbing some the wrong way. And his original interaction with Lake came only after his stepfather, Lamar Griffen, intended to launch a sports agency with a family friend, promoting Bush as its top client. Don't tell me student-athletes are this image-conscious, not at age 20.
Granted, scapegoats are commonplace in sports (see: Bill Buckner and Scott Norwood, among others). They failed to perform up to par on the field, and as a result, the criticisms pile up.
But college athletics is inherently unique; it's communal to some extent. Most fans either attended the university, work for the school or know someone affiliated with the institution as a whole. Everyone's got a stake. In professional sports, it's akin to watching a Broadway show or an Oscar-winning movie. You pay cash to gain admission, you watch what transpires and then you leave. Maybe, if you like what you saw, you return, become a season ticket holder.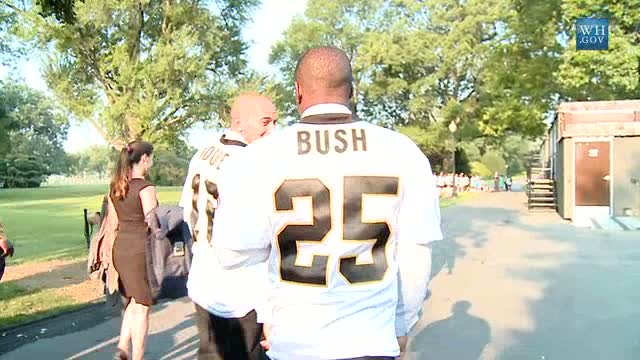 On the college scene, most don't leave. They come back for homecomings, for a speaker series, for a concert. And often times, they send their offspring through those same gates. There's a connection that exists beyond sitting in a stadium on Saturday. Bush didn't happen to just play for USC's football team. He happened to be the face of the university, of the alumni network, of the Trojan clubs sprinkled across the Southland.
He was the cool guy at the party with the fashionable sneakers and with the designer jeans. He was everybody's friend. He was the one everyone wanted to mimic. And then they learned he was never interested in them to begin with. Rejection hurts; it still stings.
There's something in college sports, football in particular, that screams "beyond Saturday." Seemingly, Bush ignored that, and in the minds of many, that cost him – probably forever.
-----------------
Joey is the sports editor for the Daily Trojan. You can follow Joey on Twitter, or contact him by email.