Sports
Hockey Happenings: July's Top Stories
Going though offseason withdrawals? Don't fret, hockey fans. We've rounded up ten tantalizing tidbits to tide you over until teams take to the ice again this fall.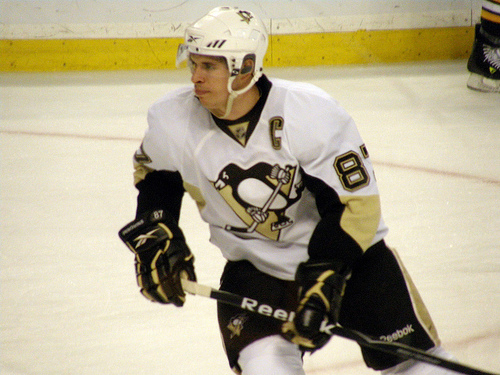 10. On July 29, LA Kings Night will take place at Dodger Stadium, where the Dodgers will be playing the Arizona Diamondbacks. Last year, Kings' players Dustin Brown and Matt Greene participated in the event. Each ticket comes with a voucher for a limited edition LA Kings/Dodgers hat.
9. Chicago Blackhawks forward Patrick Kane will undergo surgery on his left wrist on Tuesday to fix a scaphoid fracture. The Blackhawks released a statement noting that the injury was discovered during off-season training. Kane will need 6-8 weeks to recover and will be ready for training camp.
8. The Penguins are the first US-based NHL team to officially reach 100,000 twitter followers.
7. Fellow Texans: enjoy reading this story about Ottawa Senators prospect and Texas native Stefan Noesen, who was a first round pick by the Senators.
6. Jeff Schultz, defenseman for the Washington Capitals, was a special guest at a reading of the Declaration of Independence on the Fourth of July at the National Archives Building in D.C.
5. The New Jersey Devils are currently the only team in the NHL without a coach. Jacques Lemaire, former Devils coach, retired after the 2010-11 season. The search for a new coach is under way, with training camp coming up.
4. The New York Rangers announced that two scholarships will be given in memory of the late Derek Boogaard, who played for the Rangers. The scholarship will be for the Rangers Summer Youth Hockey Camp, and will be given annually to two children from the Defending the Blue Line program who have family members serving in the military.
3. NHL.com has compiled a list of the top NHL players over the age of 35. Powerhouse veterans like Teemu Selanne, Tim Thomas and Nicklas Lidstrom are just a few of the members of the over-35 club.
2. While on the topic of social media, SI.com's annual Twitter 100 included two hockey players this year: Phoenix Coyotes forward Paul Bissonnette (@BizNasty2point0) and Edmonton Oilers defenseman Ryan Whitney (@ryanwhitney6).
1. Sidney Crosby is back on the ice. Crosby, who is in Nova Scotia for the summer, is working on his offseason workouts, which include skating. April 20 marked the last time Crosby was on the ice. His concussion occurred in January, but after several skating sessions in April Crosby experienced headaches again and had to stop his training until now.
_______________________________
Reach Sarah by email.