College Football Preview: No. 4 Oregon
(Neon Tommy will be previewing the 2011 College Football Season throughout the summer. You can find links to each of our Top 25 previews here. Today, we preview the team ranked 4th, the Oregon Ducks.)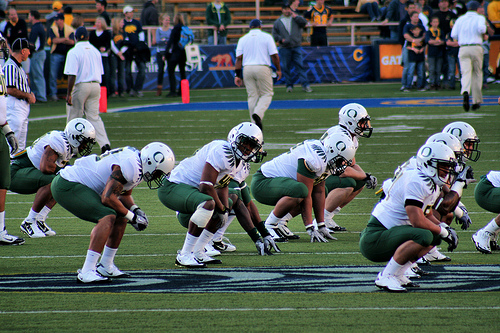 Head Coach: Chip Kelly 22-4 Career and at Oregon
Oregon's 2010 Season: (12-1, 9-0) Lost BCS Championship Game to Auburn 22-19
Offensive Analysis:
--Six returning starters
--Impact Players: RB LaMichael James, QB Darron Thomas, TE David Paulson
Since taking over the helm of the Ducks' football program, Chip Kelly has turned Oregon into one of the finest teams in the country. Last year Oregon had one of the most prolific offenses in college football history. It led the nation in both total offense and scoring offense, while also finishing 4th nationally in rushing. Five starters from the historic unit are gone, however some key elements from the group return in 2011.
Darron Thomas is back at quarterback for the Ducks. Thomas is a very efficient QB who threw for 2,863 yards last year, to go along with 30 TD's and 9 interceptions. The Oregon offense requires the QB to be effective on the ground as well; Thomas rushed for 486 yards and 5 TD's. Thomas does lose some of his more experienced weapons this year, however.
The receiving corps needs to retool and replace two starters, and their two leading receivers, (Jeff Maehl and Drew Davis) from last season. Despite the losses, the group still has some experience, and is loaded with talent. Lavasier Tunei is a returning starter who snagged 36 receptions last year, good enough for 4th on the team. Sophomore Josh Huff (15.95 yards per catch in 2010) will compete for a starting spot with incoming JUCO transfer Rahsaan Vaughn. Four-star receiver Devon Blackmon could also be factor when he arrives on campus. Tight End David Paulson is one of the best in the conference, and many expect him to build on a strong junior year in which he had 24 catches for 418 yards and 4 TD's.
A Heisman finalist in 2010, LaMichael James once again will start at running back for the Ducks. James was the nation's leading rusher last year, racking up 1,731 yards and 21 TD's, and is once again a Heisman frontrunner in 2011. Also returning is Oregon's second leading rusher from last year, Kenjon Barner. Lache Seastrunk and true freshman De'Anthony Thomas should also see action this fall.
The offensive line has the most rebuilding to do after losing three starters from last year. Guard Carson York and tackle Mark Asper are the only two starters who return.
Defensive Analysis:
--5 returning starters
--Impact players: DB Cliff Harris, S John Boyett, DL Ricky Heimuli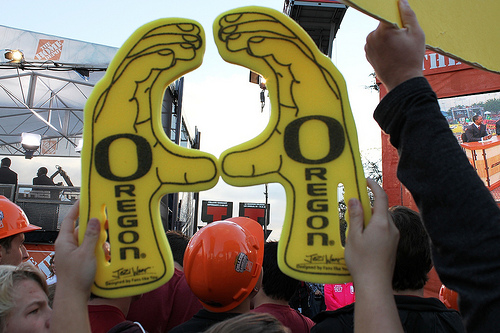 Six starters are gone from a defense that ranked 34th nationally in total defense, and 7th in turnover margin in 2010. An additional starter, DB Cliff Harris,
was suspended indefinitely
this offseason and will miss at least one game.
The defensive line returns only Terrell Turner (5.5 TFL last year) as a starter, but the thee other projected starters (Taylor Hart, Ricky Heimuli and Brandon Hanna) each have game experience. Heimuli played in every game as a true freshman last year and will be counted on to anchor the Ducks' defensive line.
Josh Kaddu is the only returning starter among the linebacking corps. Michael Clay seems to be a consensus choice to fill one of the vacant LB spots after totaling 42 tackles last season. The third spot will be filled by either Dewitt Stuckey (who was atop the depth chart at the end of spring) or true freshman Anthony Wallace out of Dallas.
The majority of experience on the Ducks' defense rests in the secondary. Eddie Pleasant, John Boyett and Cliff Harris all return as starters for Oregon. Boyett and Harris combined for 11 interceptions last year, and Boyett and Pleasant are the team's top two returning tacklers. It should be pointed out that if Harris is forced to miss multiple games due to his suspension then Scott Grady will likely be the player who steps in.
Strengths:
The collective speed of the Ducks is easily their greatest asset. They are unquestionably one of the fastest teams in the nation, and play with such a tempo that the speed differential between them and opponents is maximized. They return arguably the best running back in the country, and have a head coach who knows how to utilize his player to the best of their abilities. The importance of getting to play home games late in the season can never be understated. The Ducks have the luxury of playing 3 of their last 5 games, including the final 2, in Eugene.
Areas of Concern: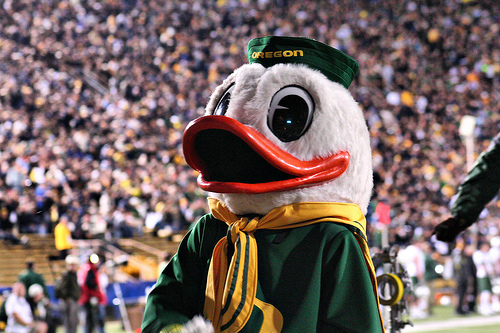 The offensive and defensive lines are essentially getting makeovers, and multiple starters need to be replaced on both sides of the ball at all positions. The schedule is somewhat daunting with an opening game against LSU (In Arlington, Tex.) and road trips against Stanford, Arizona, and traditionally tough road venues Washington and Colorado. The Ducks were relatively undisciplined last season: they ranked as the 100th most penalized team in the country, a stat that will need to improve in 2011 given the greenness of the team. The Cliff Harris situation could be a lingering problem, although the bigger distraction could come from the
ongoing NCAA investigation
into the Ducks' football program and its relationship with mentor/scout Willie Lyles.
Finals Thoughts:
A team as inexperienced as Oregon generally wouldn't garner a No. 4 ranking, but the Ducks have too much not to like. They blew out so many teams last year (24.9 advantage in scoring margin) that many players on the roster were able to get in-game experience. They have speed, they have returning All-Americans and they have two potential Heisman candidates. The game against LSU is early enough that should they stumble, they still have a chance to climb back into the BCS Championship picture. The Ducks have strung together three straight 10+ win seasons, and Chip Kelly has led the Ducks to two consecutive BCS bowl appearances. We project both streaks to continue in 2011.
_________________________
Reach Scott by email, or follow him on Twitter.