Sports
College Football Preview: No. 21 USC
(Neon Tommy will be previewing the 2011 College Football Season throughout the summer. You can find links to each of our Top 25 previews here. Today, we preview the team ranked 21st, the USC Trojans.)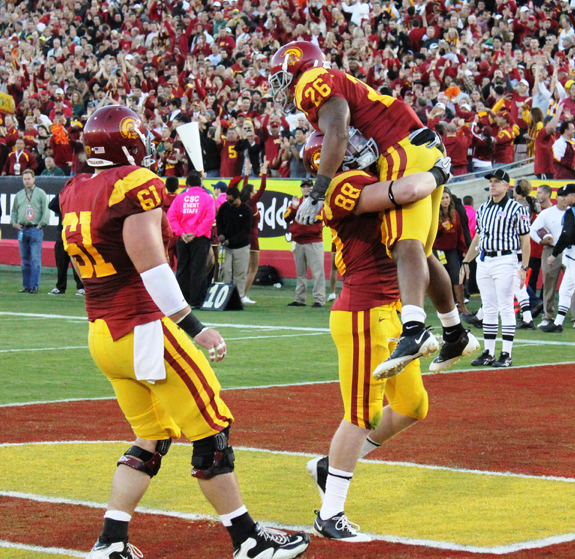 Head Coach:
Lane Kiffin (15-11 career, 2 years)
USC's 2010 Season:
8-5, Ineligible for postseason bowl due to NCAA sanctions.
Offensive Analysis:
-- Six returning starters
-- Impact Players - QB Matt Barkley, WR Robert Woods, OL Matt Kalil
The 2010 edition of the USC offense was ranked 26th in the nation and averaged 31 points per game, a pretty healthy stat line to say the least. QB Matt Barkley, now in his third year as the Trojans' signal-caller, will look to build upon a solid sophomore campaign in which he threw for 2,791 yards and 26 touchdowns against 12 interceptions - and he will have plenty of weapons at his disposal. Sophomore WR Robert Woods is coming off a record-breaking freshman season in which he was Troy's leading receiver (65 receptions, 786 yards), and will serve as a primary target for Barkley once again in 2011. Adding depth to the Trojans' aerial attack are Kyle Prater (who redshirted in 2010), Brandon Carswell, and TE Rhett Ellison. Five-star recruit George Farmer also arrives on campus this fall and, with his skill and ability, should join the fray at wideout.
The running game is slightly more unsettled for Lane Kiffin's Trojans. Senior Marc Tyler returns as the starter at RB, but Tyler missed most of spring football due to injury and also had to deal with some off-the-field troubles this offseason. Behind Tyler, things get a little murky. If Tyler faces an extended absence stemming from his injuries or as disciplinary action, the Trojans are relatively unproven at the position. Curtis McNeal and D.J. Morgan both had strong performances this spring while filling in for Tyler, but are both green in terms of collegiate experience. McNeal has just six carries since arriving at USC in 2008, and Morgan redshirted last year (his first on campus) as he recovered from an injury suffered during his high school career. Not to be counted out is Dillon Baxter, who rushed for 252 yards as a true freshman in 2010. Needless to say, "competition" will be the theme for this group heading into 2011. The Trojans will also need to replace departed FB Stanley Havili, and will look to Soma Vainuku to take the reigns.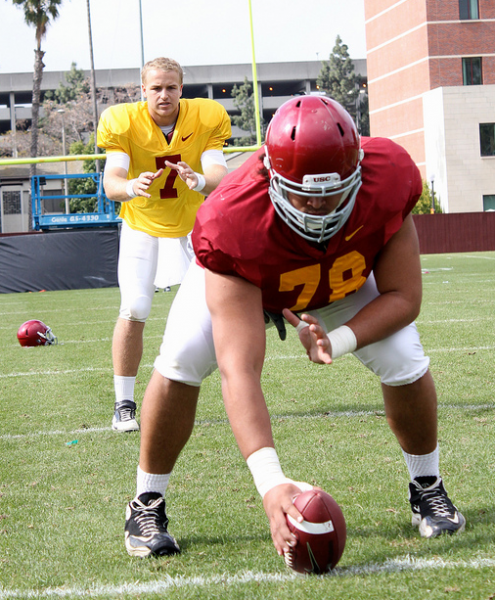 The offensive line will be anchored by juniors Matt Kalil and Khaled Holmes (pictured left). Holmes will likely move from guard over to center, while Kalil will continue to protect Barkley's backside as a left tackle. In order to fill out the line, USC will look to an influx of junior college and high school players. Freshmen Aundrey Walker and Cyrus Hobbi arrive in Los Angeles as two of the most sought-after prospects in the 2011 recruiting class and will need to step up early. Sophomores John Martinez and Kevin Graf will also be in the mix. 


Defensive Analysis:

-- Seven returning starters

-- Impact Players - S T.J. McDonald, DE Nick Perry, DE/LB Devon Kennard

In 2010, the Trojans were just plain bad on defense, most notably sporting a pass defense that ranked 109th in the country. That's 109th out of 120. Fortunately for USC, 2011 is a new year, and they have plenty of reasons to be optimistic after a solid spring. For one, another year of familiarity and simplification of the scheme in Monte Kiffin's defense clearly looks as if it will pay dividends this fall. Safety T.J. McDonald is a dominant player and an imposing presence in the secondary. Joining him in the defensive backfield is CB Nickell Robey, who started last year as a true freshman. Opposite Robey at the other corner spot will be the emerging Tony Burnett. Burnett was a football walk-on after coming to Troy as a jumper for the track team, and after closing out the 2010 season with strong play at the safety position, was awarded a scholarship this offseason and moved to corner. Jawanza Starling, Marshall Jones and Demetrius Wright will continue to battle for, and possibly share, the other safety spot.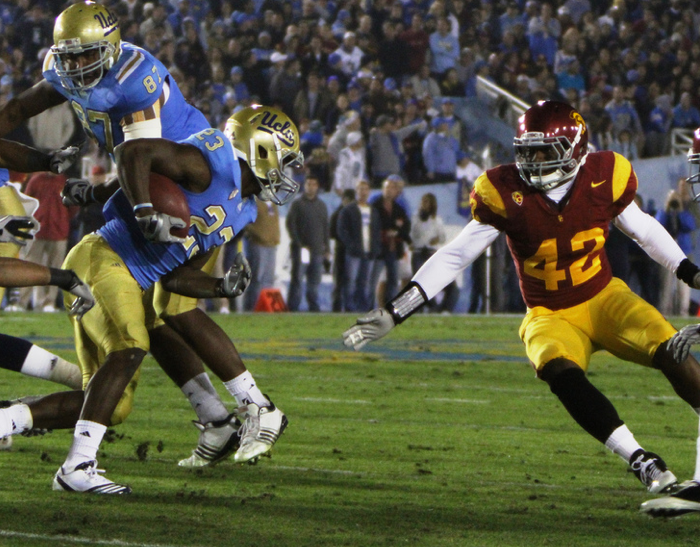 The linebacking corps will have a new look in 2011. Devon Kennard (#42, pictured right) will return to the DL after spending much of 2010 as a middle linebacker. Also, Dion Bailey moves to linebacker from safety. Chris Galippo will look to shake the injury bug that has plagued him much of his career and have a strong senior season. Strong spring performances were turned in by Hayes Pullard, JuCo transfer Dallas Kelley and Will Andrew; all of whom could contribute this fall. Shane Horton, who missed spring with an injury, will also see significant time. The arrival of Lamar Dawson from the 2011 recruiting class will also be welcomed with great expectations, as Kiffin has already bestowed the tradition-rich "55" jersey on him.

On the defensive line, the Trojans have added depth, something they lacked greatly in 2010. As mentioned, Devon Kennard returns to his natural position of defensive end and should bolster USC's pass rush along with DE Nick Perry, who had a dominant spring after playing hurt much of last season. Wes Horton, who started much of 2010, also returns. At defensive tackle, both DaJohn Harris and George Uko are back as starters, and Christian Tupou returns from injury as well. One question that lingers is the health of Armond Armstead, and it is uncertain if he will be cleared to return in 2011 from an undisclosed medical condition. Talented freshmen Greg Townsend, DaVonte Wilson, Christian Heyward and Antwaun Woods all could compete for time in Ed Orgeron's d-line rotation. 


Strengths:

The coaching staff is made up of some of the brightest minds in football. The offense has a potential Heisman candidate at quarterback, along with multiple big-play threats at receiver and running back. The defense has a simplified scheme and a majority of its starters returning. In terms of NFL talent, the Trojans are still the class of the Pac-12. Seven home games in 2011 could help make the season special, even though the Trojans are ineligible for postseason play.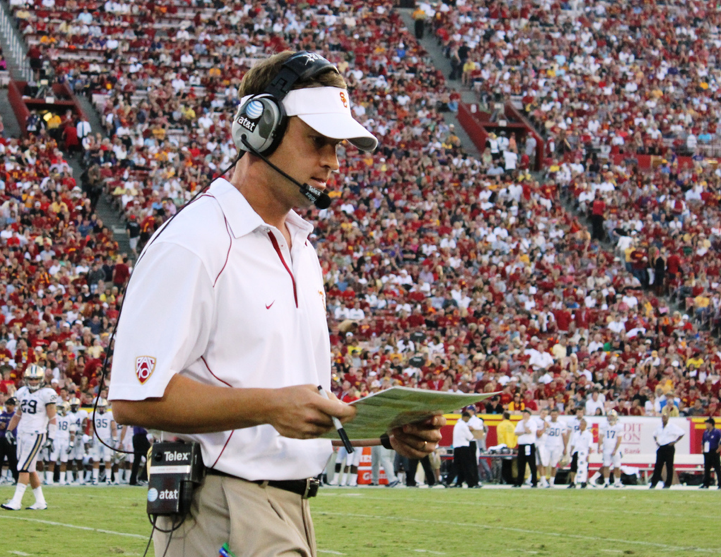 Areas of Concern:
A common theme in the above paragraphs is "injury". The Trojans have had a flat out injury epidemic since Lane Kiffin (pictured left) arrived, to no fault of him own - he didn't even allow tackling in practice in 2010. 20 players missed all or significant portions of spring ball. Additionally, talent is thin along the OL. Will the newcomers be able to meet expectations and contribute right away? Can the group perform at a high level while enduring minimal depth? Night games at Oregon and Notre Dame as well as home dates with Stanford and Utah will pose challenges.
Final Thoughts:
USC is talented enough to compete with any team in the nation, the question is: can they stay healthy enough and motivated? With hopes of a bowl game gone as a result of NCAA sanctions, the Trojans' focus will be on an undefeated season and the AP National Title (which they are still eligible for). If they stumble and lose a game, essentially eliminating AP title hopes, will they throw in the towel on the season? The thought process is that leadership is strong enough to keep that from happening, and that Lane Kiffin's team will improve upon last year's 8-5 season.
----------------
Reach Scott by email, or follow him on Twitter.