Sports
College Football Preview: No. 19 West Virginia
(Neon Tommy will be previewing the 2011 College Football Season throughout the summer. You can find links to each of our Top 25 previews here. Today, we preview the team ranked 19th, the West Virginia Mountaineers.)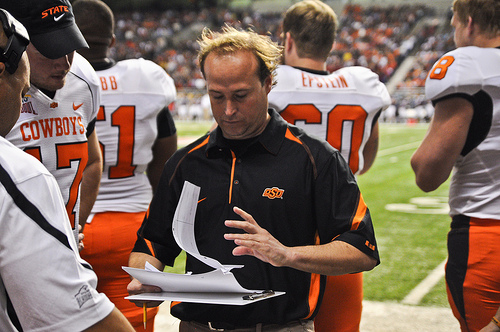 Head Coach: Dana Holgorsen (0-0, 1st year as head coach)
West Virginia's 2010 Season: 9-4 (5-2 Big East Co-Champ), Lost Champs Sports Bowl to NC State
Offensive Analysis:
-- Seven returning starters
-- Impact Players: QB Geno Smith, WR Tavon Austin, OL Don Barclay
At the end of the 2010 season West Virginia hired Oklahoma State assistant Dana Holgorsen as the Mountaineer's offensive coordinator, as well as their head-coach-in-waiting. After just six months in Morgantown Holgorsen's wait was over, as former head coach Bill Stewart was forced to resign amid controversy and Holgorsen officially was named the team's head coach. How's that for an offseason?
Holgorsen earned a stellar reputation as an OC while producing potent offensive attacks at Oklahoma State, Houston and Texas Tech. At WVU he inherits what could possibly amount to his best offense to date. Junior QB Geno Smith threw for 24 TD's and just 7 INT's in 2010 while leading the Big East Conference in pass efficiency. Smith, a mobile QB with sound pocket awareness, also managed to rush for 217 yards last season. The passing game will have two of its top targets back in 2011, in Tavon Austin and Stedman Bailey. Austin caught 58 passes for 787 yards and 8 TD's in 2010.
At running back, the Mountaineers lose longtime staple Noel Devine to graduation and will look to Shawne Alston to fill the void. Alston ran for 248 yards as a sophomore in 2010 and will benefit from an experienced group of linemen paving his way. The offensive line is strong, returning four of last year's starters. Guard Josh Jenkins and tackle Don Barclay will anchor the experienced unit, although Jenkins will be coming off an injury sustained during spring ball that could be an issue early on.
Defensive Analysis:
-- Four returning Starters
-- Impact Players: DL Julian Miller, DB Terence Garvin, DL Bruce Irvin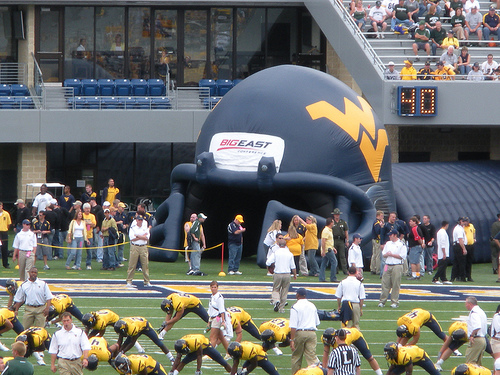 The 3-3-5 defense has become almost synonymous with West Virginia in recent years, and that will remain the case in 2011. Longtime defensive coordinator Jeff Casteel will remain with the Mountaineers on Holgorsen's staff in the same role. WVU returns just four starters from a unit that ranked 3rd nationally in total defense last season.
On the defensive line senior Bruce Irvin will step into a starting role after totaling 14 sacks as a situational player in 2010, good enough to finish second in the country. Julian Miller also returns for his final season, and his third as a starter.
At LB Najee Goode is the only returning starter. Competing to start alongside Goode will be the likes of Doug Rigg, Casey Vance and Branko Busick. The secondary returns two of five starters from last year, one of which was the team's leading tackler, safety Terence Garvin. Keith Tandy is the group's other returning starter and will again line up at corner. Tandy led the Mountaineers in interceptions last year, hauling in six.
Strengths:
WVU has a very favorable schedule in 2011. Five of the first six games are at home, and the two toughest games (LSU and Pittsburgh) will both be played in Morgantown. They've got an experienced QB surrounded by veterans on offense, and they have Holgorsen calling the plays. Holgorsen first became an OC in 2005, and since then has had a 4,000 yard passer every single season. The experience of the offensive line will be a benefit early in the season as WVU breaks in a new RB.
Areas of Concern:
As polished as Holgorsen is at calling plays, he's never been a head coach before. Can he make the adjustment that so many coordinators have struggled with in the past; going from the booth on the sideline and being responsible for the whole show? The defense is inexperienced, but Casteel has always been able to put together a solid unit. Are seven starters too many to replace this time around? As nice as the schedule appears, playing just two games out of the last six contests at home may be too much for the Mountaineers to overcome.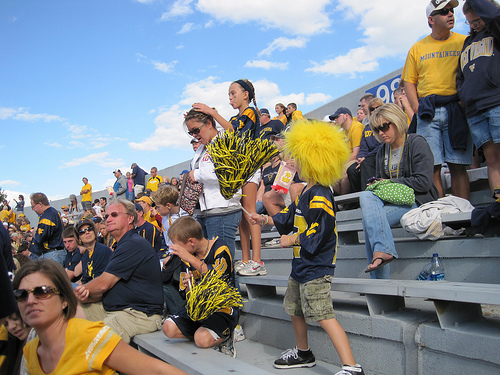 Final Thoughts:
One of the bigger stories in Morgantown this offseason (other than the coaching change, of course) was the new policy allowing beer sales at Milan Puskar Stadium. West Virginia is the defending Big East co-champion, but UConn got the conference's bowl berth in 2010. In 2011 all signs point to the Big East being West Virginia's to lose; which would certainly give Mountaineer fans something to drink to.
__________________________________
Reach Scott by email, or follow him on Twitter.