International
China's High-Speed Rail System Under Scrutiny After Collision Kills 43 People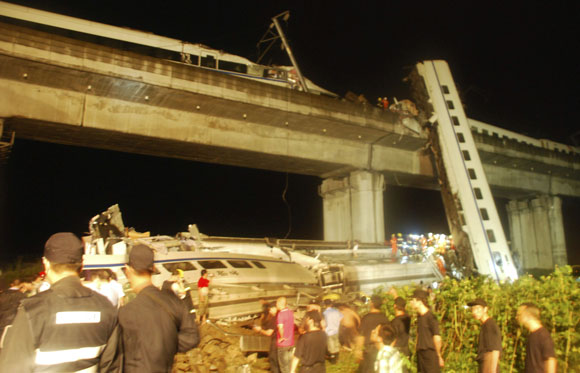 At least 43 were were killed and more than 200 injured after a high-speed rail collision in the city of Wenzhou in China's Zhejian province Saturday, July 23. A speeding train collided with a train that had been stalled after being hit by lightning. Four coaches were derailed after the collision falling six stories from the raised tracks according to reports.
As more victims of the crash are surfacing in the ruins, speculations are growing from the public pointing to China's rushed construction of the high-speed rail system.
China introduced its first high-speed rail system in 2007, with an ambitious goal to build out 9,944 miles of infrastructure by 2015. Since its inception, the country has invested $34 billion into the lines despite a global crisis in 2008. The project, however, gained unwanted attention in February when the chief official of the project, Liu Zhijun, was released from the project after allegedly taking $125 million in kickbacks.
Many critics of China's rail project have voiced their opinions as to the result of the accident.
From Bloomberg.com:
"China is building too quickly," Zhao Jian, a professor of economics at Beijing Jiaotong University and long-time critic of China's high-speed rail projects, said by telephone yesterday. "The result is this kind of accident."
The crash and other incidents expose the problems inherent in the scale of China's infrastructure investments, Bill Barron, a visiting scholar at the Division of Environment at Hong Kong University of Science and Technology, said in an e-mail.
"In so many areas, there is the lack of an adequately trained -- and perhaps more importantly, experienced -- workforce, along with tried-and-tested management oversight at the operational level," he said. "Given the pace of expansion, how could there be?"
Apart from analysts, resentment of the Chinese public are growing online.
From the Los Angeles Times:
Many were outraged over video that was posted online Sunday showing backhoes breaking apart carriages that had fallen off the elevated tracks. Another photograph online showed what some thought were the same backhoes burying parts of the train.
Internet users suspecting a coverup questioned how evidence could be destroyed so quickly and wondered if the carriages had been properly inspected by rescue teams for passengers first.
Chinese news organization Xinhuanet.com is reporting the black box from the trains has been located and an investigation in underway figure out the cause of the crash.
Three officials involved with the rail project were fired as a result of the accident, the Times reports. With the recent disaster, what was once touted as feat of engineering is now viewed as a national embarrassment for China.