Books
Author Interview: Tom Hansen's Textured Life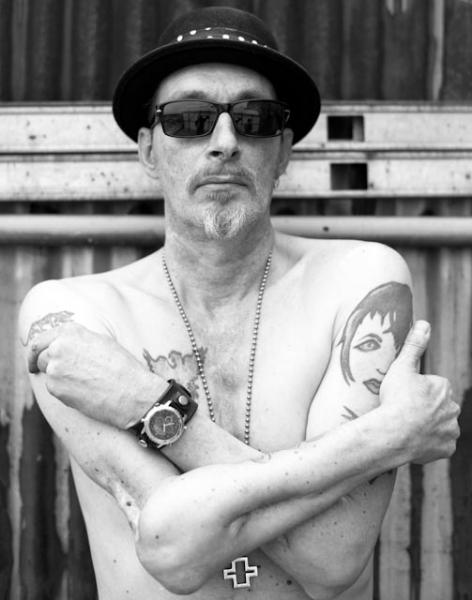 Tom Hansen's memoir
American Junkie
shows a painting of his life as a lonely heroin addict and dealer in Seattle during the zeitgeist of good music happening there in the early nineties. It's considered to be one of the most authentic and classic pieces in the genre.
Famous names—including "Cobain," "Staley," and "Lanegan"—depended on him for their fixes while he struggled to make a name for himself with music, getting buried deeper beneath addiction.
Hansen was raised by adoptive parents. He says that as a teenager the world of punk rock gave him the sense of family that he desperately wanted. Later in his life he found his biological mother and learned that his dad was Jack Stangle, a wildly talented Northwest artist.
He received his MFA from the University of British Columbia. His forthcoming novel, This Is What We Do, is scheduled for release in Summer 2012.
Tell me about your experience writing American Junkie. When did the idea to write a memoir first appear? Did you feel at all self-conscious about memoir as a genre?
I started around 2002 or 2003, when I was at community college. My teachers were encouraging me to write about it. I wasn't too big on the idea. I kind of wanted to leave all that behind and there were already so many drug memoirs. But then I discovered that I was a terrible poet so I kept going. By 2005 I had probably half of the memoir written, the raw materials, just a pile of anecdotes and scenes at this point, with no structure or story arc.
The problem I then faced was how to put it together, how to present the story. I was searching for a frame, a way to tell the story, something that would make it a cut above other drug books, or at least a fresh take on the subject. I found it right around the time James Frey got busted for making up parts of A Million Little Pieces in 2006 or so. That was when the structure came to me, and also when I knew where to end the story. Still, because of the James Frey thing I almost threw the memoir out but it had acquired a kind of momentum and I went with it and finished in 2008.
It's true what they say about the rewriting. That shit took a long fuckin time. But I'm really glad I put the work in. Because that stuff separates the men from the boys, so to speak. It was a revelation. I'd always believed if someone were talented they could just spit out a hundred thousand words and it would be brilliant. It's not true for 99.9% of us.
Who are the artists, writers, and musicians that have inspired you the most?
I think my biological father Jack Stangle was an amazing painter. He was totally dedicated to his art. The last ten years of his life when he was broke and destitute, art patrons and old friends would offer to buy his work and he refused to sell because they weren't interested in the art as much as they were in helping him out. As for musicians, there's quite a few. Nirvana, Mark Lanegan, Sigur Ros, Massive Attack. Writers, Paul Bowles, Hemingway, Ryu Murikami, Somerset Maugham. Bowles is probably my favorite writer. The Sheltering Sky and Let It Come Down are top five for me. I'm inspired by any artist who places the art above all else. No compromise.
How does music, especially punk, propel the way you approach writing?
To me punk values are just following your artistic impulse without consideration of how your work will be received, without consideration of outcomes or appearances, anything beside the work. I take that approach to writing. I have two different methods for fiction and nonfiction. One of the challenges I discovered about nonfiction and that I faced when writing American Junkie is that I had to work within the constraints of the facts and the truth. The story is already there, and in some ways there's not a lot you can do with it, except tell it. That's why how you tell the story, the tone you take, where you begin and end the story, and the structure you choose is so important in nonfiction. That's where you can get creative.
But with fiction the story can just go where it goes. I like that. It's organic. It also makes the writing much more interesting. I'm not one of those writers who outlines or makes a diagram with lines all over it. With fiction I get an idea, develop a character and a setting and follow it wherever it goes. Of course it's influenced by everything I've seen and read in my life but it's better than cramming your story into some pre-conceived box, or making your characters fit some rigid storyline. There's definitely some kind of magic that goes on when writers write and I prefer to follow that to its end and then put a box around it rather than build the box first.
What was your experience like getting an MFA?
It was invaluable. Not so much for what I learned, because becoming a good writer is just as much about putting the time in, but I needed the classes, the routine, the schedule in order to learn some discipline. I had always been a quitter. None of my bands ever lasted because I would give up, quit. School in general and the MFA taught me how to stick with something, how to work, endure, overcome. That saved my life in some ways.
Were you careful about not sensationalizing the stories about your interactions with the famous Seattle musicians you write about in American Junkie?
Yeah. But it still disrupted the "world" of the memoir if that makes sense. The story is rolling along, this bleak story of a junkie, and the world of that story is very focused and compact. My world as a user and seller of heroin was a very small world. And then Kurt Cobain, Mark Lanegan and Layne Staley come into the picture and suddenly the "world" of the memoir is much bigger. I was concerned about that. On the other hand bringing in these larger than life public figures served a purpose. It showed the differences and similarities between these big names, and me, the ultimate little name. They were somebodies and I was a nobody and yet they needed me, for their drugs.
You write: "This was where I belonged. These were my people, the outcasts, the losers, the misfits. The ones who had not. The ones God forgot." Do you feel at all like less of an outcast as you get older?
Not really.
What's your brand of cigarettes?
Camel Filters. But my faves are Prince Filters from Denmark. They are yummy. Come on Denmark send me some! I can't get them here anymore. The last ones I got from my mom, who bought them at a duty free shop at an airport in Norway.
What can you tell me about the new novel? When can we expect its release?
It's called This Is What We Do. It's due out summer 2012. It's about an American in Paris who is wandering the city and undergoing a kind of personal crisis. He meets a Ukrainian model who has been blacklisted and turned to hooking. They end up in a desperate situation and find touching and primitive ways of restoring meaning to their lives. It'll probably end up in the thriller section but it's much more than that. When I was a teenager I read some thrillers, like The Eiger Sanction by Trevanian and Papillon by Henri Charriere. Later I read Sartre and Camus and Bowles and Hemingway and Maugham. It's influenced by all those guys, and by 70's movies like "Network," "Midnight Cowboy" and "Taxi Driver." It's also a love story about a couple of losers, shades of Leaving Las Vegas.
It's a thriller, and also an existential character study. Maybe it was a crazy idea to try and do both in the same book but that was where the story went. It asks some hard questions and delves into some controversial ideas. In some ways it's a reaction to a lot of the contemporary literature I see, with the quirky humor, weird characters, PC subjects and themes. I find that a lot of the irony and satire and humor in those books and movies has the effect of preventing readers and viewers from engaging fully with the truth of certain aspects of life. The ugly stuff. The tragic. The absurd.
Even after all this time the idea that good people can do bad things and bad people can do good things is still hard for people to swallow. But that's the truth. That's reality. That's humanity. And I believe in more reality and less fantasy. It's my modus operandi as a writer and I used it for this novel. Michel Houellebecq was an influence in that way. He's good at holding a mirror up to ourselves, tipping it slightly, and showing us a side of ourselves that we don't want to see. Damn, now I've made the novel sound so depressing no one is gonna buy it.
Reach Michael Juliani here.
Follow him on Twitter here.