Entertainment News
Tracy Morgan's Anti-Gay Jokes Spark Criticism Amongst Peers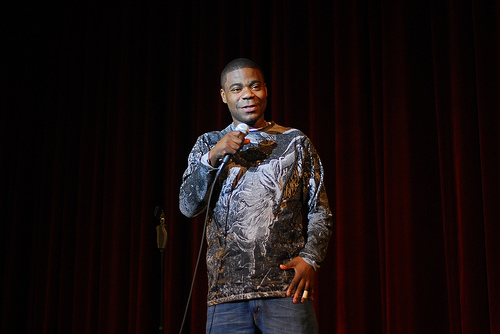 Actor and comedian Tracy Morgan has come under fire recently for homophobic comments made during a recent stand-up routine. Morgan reportedly stated that he would stab his own son if he ever came home gay, and that gays should not whine about being bullied by others.
The media reaction to these comments has been swift and severe, and many of Morgan's own colleagues have called him out for making such insensitive remarks.
Tina Fey, co-creator of the hit NBC show "30 Rock" and also Morgan's co-star on the show, gave heavy criticism, stating "Stand-up comics may have the right to 'work out' their material in its ugliest and rawest form in front of an audience, but the violent imagery of Tracy's rant was disturbing to me at a time when homophobic hate crimes continue to be a life-threatening issue for the GLBT Community." Morgan also was lambasted by other prominent actors, including his openly gay co-star Cheyenne Jackson, who is quoted as saying that he "want[s] to believe that this behavior is not at the core of who he is. I'm incredibly disappointed by his actions, and hope that his apology is sincere."
While comedians may feel the need to consistently push their work to its limits, Morgan's rant clearly crossed the line of what is acceptable. Also, when taking into account the climate of today's society and the many attacks that gays do endure, such scathing remarks from a prominent entertainer make very little sense.
For more information, please go to CNN Entertainment.
Reach Daniel here.