Los Angeles and Region
V.A. Misusing West L.A. Campus By Not Providing Permanent Housing, Suit Says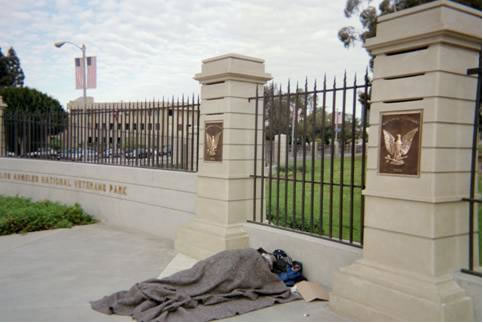 Updated 5:00 p.m. with comment from the Department for Veterans Affairs.
Instead of providing permanent housing to homeless veterans, the Department of Veterans Affairs has leased land to private companies at its West Los Angeles campus, denying veterans with post-traumatic stress disorder the permanent homes they need, a suit filed Wednesday alleges.
The lawsuit seeks to force the V.A. to provide permanent supportive housing for disabled vets and to prohibit the agency from using its West L.A. land for anything "not directly related to providing a home" for those individuals. The suit was filed in U.S. District Court by the ACLU of Southern California and other advocates on behalf of disabled, homeless veterans.
"We bring suit today to provide (mentally disabled) veterans the permanent supportive housing they must have in order to access the medical and psychiatric services they are lawfully entitled, and without which, they stand no hope of a life of dignity and normalcy," said Mark Rosenbaum, chief counsel for the ACLU of Southern California.
The West L.A. campus was deeded to the federal government in 1888 for the purpose of permanently housing disabled veterans, the complaint says. Today, the 387-acre campus has other tenants, including theatres, Enterprise Rent-A-Car and a baseball stadium used by UCLA. There are about 100 buildings on the campus, many of which are vacant, closed, or underused, the complaint says. The West L.A. facility currently has no permanent housing for veterans, although it does have temporary beds, according to the complaint.
"The V.A. could quite literally end veteran homelessness in Los Angeles if this land were used as it was intended," Rosenbaum said.
Citing 2009 VA statistics, the suit says there are an estimated 107,000 homeless veterans in the country, 8,200 of whom reside in greater Los Angeles. Homeless individuals with mental disorders such as PTSD can only access needed psychological and medical services when first provided with permanent housing, the complaint argues.
Two years ago, V.A. Secretary Eric K. Shinseki pledged to end veteran homelessness by 2015. The V.A. has since increased the amount dedicated to homeless services. In 2011, the V.A. provided $4.3 billion for homeless initiatives and wants to increase that figure to $4.9 billion next year.
In a fact sheet distributed to media outlets Wednesday, the VA said it had reduced the number of homeless veterans in greater Los Angeles by about 1,000 since 2009, according to 2010 data from the Department of Housing and Urban Development.
A public affairs official at the V.A.'s L.A. campus refused to comment beyond the press releases and fact sheets the agency released Wednesday, citing legal issues stemming from the suit.
The lawsuit's plaintiffs include veterans from the wars in Afghanistan and Iraq. Chris Romine, who grew up in Madera, Calif., served two tours in Iraq. During his first stint, Romine witnessed two friends die. During his second tour, he was assigned to clean up after roadside bombs, putting him in repeated contact with "body parts and gore." To self-medicate Romine took pain killers and was drunk on duty, leading to a discharge in 2007, the complaint says. Back in the United States, he has spent time on the streets including at a homeless encampment near the V.A.'s West L.A. campus.
At a Wednesday morning news conference announcing the lawsuit, veterans from as far back as World War II, came to support the effort. Tim Goodrich, an Afghanistan veteran, said he came to show solidarity with his "brothers and sisters" who need supportive housing and services the V.A. is not providing.
"It makes me upset that this is happening," he said. "It shouldn't have had to come to a lawsuit to make the V.A. do the right thing."
Reach reporter Andrew Khouri here.