National
Self-Help Expert Found Guilty In Sweat Lodge Deaths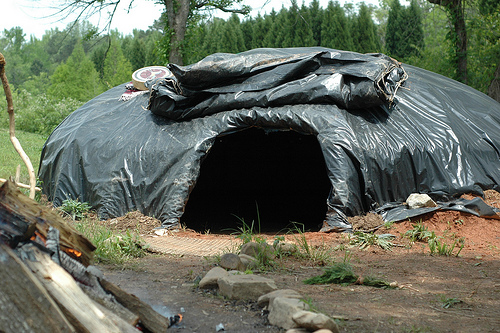 An Arizona jury convicted a self-help expert and bestselling author Wednesday on three counts of negligent homicide after three of his clients died during a sweat lodge ceremony.
The jury said that James Arthur Ray was responsible for the deaths of all three victims, but acquitted him of the charges of manslaughter because he may not have realized the risk he was putting them in.
From The New York Times:
The prosecutor, Sheila Polk, had pursued a more serious charge of manslaughter, arguing that Mr. Ray should have known that the way he ran the two-hour ceremony, in which hot stones were piled in the center of the sweltering lodge, risked death and that he disregarded that risk.
The case drew international attention, largely because of the bizarre circumstances and because the deaths took place at a pristine campground within sight of the red rocks of Sedona, a well-known New Age gathering place.
A motivational speaker and author, Mr. Ray seemed to breathe a sigh of relief when he was found not guilty on the first manslaughter charge. But he looked stunned a moment later when the guilty verdicts came in. Watching the verdict were relatives of Mr. Ray as well as family members and friends of the victims, many of them holding hands as the decision was read.
But Ray's defense attorneys argued that the author didn't mean to put anyone in inherent danger, and that all the participants had signed waivers saying they understood death was a risk.
From The Los Angeles Times:
Before the disastrous ceremony outside the New Age playground of Sedona, Ray had been on a rapid ascent in the rarefied, $11-billion industry of self-help gurus. Thousands attended the free lectures he gave around the country, and many of them later ponied up thousands of dollars to enroll in one of his many workshops.
Propelled by an appearance in a 2006 documentary called "The Secret," about rules for success, he had appeared on "The Oprah Winfrey Show" and "Larry King Live." His business, based in Carlsbad, Calif., brought in $10 million annually and was growing fast, according to Inc. magazine.
During the trial, witnesses testified about the chaotic, two-hour event in the steam-filled sweat lodge. It ended with dozens of clients being dragged from the building. In addition to the deaths, more than 20 people were hospitalized.
Ray was freed Wednesday on more than $500,000 bond. He now faces up to 11 years in prison, but no date has been set for sentencing.