Opinion
Same-Sex Marriage Bill Passes In New York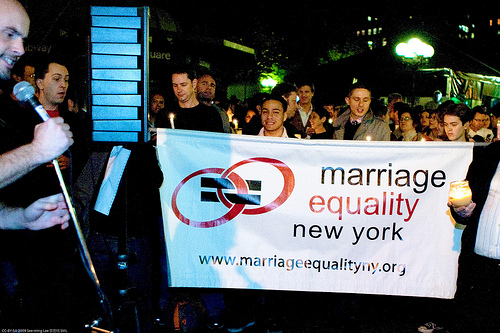 Some states have lived up to the equal protection clause of the Fourteenth Amendment with respect to same-sex marriage, but their numbers are few. Connecticut, Iowa, Massachusetts, New Hampshire, and Vermont have all legalized same-sex marriage. New York just
joined
their ranks.
This legislation surprisingly had bipartisan support: four Republicans and all but one Democrat voted in favor of passing it.
"New York made a powerful statement. Not just for the people of New York, but people all across this nation," said Governor Cuomo, who led the fight for the passage of the legislation and signed the legislation into law. "We reached a new level of social justice this evening."
This is just one result of the turning tide of public opinion. Huffington Post reports:
"As older New Yorkers passed away and younger ones with more tolerant attitudes took their place, the percentage of voters in favor of gay marriage kept on going up and up, from 37 percent in 2004 to 58 percent at the beginning of this month."
Hopefully this trend is representative of many other states in the country, and gay rights supporters can look forward to many more victories in the future. It is just and right that states should uphold the equality inherent in the Constitution for which they presume to fight. The first steps have been taken – and those are usually the hardest. Now other states can follow the example of the brave first six, and do what is necessary to preserve the rights of every citizen of this country.
Reach Staff Columnist Cara Palmer here or follow her on Twitter.