Sports
College Football Preview: Teams That Missed The Cut
(Neon Tommy will be previewing the 2011 College Football Season throughout the summer. You can find links to each of our Top 25 previews here. Today, Eric Watkins and James Santelli look at the five teams who received votes in our poll, but just missed out on the Top 25.)
Michigan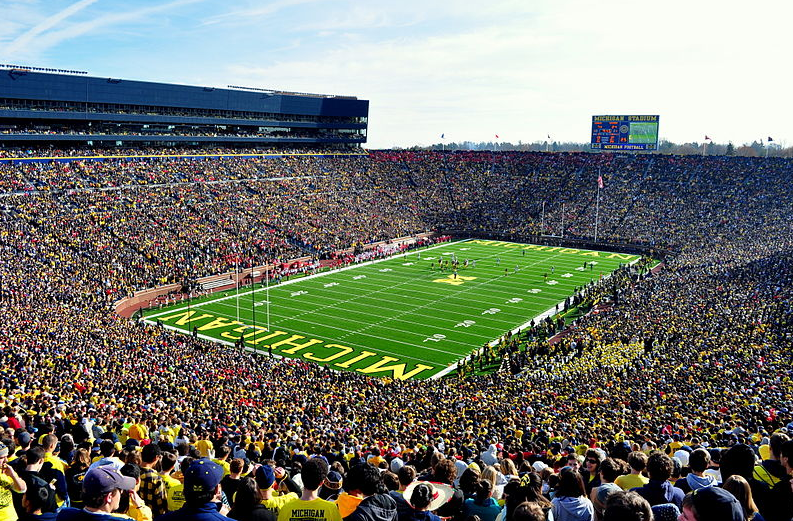 The Wolverines heads into the 2011 season with a Heisman Trophy candidate taking snaps, a defensive-minded head coach and a Tressel-less rival Ohio State.
Brady Hoke, a former Michigan assistant under Hall of Fame coach Lloyd Carr, will attempt to mend a defense that gave up an average of 43 points per game against six bowl-eligible Big Ten opponents in 2010. Hoke will attempt to move Denard Robinson under center this year, focusing on controlling the time of possession with the run game. But Robinson, who ran for 1,702 yards and 14 touchdowns and passed for 18 more, might be restricted in Hoke's Pro-Style offense.
The Wolverines have 18 returning starters and a manageable Big Ten schedule. Two tough non-conference games at home against Notre Dame (Sept. 10) and Hoke's former team SDSU (Sept. 24) will be great measuring sticks early in the season.
Prediction: 8-4 overall (5-3 in conference play)
- Eric Watkins
Pittsburgh
Pitt is welcoming a new coach and fans hope that the team's strong defense will lead to a welcome Big East championship. While quarterback Tino Sunseri will certainly miss Jonathan Baldwin, a first-round NFL draft pick, RB Ray Graham should be able to replace the production last year's top rusher Dion Lewis. As a sophomore in 2010, Graham (6.2 YPC) had a much higher yards per carry average than Lewis (4.8) last season.
The other Graham that will have a spotlight on him is new head coach Todd Graham, who was a long-time defensive coach before becoming the head man at Tulsa. Graham will rely on the nine returning starters on Pitt defense, especially DE Brandon Lindsey, who finished second in the Big East with ten sacks. MLB Max Gruder (84 tackles in 2010) anchors a unit that will include nine senior starters and finished second in the Big East in points allowed during conference play last season.
Pitt plays eight of their twelve games this season at home, including four of seven Big East games. The conference championship could be decided in November when the Panthers travel to Morgantown to face West Virginia.
Prediction: 8-4 (5-2)
- James Santelli
Auburn
The defending National Champions have just eight returning starters, losing four of five offensive linemen. The quarterback situation with the Tigers is in flux with Barrett Trotter, Clint Mosely and incoming freshman Keith Frazier vying for the position.
The bright sides include talented running backs Onterio McCalebb and Michael Dyer leading a Gus Malzahn offense and a schedule that includes both Florida and Alabama at home.
However, a thin defense led by cornerback Neiko Thorpe will be a reason for concern, along with a young offensive line. Gene Chizik and the Tigers will be tested early and often with a week two game against Mississippi State and a tough matchup at Clemson the week after.
A four-game stretch in October (at South Carolina, at Arkansas, vs. Florida, and at LSU) will either be a nail in the coffin or a month for Auburn to put all of the doubters behind them.
Prediction: 7-5 (3-5)
- Watkins
Arizona State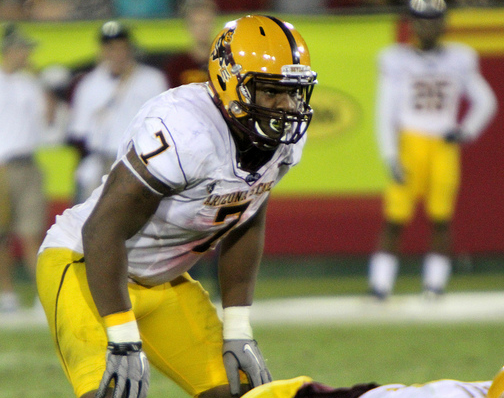 Before spring ball, Dennis Erickson and the Sun Devils were set to return 19 starters. When Spring Ball concluded, he was left without wide receiver T.J. Simpson and cornerback Omar Bolden. Both starters suffered potential season-ending knee injuries during the allotted practices.
ASU, who is one of the favorites to win the newly formed Pac-12 South, plays seven home games this season, including hosting Big 12 contender Missouri and conference foes USC and Arizona. Their away schedule is daunting, though, with trips to Illinois, Eugene, Ore., and Salt Lake City to play the Utes.
Led by All-American linebacker Vontaze Burfict (pictured left), the Sun Devils have the talent to compete in a weak Pac-12 South. But without a veteran quarterback, ASU could be looking at another season of "what could have been."
Prediction: 7-5 (5-4)
- Watkins
San Diego State
Rocky Long was named the 18th head coach in San Diego State football history after Brady Hoke left for Michigan. Long, who has served the past two years as SDSU's defensive coordinator, will lead 14 returning starters, along with Freshman All-American running back Ronnie Hillman.
The Aztecs will look to build off of a Poinsettia Bowl victory, while finding a replacement for wide receiver Vincent Brown. Brown had eight receptions for 165 yards and a touchdown against Navy in the Poinsettia Bowl. Long will also return senior linebacker Miles Burris - one of the best in the nation.
The Aztecs will play a tough schedule, welcoming Boise State to the Mountain West in mid-November and playing TCU at home on October 8th.
Prediction: 8-4 (5-2)
- Watkins
-----------------
Reach Eric by email, or follow him on Twitter. Reach James by email or follow him on Twitter.