Los Angeles and Region
Water Restrictions A Boon To L.A. Business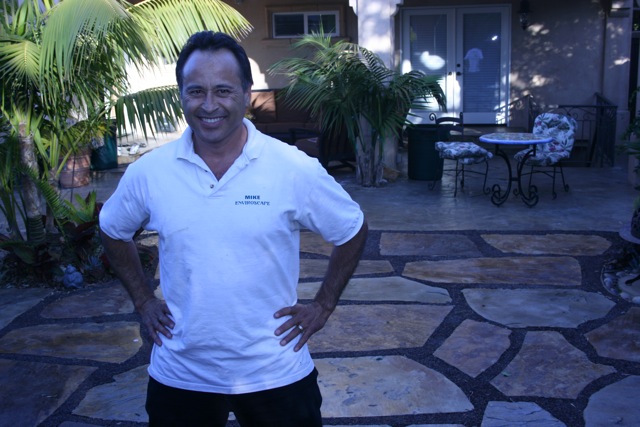 Standing in his lush yard in Redondo Beach, Mike Garcia showed off his green gadgets like a proud father. There was the permeable pavement, the drip irrigation system and hidden beneath a layer of recycled rubber tires, a series of tanks that capture and store up to 4,000 gallons of rainwater.
Garcia installs such water savers. And, because water is scarce, his customer base has blossomed.
"The phone has been ringing off the hook," said Garcia, owner of Enviroscape L.A., a green landscaping firm that installs rainwater harvesting systems and other products.
New regulations and fears over the price and availability of water have spiked demand for Enviroscape's services. To keep up, Garcia may add 40 more employees, four times his current workforce.
"[Rainwater harvesting] is going to be a billion dollar industry that is about to be born," he claimed, explaining the sector comprises only 10 percent of his business, but within a year, he expects that number to climb to 50 percent.
In nearby Los Angeles, an upcoming ordinance could help Garcia reach that goal.
Most new developments--as well as certain redevelopments--soon must capture, infiltrate or reuse all runoff generated on site from a ¾-inch rainstorm. To do so, several techniques can be employed, including the rain harvesting tanks and permeable pavement Garcia installs. City officials expect the Los Angeles City Council to give its final approval this summer.
"The main goal is to start changing the way we are designing our streets, sidewalks and land around our buildings, and manage water as the asset that it is," said Los Angeles Public Works Commissioner Paula Daniels.
The law aims to promote rainwater harvesting and--through options such as permeable pavement or rain gardens--redirect runoff into the region's aquifers. There, stormwater can replenish local groundwater instead of flowing unused into the Pacific.
Rainwater harvesting, which uses captured rainwater mainly for irrigation, has exploded worldwide as water worries have increased.
By 2015, the worldwide market is projected to reach $3.76 billion, more than three times the 2009 level, according to a 2010 report from SBI Energy, a market research firm.
Increased demand for water, easy installation and public conservation campaigns have kickstarted the industry, the report found. Government mandates and incentives have also boosted demand.
In Southern California, which imports more than half its water from outside the region, local supply must increase, officials say. The imported water that transformed a dusty outpost into a thriving metropolis doesn't flow as it once did.
"Most of our water comes from either the Colorado River or (Northern California), and those two reliable sources aren't really reliable," said Metropolitan Water District of Southern California board member Edward C. Little.
Environmental restrictions have curtailed the amount of water pumped from the Sacramento-San Joaquin Delta, which makes up about 30 percent of regional supply. And the Colorado River, another main source, remains marred in a 12-year drought. Climate change threatens to further reduce available water.
Such challenges have officials looking toward the sea, in addition to rethinking stormwater management. The lure of a local, drought-resistant water supply has been enough to look past the massive energy costs associated with converting seawater for drinking.
There are currently six proposed seawater desalination projects along the Southern California coast, according to Metropolitan's 2010 Regional Urban Water Management Plan. Those furthest along--Carlsbad and Huntington Beach--are expected to eventually pump out a combined 100 million gallons a day.
"Nobody has water rights on the ocean. There is more water out there than anyone could possibly use," said Little, who is also a director at West Basin Municipal Water District, which has pledged to halve its imported supply to 33 percent by 2020.
Desalinated seawater is roughly twice as expensive as imported water, however, the price has dropped over the decades. To further decrease the cost, Metropolitan offers a maximum subsidy of $250 per acre-foot (about 326,000 gallons) for desalinated seawater. According to the latest price estimates for a proposed Dana Point plant, the subsidy would only trim, at most, 17 percent from the price of water sold.
"While it may not be the most cost effective supply today, I think that it's something that in the future will become very viable," said assistant general manager Debra C. Man of Metropolitan.
But Southern California needs a multiplicity of sources, Man stressed, so it isn't dependent on one watershed or region. Metropolitan is pushing to increase conservation, recycling and groundwater replenishment, she said, while also striving to solve the problems in the Delta.
The region's inherent water problems pushed Scott Mathers to launch Hey! Tanks L.A. three years ago. The firm sells and installs rain barrels and tanks.
"This problem is not going away. It's like selling mattresses," Mathers said, perched above an 8,000 gallon tank his company is helping install at a Bel Air mansion.
The volume of business is too much for him and his partner, Jeff Fuller to handle, he said. Despite the economic downturn and pulling online ads, business has remained steady since 2008.
"I still can't keep up," Mathers said, adding that he'd like to hire more workers but cannot secure a loan due to tight credit markets.
Clients are mostly affluent individuals whose primary motivation is environmental, Mathers said.
Two years ago, David Allen and his wife Heather Cochran hired Mathers to install 16 rain barrels to catch a combined 800 gallons of runoff from the couple's Silver Lake home.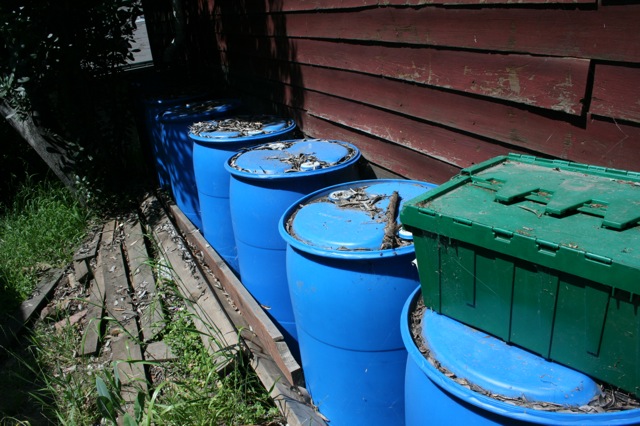 Under L.A.'s upcoming ordinance, new or redeveloped single family homes need not capture all runoff, but rain barrels, permeable pavement or other options must be installed.
"It only rains a little bit here, but it rains intensely for like four months out of the year and that's it," Allen said, standing on his well-manicured lawn, equipped with a sprinkler system fastened to a set of bright blue barrels "It just seemed stupid to let it wash away."
Allen, who along with his wife are from Virginia, said the rain barrels allow the couple to bring a lush East Coast environment to their children without the accompanying guilt.
"(The barrels) encouraged us to not feel bad about having grass," he said, his nine-month old son, Boone, bouncing in his arms. "Because you know having grass in this climate is a pretty ostentatious consumption of resources."
Although the same water concerns have increased desalination proposals and rainwater harvesting, environmental groups have criticized desalination for potentially causing harm to sea life and its high energy costs.
"We're basically in a scenario in L.A. where there is still a lot more potential to maximize rainwater capture, conservation and recycling," said Heal the Bay's coastal resources director Sarah Abramson Sikich. "We think those things need to be utilized prior to looking at desalination."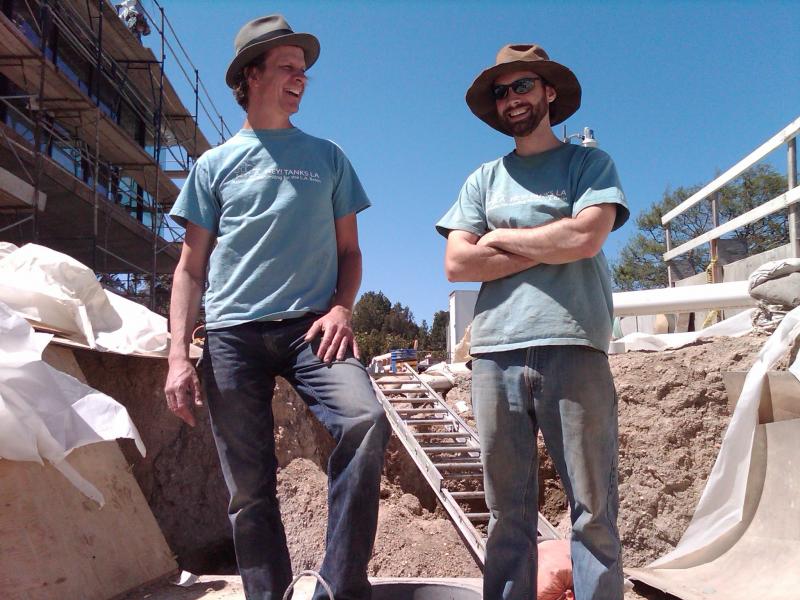 Rainwater capture is key not only for its environmental benefits, Mathers said, but also because it can change the relationship with what appears to be an infinite source.
"You go to the bottom of the tank and it's barely flowing out," he said. 'So you begin to understand your own water supply ... and the value of water increases instead of decreases."
Three years in, Hey! Tanks L.A. isn't profitable yet, but Mathers said he expects to hit the black this year. With the local water conservation push and Los Angeles' new ordinance, he and his partner, Fuller anticipate letting others do the heavy lifting soon.
"If we progress at the rate we want to, and it looks like it is going to, we definitely will be over the ditch telling people what to do," Fuller said.
Mathers concurred.
"The future? It's awesome," he said. "It's so bright we're going to need shades."
Reach reporter Andrew Khouri here.