Opinion
Vermont Creates Universal, Single-Payer Health Care System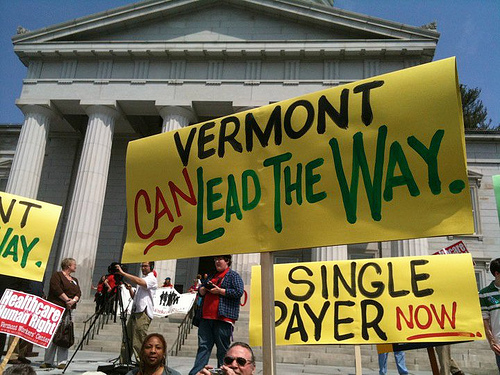 Vermont, continually the state to lead the country in championing human and civil rights, has added another landmark
"first"
to its history. Along with being the first state in America to join the thirteen colonies, ban slavery, establish universal public education, and legalize same-sex civil unions as well as gay marriage, it is now the first state in America to create a universal, single-payer health care system.
Under this new system, every state resident will be eligible for coverage. Vermont Governor Peter Shumlin cited moral reasons for passing the law: "We have the moral imperative to fix this problem, with 47,000 Vermonters uninsured and another 150,000 underinsured and worried about how to afford keeping their families healthy." Celebrating the signing of the bill into law were health care unions and grassroots activists, who view this bill, and rightly so, as a victory for human rights.
Amy Goodman, host of Democracy Now!, in her article, "Vermont, the Land of Healthy Firsts," states that this plan "eliminates the costly insurance companies that many believe are the root cause of our spiraling health care costs…[because] the state, buying these health care services for the entire population, can negotiate favorable rates, and can eliminate the massive overhead that the for-profit insurers impose." The single-payer system would be cheaper than having a collection of insurers, all profit-driven, from which to choose. Goodman writes: "Vermont Gov. Peter Shumlin explained to me his intention to sign the bill into law: 'Here's our challenge. Our premiums go up 10, 15, 20 percent a year. This is true in the rest of the country as well. They are killing small business. They're killing middle class Americans, who have been kicked in the teeth over the last several years. What our plan will do is create a single pool, get the insurance company profits, the pharmaceutical company profits, the other folks that are mining the system to make a lot of money on the backs of our illnesses, and ensure that we're using those dollars to make Vermonters healthy.'"
According to Labor Notes, "…health care would no longer be tied to employment, a concept that has produced healthier populations and dramatically lower health care costs across the rest of the industrialized world."
A panel has been set up to create a plan to pay for the new system, a plan that must be submitted to the Vermont legislature for approval by January 15, 2013.
In 1948, the United Nations General Assembly adopted the Universal Declaration of Human Rights. The text of Article 25, Section 1 of that document states as follows: "Everyone has the right to a standard of living adequate for the health and well-being of himself and of his family, including food, clothing, housing and medical care and necessary social services…" Translation – everyone has a right to healthcare.
Why shouldn't every American have access to basic healthcare? In a 2008 presidential debate between now-President Obama and John McCain, Obama stated on the issue of healthcare, "Well, I think it should be a right for every American." We have yet to see action proportionate to his words, as the healthcare bill of 2010 fell far short of achieving that goal. Vermont has taken the first major step in realizing the right to universal healthcare in this country, one that should be replicated in every other state if the goal is to be fully reached.
Amy Goodman draws a parallel between Vermont's actions to Canada's in the past:
"Canada's single-payer health care system started as an experiment in one province, Saskatchewan. It was pushed through in the early 1960s by Saskatchewan's premier, Tommy Douglas, considered by many to be the greatest Canadian. It was so successful, it was rapidly adopted by all of Canada. (Douglas is the grandfather of actor Kiefer Sutherland.) Perhaps Vermont's health care law will start a similar, national transformation."
Let's hope so.
Reach Staff Columnist Cara Palmer here or follow her on Twitter.