Los Angeles
Pleading For A Little Mercy At L.A.'s Main Traffic Courthouse
Los Angeles Traffic Courthouse sits in the shadow of downtown on Hill Street; south of the city's financial center, it is a hub of activity. The Blue Line clangs its bell frequently as it passes through the area because the surrounding streets are full of foot traffic. Los Angeles Trade and Technical College is a block away, Glory Church of Jesus Christ is next door, and a McDonalds is across the street from the large windowless and monolithic courthouse. Two cop cars are stationed outside. There's a snack bar on the first floor which only accepts cash but has an ATM – which likely comes in handy for more than fake cappuccinos.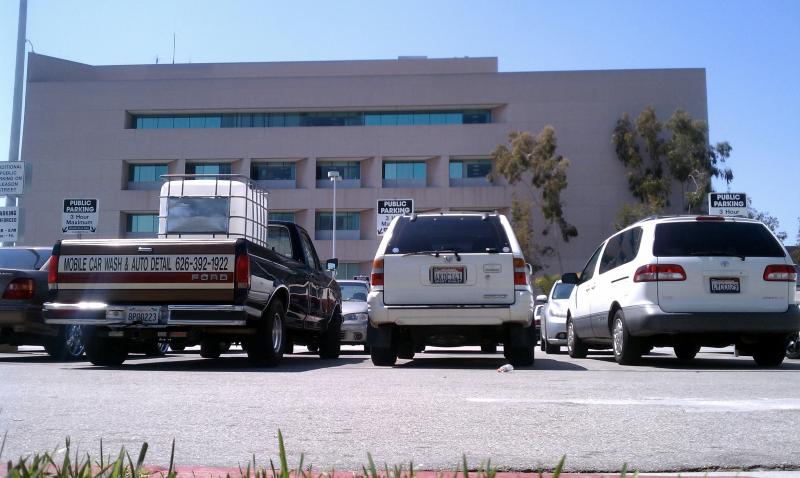 Traffic court is expensive. Whether patrons pay with their time (in community service hours), with money or with credit, it's very unlikely they'll leave without waiting in the cashier's line. Indeed, by 11 a.m., the cashier's line was at least 30 people long, and some feared the two women running the registers would take their lunch break soon and even more time would be lost.
Jesus Alonso arrived early enough in the day that he was able to get to the cashier and leave in less than an hour. For Alonso, this trip to the courthouse symbolized the closing of a door, the ending chapter of a saga that lasted months. Alonso admits that he got mixed up and drove the wrong way on a one-way street. The fine was too expensive (he wouldn't say the price), so he opted for community service: 82 hours at the Mountains Recreation Center – a park, where he cleaned up trash. He had to miss work to complete all his service. "I'm happy to have it over with," said Alonso, who was decked out in a USC sweatshirt and wristwatch. He was carrying paperwork that certified he'd completed his service, which was swiftly approved. Alonso was relieved.
Harold Williams also had something to be grateful for. Williams works at the VA in West Los Angeles where, he says, his supervisors are "angels." They were lenient with Williams about taking time off work to come to court. Williams is a veteran of Vietnam. He'd been driving without a license plate and thought he'd have to pay $25. Sure enough, he waived his receipt victoriously. "Even 25, an even 25. I'm done baby, back to work," boasted Williams as he zipped down the hallway past the growing line.
But for many at Los Angeles Courthouse, the decision-making was not so swift. John Rudy sat in his wheelchair, plastic bags tumbling off the back, in the middle of Judge Valerie Salkin's courtroom. Salkin was trying to find a way to make community service easier for Rudy, who is on SSI and unable to work. Ultimately, she couldn't find an alternative but to send him to the United Way in Palmdale, despite the fact that it would take him an hour each way to get there by shuttle.
Salkin's ruling would mean that Rudy would have to do about four days a month to get the service done by mid-July, and if he didn't "don't think I won't put you in custody," the Judge warned.
This exchange was for parking on the wrong side during street cleaning. Earlier though, Rudy's license had been revoked for a reason "he'd rather not say." An overweight man, now exasperated, Rudy will be working 100 hours at United Way picking up trash. It took him four hours to get to the courthouse. Gesturing back to the courtroom, Rudy said, "it can be a nightmare in there, yes ma'am," as he wheeled away.
Her courtroom cleared out, Salkin moved quickly through the papers in front of her. "$26,000 – defendant fails to appear," "$40,000 – defendant fails to appear, probation revoked." Those numbers –they're dollar amounts now owed by defendants who did not make it here today.
Floyd Pew appeared in front of Judge William Beverly, an older man with grey curly hair and a deliberate manner, as opposed to Salkin, who is characterized by her youthful dyed blond hair and an animated pacing. Pew stood next to the officer who'd pulled him over and at first Pew had a hard time remembering to address the judge and not the officer.
Beverly gave Pew a few minutes to explain his side of the story after hearing from the officer. He had been headed to St. Vincent's Medical Center, a place he goes three times a week for treatment; he's been going there for five years. On the day in question, Pew claims the traffic light that lets drivers know when to get onto the 110 was malfunctioning. "It went red, green, red, green," Pew urges, hopping from one side to the other to show the speed at which the light was changing, in his opinion.
The officer disagreed. Pew saw the officer sitting right there, he says. But he didn't see how he could get onto the highway, the red wasn't holding long enough. After he pulled onto the freeway, he was pulled over. Beverly had heard enough. He hadn't heard Pew say that he had properly stopped at the light. "I did say that!" contested Pew. The Judge hadn't heard that part. The person behind him "can wait until the moon rises," said Beverly, but Pew had to properly stop.
In the end, Pew was assessed $35, which he said he couldn't pay. With his social security card as proof of his income, the judge allowed community service. Pew then joined the line for the register, but he was steaming. "He's wrong! He's wrong," Pew insisted, watching the officer walk away.
The problem for Pew now was how to make time for the community service. He's attending Los Angeles Community College and studying business. Pew is attending later in life -- he's 50 -- and was deeply upset over missing even one class that morning. He claimed to never have gotten a ticket before.
What irked him the most though was that the officer had changed the courtrooms. Pew believed this was done so that he would be appearing in front of Beverly, who Pew thought of as a "tough judge."
He was in college now to get an education, to do something with his life, he said. "The reason he stopped me was because my car looked like garbage – wasn't about the light – it's wrong." Pew didn't mention the other disparity in appearances – that he was black and the officer white – as a factor in the officer's decision. After he'd received his verdict, 30 hours of community service in Hollywood, he was more resigned to his fate: "ain't got no choice, otherwise I'm gonna go to jail."
Fines and hours are all relative though. For Pew, $35 was unpayable. For Kristin Hansen, $850 was untenable, but she could swing $415. Hansen got deep into a traffic court mess because of simple absentmindedness. Her father had neglected to mail her payment of $25 for a broken taillight. Hansen admits she should have taken care of it herself – she's a working adult, an accountant's assistant and an actress – but she didn't. The lapsed ticket and a failure to appear in court (the summons went to an old address) snowballed the fine to $850.
Today, Hansen had had the fine reduced. She borrowed $200 from her dad and put up the rest. She couldn't afford to take the time for community service, she said. Plus, this way the whole ordeal would be over with as soon as she reached the cashier.
As Hansen relayed her long story, which occurred over this past year, a middle-aged woman in line perked up her ears, adding "it's all about money here." Hansen nodded, clutching the paper with the unbelievable sum, $415, written in black ink.
Reach Emily Frost here.
Click here for more of our L.A. traffic court coverage.