Sports
Top 5 Under-The-Radar Heisman Hopefuls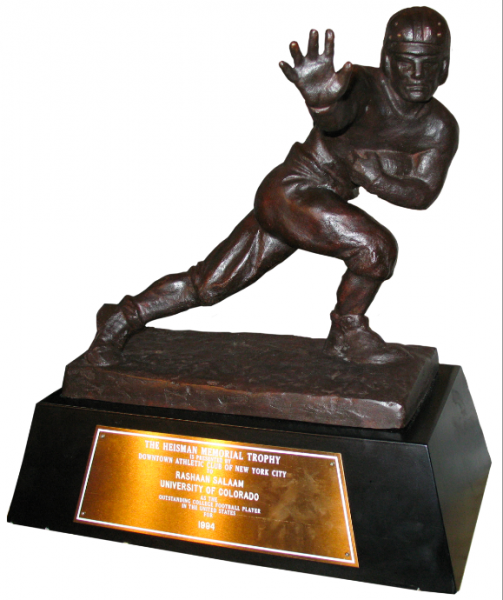 Ah, the vaunted Heisman Trophy: so offensive-centric, so backfield-centric. Since 1990, 13 quarterbacks and six running backs have been honored at the Downtown Athletic Club of New York City as the most outstanding college football player during their respective seasons.
Former Michigan stars Charles Woodson (DB/WR) and Desmond Howard (WR) are the only two who have been able to break the mold in the last 20 years.
The award recognizes the player "whose performance best exhibits the pursuit of excellence with integrity." And unlike years past, there's no returning Heisman Trophy winner. No Tim Tebow, Sam Bradford, or Mark Ingram for college football pundits to place at the top of their pre-season Heisman Trophy list.
With last year's winner Cam Newton drafted taken first overall in the NFL Draft, there are three finalists returning. Stanford QB Andrew Luck, Oregon system back LaMichael James, and Boise State QB Kellen Moore create an interesting horse race for the 2011 Trophy right from the start. Las Vegas oddsmakers might have Luck at +100, but as last year illustrated, injuries (and suspensions) can easily squash the hopes of early-season Heisman hopefuls. Just ask Houston QB Case Keenum or former Georgia WR A.J. Green.
But in the end, it's the quarterbacks who throw game-winning touchdowns, the running backs that dominate Saturday afternoons on the ground, or players like Newton who can do both, who will walk away with the most coveted award in college football. And it's not always the player you expect in the summer before the season.
Let's take a look at the top five under-the-radar Heisman hopefuls (provided they show some integrity):
5. RB Michael Dyer, Auburn
Last year's Heisman Trophy winner Cam Newton will be taking his talents from Auburn to Carolina. Gus Malzahn's offense is desperately seeking a signal-caller, but with the lack of big-play receivers, Dyer could be touching the ball 25 to 30 times per game.
The former five-star recruit out of Little Rock, Arkansas finished his first season as a Tiger with 1,093 rushing yards and five touchdowns. His 180 rushing yards at Ole Miss and 143-yard performance in the National Championship victory against Oregon highlighted his freshman campaign.
With Dyer as the mainstay in Malzahn's elaborate offense, and no quarterback yet to take control of the reigns, look for SEC defenses to stack the box with eight or nine men, forcing an inexperienced Auburn quarterback to make plays with his arm.
However, let's not doubt Gus and his ability to put the talented Dyer in space, where he can make plays.
4. QB E.J. Manuel, Florida State
It's Manuel's team now, as there's no Christian Ponder to backup. Manuel, a junior, played in seven games during Florida State's 2010 campaign, completing 70 percent of his passes for four touchdowns.
His 2010 season was highlighted by a Chick-fil-A Bowl win over SEC East champions South Carolina. Manuel went 11-of-15 passing (73.3 percent) and also rushed for 46 yards in the victory.
The talented Seminoles are on the brink of being a team who can, once again, compete for National Championships year-in and year-out. Their success will be dependent on Manuel's development in Jimbo Fisher's offense. If E.J makes use of all the offensive talent surrounding him, we could be seeing him in New York City come December.
3. QB Geno Smith, West Virginia
There's nothing like a new offensive coordinator who loves to sling it around. That's exactly what Smith received when West Virginia hired Dana Holgorsen away from Oklahoma State to be their O.C. this year, and head coach after the 2011 season.
Holgorsen led Oklahoma State to the second-ranked passing attack in the country, scoring just over 44 points a game. Smith, who finished the 2010 season with 2,763 passing yards with a 24-7 touchdown-to-interception ratio, will excel in Holgorsen's pass-happy attack.
A former four-star prospect out of Miramar High School in Florida, Smith will look to lead the Mountaineers to a Big East championship on his way to a possible Heisman Trophy.
2. QB John Brantley, Florida
Let's face it: Brantley just didn't fit in Urban Meyer's spread-option offense. It didn't utilize his strengths (passing accuracy) and spotlighted his weaknesses (mobility). At times last year, Brantley was one of three quarterbacks on the field at the same. Chaos ensued, and Brantley had a season to forget.
With Meyer resigning came good news for Brantley. Charlie Weis, former Kansas City Chiefs offensive coordinator and Notre Dame head coach was hired to lead a NFL-style offense in Gainesville, an offense that best fits Brantley's style of play.
First, Brantley has to win a heated quarterback battle over Trey Burton, Jordan Reed and freshman Jeff Driskel. If Brantley is able to do so, look for him not only grow by leaps and bounds from his miserable 2010 season, but into the Heisman Trophy spotlight.
1. RB Trent Richardson, Alabama
Richardson will now be the feature back after Mark Ingram's departure to the NFL. His 1,451 rushing yards and 14 touchdowns in two seasons behind a Heisman Trophy winner illustrates not only his ability, but also the confidence Nick Saban has in him.
Without a clear-cut starting quarterback for Alabama (either A.J. McCarron or Phillip Sims), look for Richardson to get a lot of touches as Saban and company look to get back to what won them a National Championship in 2009.
If Richardson can stay healthy during the tough SEC schedule, he might become the second Alabama Heisman Trophy winner.
____________________
Check back to Neon Tommy next week for another one of Eric's college football top fives. Look back on his previous Top Five columns.
Reach Eric Watkins by email, or follow him on Twitter.