Los Angeles
Scenes From L.A.'s Metropolitan Traffic Court
Judge William C. Beverly of the Metropolitan Courthouse is not the intimidating traffic court judge one might imagine. He's in his late 60s, speaks with a slight Southern accent, has leathery skin and wears round glasses. Always gentle and polite to defendants, he called everyone "sir" or "ma'am." After reading one woman's citation for stopping on railroad tracks, he looked up from his papers and quietly asked, "Why would you do that?"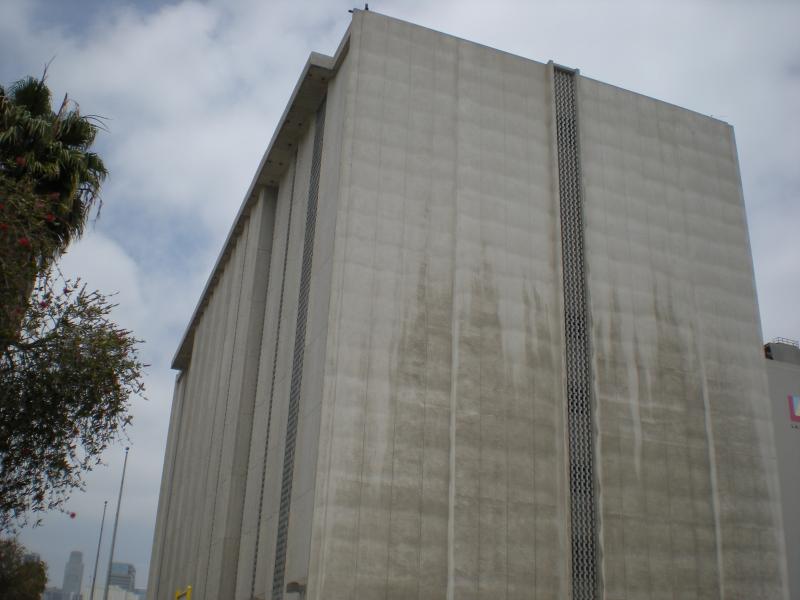 Failure to appear was the most common charge and nearly everyone pleaded guilty to it. Community service was approved for one single mother receiving food stamps. He granted traffic school to some and students always got community service instead of fines. When people said they couldn't pay their tickets, he immediately asked a litany of questions: what's your source of income? Are you a student? Are you able to perform community service? Do you have any other income?
If defendants spoke out of turn he remained calm and just repeated, "Hold on, hold on." His only stern remark was, "There is no 'What if.' See the cashier."
Overall, he made it as painless as possible for people to have their lives and financial situations exposed.
Down the hall, Judge Randolph M. Hammock was also hearing cases. He seemed nervous speaking to the defendants. Hammock was kind, too, and gave community service readily. He often ended with, "Good luck to you, sir."
Neither judge seemed especially concerned with fining people more than necessary. These courtroom proceedings gave the impression people just paid the $35 fee for failing to appear, plus the cost of their infraction, which rarely surpassed $70.
But the reality in the cashier line was different.
For example, one woman was waiting on the 4th floor to pay a $925 ticket.
Last March, in Hollywood, she was pulled over for driving with only fog lights at night. She had been out with a group and was the designated driver. The car was registered to her friend, who was passed out in the backseat, she said. Unfamiliar with the car, she didn't realize the headlights were on low, which she explained to the officer.
After all the fees were included, her total ticket for failure to appear plus driving without headlights on was $925.
She pleaded not guilty for the headlights charge and guilty for failure to appear. Like everyone else, she wouldn't know if any charges had been dropped until she spoke to the cashier.
She said the amount was "too much for a ticket."
The court granted her a one-week extension to pay the fine, but the extra time will not help very much. She receives county assistance, and said the ticket is equivalent to two months of that.
David Garcia, a freelance production manager, was closer to the cashier's window, waiting to pay a $400 ticket for not having a visible reflector on his bike. The judge told him there was a 400 percent fold, so the total was quadrupled.
"I don't think it's worth the court's time," he said, when asked why he will not contest it. "Whether I'm right or wrong is irrelevant. It's a waste of time, the system is not set up to benefit the average person."
On the second Saturday of each month, BMX riders cycle through Hollywood. He was in a pack of about 200 riders when, as he tells it, police pulled over about 10 of them. It was evening, right at Hollywood and Highland Avenues.
"I'd pay more taxes if it meant they'd be nice!" with that, he looked at the others behind and in front of him, hoping for encouragement. There was little reaction. Most people were playing games on their cell phones.
It's impossible to tell what happens at the cashier window, because it's in a separate room and everyone in line waits far back in the hallway and gets called in individually.
After going to the cashier, Garcia's total was $559. He paid it, but wondered, "How does the average person pay that?"
"If I could write a $600 check to a school right now, I would," he lamented.
The elevator to ground level stopped on the third floor, where a young woman with crutches struggled holding court documents in her fist. People shifted to make room and as the doors were closing, she announced, "I'm not giving these motherfuckers shit!"
Reach Julia Gabrick here.
Click here for more of our L.A. traffic court coverage.