NBA
Preview: Storylines To Watch In The 2011 NBA Finals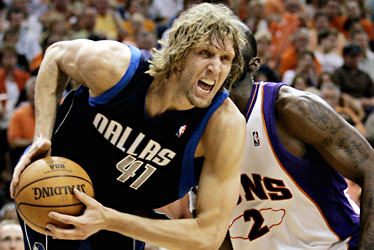 The 2011 NBA Finals kick off on Tuesday, pitting the Dallas Mavericks against the Miami Heat. We've got the sub-plots you should be watching for.
Old School v. New School
Outside of the Larry O'Brien Trophy, the biggest thing up for grabs in this series is what mantra will reign true in the NBA for years to come.
Is it the team concept built upon the sum of its parts, or is it about teaming up stars and surrounding them with low-level veteran contracts?
The state of game, lockout aside, really is at stake with this NBA Finals.
If you love the fantasy basketball quality that helped build the foundation of the Miami Heat in less than 10 months time, the Eastern Conference Champions will be happy to satiate your interest for the rest of the decade.
But for you purists out there who could care less about box scores and ESPN Top 10 lists, the Lone Star State will be happy to have you on its bandwagon, even if for only a week or two.
Who will guard (try to limit) Dirk Nowitzki?
"You can't stop him, you can only hope to contain him." No motto is more apropos for the Miami Heat as they attempt to employ a defensive game plan against Mavericks' superstar and the league's premier closer Dirk Nowitzki.
Just ask LaMarcus Alderidge, Nicolas Batum, Ron Artest, Nick Collison and Serge Ibaka: the job is as close as it gets to a suicide mission.
Nonetheless, if Eric Spoelstra is smart he will throw everyone and their mothers at the seven-foot German.
LeBron will get his chance, don't worry about that, it's what Coach Spo does in the other 35-40 minutes each night that could decide the outcome of this series.
Option No. 1 is Chris Bosh, who has length but isn't strong enough. Option No. 2 Udonis Haslem is more than strong enough, but isn't long or quick enough.
What the Heat need is an athletic big who has length to guard the perimeter, but enough strength to grind it out with Dirk on the post--a weapon they neither have nor have needed to this point.
Hindsight is 20-20, but this could be the series that makes Pat Riley and Co. wish they didn't overuse their league minimum contracts on the likes of Eric Dampier, Juwan Howard, Jamal Magloire and Zydrunas Ilgauskas.
It's not 2006 again in Dallas
I remember 2006 vividly.
George W. Bush was still president. Osama Bin Laden was alive but not "living in Pakistan." Nelly Furtado and Daniel Powder were the talk of the music industry. Jeff Weaver and Anthony Reyes (yes, I know, not exactly Koufax and Drysdale) led the Cardinals to a World Series title in one of the ugliest Fall Classics in recent memory. Frenchman Zinedine Zidane went all Dennis Rodman in the World Cup Final against Italy.And the words economic recession were not part of Americans' everyday vernacular.
If that previous paragraph didn't hammer home the message that times have changed, hopefully this one will.
The Dallas Mavericks are not the same team they were when they blew a 2-0 lead in the Finals five years ago.
In 2006, the Mavericks played little to no defense behind Madame Tussaud's best wax representation of an NBA head coach (yes you, Don Nelson).
This year behind defensive-minded guru Rick Carlisle, Dallas doesn't just play defense, they win with it (they are allowing just 92.5 PPG in the playoffs).
Five years ago, they relied heavily on Dirk Nowitzki as both their first and second scoring option (unless you consider the unpredictable Josh Howard as a consistent threat). This year's version has scoring options seven deep that can put up 20 points on a given night (Shawn Marion, J.J. Barea and Peja Stojakovic, please stand up).
When they lost to the Heat in the 2006 Finals, Jason Terry was their starting point guard, and not their instant shot of offense off the bench like he is now.
And most importantly, their impersonation of toughness used to be led by the aforementioned Eric Dampier and DeSagana Diop--names that Tyson Chandler and Brendon Haywood probably would laugh at if anyone had the audacity to compare them to the current post intimidators.
Putting a ring on father time
For all of you closet Sega Genesis or arcade store patrons out there, it's time to come out. Because odds are in the 90s you likely played one of the greatest games ever made, NBA Jam. I don't mean to go all video game nerd on you here, but what was cooler than jamming one down with fire coming out of the ball?
Answer: nothing!
What does this have to do with the 2011 NBA Finals, you might ask?
I say everything.
Look at these two rosters, and let's be honest--most of the participants are a few short years away from receiving their AARP card and if they are feeling really crazy, sitting front row at a Beach Boys concert.
Needless to say they are old.
Old enough that in the 1995 version of NBA Jam, Big Z was playing for the blue and white version of the Cleveland Cavaliers, Juwan Howard was playing for the Washington Bullets and Jason Kidd for the Rookie team alongside Grant Hill.
Throw in Nowitzki (14 years in the league), Stojakovic (14 years in the league), Terry (13 years in the league), Marion (13 years in the league), Magloire (12 years in the league) and Chandler (11 years in the league), and you are bound to see several veterans on either side win their first NBA ring.
Maybe you don't have a soft spot for senior citizens, but if you do, then this is must see TV--kind of like the Season 3 Finale of Golden Girls.
____________________________
Reach Dave by email.