Los Angeles and Region
Porn Industry In L.A. Called Out For Unsafe Health Practices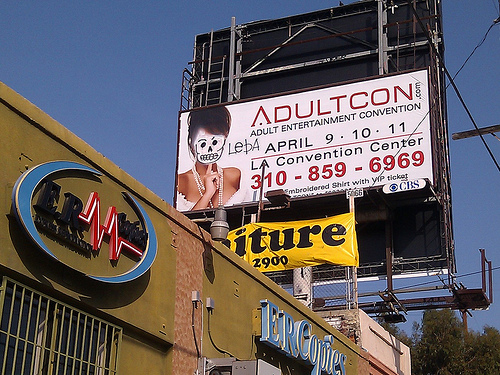 Crimson curtains drape the hallways of a lobby in the Los Angeles Convention Center, eliminating any trickling daylight from the area the curtains enclose.
Heavy electric guitar riffs and light drum sibilations permeate the dimly lit interior, "porn groove" notes punctuating the heightened conversations of convention attendees.
A small antechamber, roped off and guarded by a burly attendant, stands at the entrance to a nearly 70,000-square-foot space in the convention center that houses AdultCon, Los Angeles' largest adult entertainment showing.
The convention, begun in 2001 and held three times a year since then, boasts porn videos, lingerie sales, and more than 69 pornography actors and actresses for participants to meet and photograph. It has since become one of the most widely attended adult conventions in America.
Vicki Chase sits just inside the red curtains, studiously applying lip liner in a handheld compact.
Chase is wearing a silver bikini underneath an electric pink long-sleeved mesh dress, and smiles readily as an older man approaches her and snaps a picture without her permission. A clip of her performing sex from her latest porn film, Nurses, is airing on a small television behind her diminutive 5'4" frame.
"I never thought I would be in porn," she said pensively, brushing back her glossy black tresses. "I mean, I always knew I was a sexual person. I lost my virginity when I was 13. But I never thought I would be in it. Now look where I am."
Chase, wife of famed porn actor and producer Eric John, began in the porn industry in November 2009 after starting to date now-husband John and seeing the action on set.
"I remember thinking to myself, 'I can do this, it's easy,'" Chase says matter-of-factly. She smiles at another voyeurs positioning themselves for a photo.
Chase is just one of many in a rapidly growing multimillion dollar industry. According to the Los Angeles Public Health Department, in 2005 alone, there were an estimated 200 adult film companies (5-10 of which did half of the films) and 6,000 workers (1,200 of whom were porn actors) in Los Angeles County.
But as the industry grows, so do many of the risks and consequences of sex without protection and with multiple partners. Occurrences of the blood pathogen HIV are on the rise, ever since an outbreak in 2004 that caused the industry to shut down for several months.
As it stands, performers are required to be tested for STIs (sexually transmitted infections) at least every 30 days, specifically for chlamydia, gonorrhea, and HIV. Performers test once a year for all STIs, including syphilis. Previously, a large percentage of these tests were performed by the well-known testing facility Adult Industry Medical Healthcare Foundation (AIM).
AIM, which was shut down in December by the Los Angeles County Health Department, was located in Sherman Oaks. Sharon Mitchell, a porn performer whom the website boasts is a "legendary porn star who has appeared in over 2,000 films, and has won every award the adult entertainment industry has to offer," opened AIM in 1998 alongside AIM Medical Director Dr. Steven York.
AIM would test stars, have them voluntarily sign a release form waiving them of their right to confidentiality, and would post their test results on a website that porn producers could access for $2.95 a month. Most producers would check this site before porn shoots to make sure their stars had been tested, much like one would check an STI report card.
The HIV scare happened again on October 9th, 2010 when Patient Zeta, a porn actor who later identified himself as 24-year-old Derrick Burts, contracted HIV. However, Burts pointed his finger at AIM, saying clinic head Jennifer Miller told him to 'stay away from the media, stay away from the public, change [his] phone number, and get out of town.' According to Burts, she also told him not to discuss his plight with AIDS Healthcare Foundation (AHF) as they were constantly lobbying against the porn industry.
"I wanted to come forward with this, and the reason that was is because it really opened my eyes," said Burts in a press conference. "I went two months without treatment from AIM—you know, broken promises…all AIM wants to do is protect themselves and say that their testing protocols [are] enough and it works."
Numerous critics of the industry feel like these precautions are not enough, and that AIM infringed upon personal privacy.
Brian Chase, the assistant general counsel for the AIDS Health Foundation (AHF) and a former adjunct professor through the University of Southern California teaching gay rights law, is another one of these detractors. (Brian Chase has no relation to Vicki Chase.)
"There are several privacy issues with AIM. If you have medical records, you cant just tell doctor to release the tests to whomever—specific people have to sign off on that. It's not legal. A lot people aren't aware of their rights [to privacy]." Chase suggests that many companies make porn stars waive their rights within their contracts, which is illegal. However, Chase says he feels that many porn stars think contracts they signed are binding because they don't understand the law, which is why so few come forward.
Michael Weinstein, president of AHF, asserted in the same conference that it takes about $600,000 over a lifetime to care for HIV and AIDS patients.
"The industry is saying that the testing protects the performers…the AIDS Healthcare Foundation is not against pornography," said Weinstein. "We're for protecting the performers and educating the public. You don't have to have condom-less porn. It's not necessary.
"If the trade-off is 4,000 STDs and 9 HIV infections versus a condom, I think a condom is a better deal…we're not saying that either with universal condom use and testing that all the risk is eliminated, but we're saying that we can eliminate a substantial amount of the risk."
"[AIM] actively worked to keep condoms not mandatory in the industry," agrees Chase. "They didn't immunize for HPV, Hepatitis C, herpes, and other diseases. You can't just test for three [diseases]. There are so many other diseases they're not checking for." It can take about 30 days for HIV to show a positive on a test.
Chase continued, "Wicked Films is heterosexual company and Jet Set is a gay company that both require tests for employees for STDs and makes them wear condoms. Treasure Island Media, on the gay side of porn, has been fined for not protecting workers, and has actively bragged in the press that they will continue to expose workers. The industry runs the gamut from responsible to completely irresponsible."
Diane Duke, Executive Director of the Free Speech Coalition, a non-profit trade association for the adult entertainment industry, disagrees with AHF and feels that in spite of recent HIV diagnoses that the methods the industry employs are effective.
"The industry has a self imposed protocol of testing or condoms for performers that has been extremely successful over the years. Producers and performers check STI tests prior to shooting for non-condom sets."
Her views on AIM are much different, too.
"I am saddened…it provided great service to the industry for a number of years and many performers trusted AIM. Those who have harassed AIM over the years in the name of performer safety have done nothing but hurt the performers they claim to want to protect.
"The adult entertainment industry is like any other industry. It supplies critical employment and opportunity for thousands." Duke continued.
Porn star Vicki Chase agrees. In spite of the heated debate, Vicki Chase doesn't seem to be stopping any time soon. She married now-husband, porn producer and actor Eric John, under the banner of the Hustler booth at the kick-off of the January 2010 Adult Entertainment Expo in Las Vegas. Since her 2009 debut in This is Isn't Beverly Hills 90210 XXX, she has released 13 different videos. Eight of those were in 2010 alone.
"I've been in the porn industry for a year and a half…I don't think it's the industry's responsibility at all. You just need to get to your gynecologist and get your test record. The cool people will call and tell you if they tested positive for something so you can try and take care of your [STI] before the next [industry-provided] test. The industry is not responsible for paying for it."
Brian Chase, however, is not so sure of the legality of adult industry health practices.
He asserts that not only do performers need to use condoms regularly, they also need a place to get treatment legally. Ideally, he says, there needs to be a new healthcare facility funded by producers, as it is illegal to make someone pay for their own tests as a condition of employment.
"I think they are extremely callous when it comes to care for talent, both on the gay side and the straight side," he said. "No one's called porn industry on it; large companies like Vivid and Hustler are acting like a semi-legal operation going out of someone's garage. The adult film companies need to start acting like a large corporations."
Reach Lindy here.