International
U.S. Explores Bin Laden Connection While Pakistan's Zardari Dismisses 'Baseless Speculation'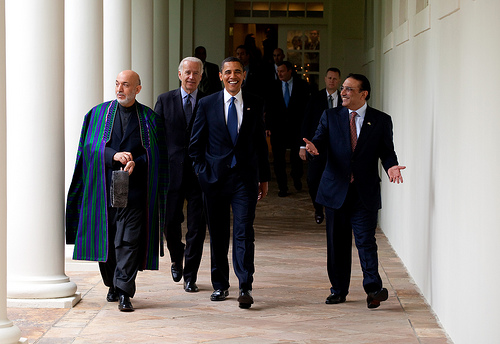 Pakistani President Asif Ali Zardari wrote off critcism that his country aided Osama Bin Laden, calling it "such baseless speculation [that] may make exciting cable news, but it doesn't reflect fact."
In an op-ed published in the Washington Post, Zardari said his country's counterterrosim efforts have been genuine. He expressed support for the words of President Barack Obama and Secretary of State Hillary Clinton. He pledged further cooperation in the future, but admitted that he didn't know the secret mission to capture or kill Bin Laden was coming.
He credited his intelligence service for mining the tip that eventually led to the identity of the courier that swung the manhunt for Bin Laden into the favor of the U.S.
"Zardari's comments will please Pakistan's powerful military, the real target of American accusations of double-dealing," reported the Guardian. "The army's spokesman has been silent over the Abbottabad operation, although senior officials from Pakistan's ISI intelligence agency insisted they had not been informed beforehand."
Pakistan's government is largely controlled by the military.
"Facing domestic pressure for democracy, successive military governments rigged national, provincial and local polls to ensure regime survival," an advocacy group for international peace wrote in March. "These elections yielded unrepresentative parliaments that have rubber-stamped extensive constitutional and political reforms to centralise power with the military and to empower its civilian allies."
As the U.S. scrolls through fresh intellgence it gathered at Bin Laden's compound, experts expect Obama and his national security team to pressure Pakistan to do a better job of tracking down al Qaeda deputy leader Ayman al-Zawahiri and Taliban leader Mullah Omar.
The head of the Council of Foreign Relations said Monday that not much is likely to change.
"Some parts of the government there are sympathetic to terrorism and unwilling to act against it; others are simply unable to given a lack of capacity," Richard Haass said.
Pakistan's army general and intelligence chief have received contract extensions to reward them for great work. It remains to be seen if they will be punished for missing Bin Laden a grenade's throw away from their main training complex.
Sen. John Kerry and his Foreign Relations Committee are scheduled to discuss the U.S.-Pakistani relationship in a hearing on Thursday.
Like reporter Paresh Dave on Facebook, find him on Twitter or send him an e-mail.