NBA
NBA Fines Joakim Noah For Anti-Gay Slur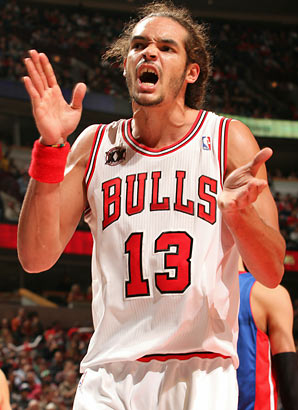 Another NBA star, another homophobic slur.
Professional basketball is once again facing scrutiny after Chicago Bulls center Joakim Noah was seen directing an anti-gay phrase at a fan during Sunday's playoff game against the Miami Heat.
After the Gay & Lesbian Alliance Against Defamation and Human Rights Campaign complained, the NBA announced Monday that Noah will be fined $50,000 for the infraction.
Noah publicly apologized and insisted he has learned has lesson.
Since Kobe Bryant was caught on camera calling a referee a homophobic name in April, the league has been working to minimize perceived anti-gay sentiment in the sport. Bryant was fined $100, 000 for his actions, and players Grant Hill and Jared Dudley filmed a PSA condemning homophobia.
Just last week Rick Welts, the president of the Phoenix Suns, came out as gay in a much-publicized New York Times interview.
"This is one of the last industries where the subject is off limits. Nobody's comfortable engaging in a conversation," Welts told the Times.
The league hopes the PSA and the steep fines for Noah and Bryant will keep the conversation going.
Both GLAAD and HRC said the incident with Noah indicates there is still much work to be done.
Noah says he used the slur after repeated provoking from a fan sitting behind the Bulls' bench. Some of Noah's teammates corroborate that assertion, though they declined to specify what the fan said or did.
The fine issued to Noah is less than what Bryant paid because the league considers slurs against officials a more serious offense.
Watch the Grant Hill/Jared Dudley PSA:
_____________________________
Reach Kate by email, or follow her on Twitter.