NBA
Lakers: What Now?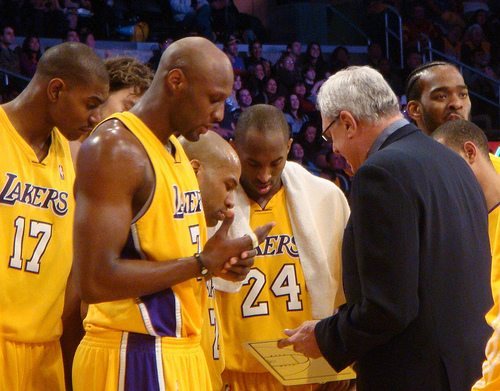 If it ain't broke, don't fix it.
The question is, are the Los Angeles Lakers broken?
Fresh off being swept by the Dallas Mavericks, the Lakers are now faced with a dilemma moving forward.
It is apparent that changes need to be made. The magnitude of the changes, however, is still up to interpretation and speculation.
Well, here's my interpretation of the most pressing questions and LA's daunting future:
Should the Lakers split up their "Big 4" of Kobe Bryant, Pau Gasol, Andrew Bynum and Lamar Odom?
Maybe, but only under the right circumstances.
If Dwight Howard, Chris Paul or Deron Williams become available, they should go for it. If none of the league's elite are ripe for the taking, then the Lakers should move on and keep their key cogs intact.
First, Bryant is aging and has fallen from his pedestal of the NBA's crème de la crème. The fact that he has played 15 seasons as one of the best is astounding.
This season, though, it is obvious he has taken a major step back.
He can't takeover like he used to and even on the rare occasion he does, it's in an inefficient manner. Maybe it's injuries, maybe it's Father Time, but Bryant's ability to perform will be LA's key component moving forward (he will be staying in LA, regardless of what anyone else thinks).
Now, on to Gasol (AKA, the most frustrating man in the world).
Gasol is a top-10 player when he's playing his best, it's just a matter of when he shows up.
He has only played two series' worth ('08 Boston Celtics and '11 Dallas Mavericks) of "soft" games (a total of 10). Yet, you'd think he's worse than Kwame Brown by media standards. He was labeled the best offensive big man in the NBA the past two seasons, but people seem to forget that after an inconsistent postseason.
LA can and may trade him away, but it'll be a huge mistake. He's irreplaceable.
On to the next one. Bynum is the Lakers' best prospect and the only solid player who has yet to reach his prime.
He is also their only real trade asset. It seems as if he'll be the headliner for any Lakers trade, and rightfully so.
For all of his talent, and untouched potential, Bynum's ego and "punk" attitude recently have represented the team in a negative light. His childish acts should not be tolerated, and he should be sent packing (but once again, only if the price is right).
Last but not least, Mr. Kardashian himself, Lamar Odom.
The common perception is that the Lakers go as far as Odom goes, and in most cases that judgment is correct.
Despite earning the 6th Man of the Year award, Odom still had an up-and-down season, especially in the playoffs, proving that you can never know what to expect from him.
In addition, his influence off the bench is so important that if he doesn't show up on any given night, LA's Killer B's are basically useless.
With that said, behind Bynum (and the rest of the team), Odom should be next in line to possibly go.
Who should coach the team next?
This is a relatively easy answer: former Lakers player and current assistant coach Brian Shaw.
Shaw understands the ins and outs of the triangle offense, as he has both played in it and coached it. Therefore, it would be an easy transition for the current Lakers' roster into a new era.
The Lakers can change their offensive system if they want, but why stop running what is arguably the best offense of all-time (or at least the most intricate)?
The Lakers should at least give Shaw the first shot at replacing Phil, as he is the inside man. If it doesn't work the first year or so, he can easily be fired and replaced.
If LA doesn't want to hire Shaw, the list of replacements is great. Larry Brown, Jeff Van Gundy, Doc Rivers (possibly), Stan Van Gundy (possibly) and Marc Jackson would make adequate replacements.
The truth is, LA's roster is more important than their coach at this juncture. With Phil Jackson gone, it doesn't matter who steps in. They can't replace him.
Is it best to blow the team up and rebuild?
Another easy answer. No!
The Lakers should not abandon ship and blow up their mini-dynasty.
If they make the right changes around the "Big 4" (adding youth, athleticism, outside shooting, big man depth) and add a respectable coach, the Lakers will be back in contention in no time.
However, if a superstar capable of changing the franchise becomes available, the Lakers should pounce on the opportunity. Ultimately, Kobe is the only untouchable, yet Pau himself should only be had at a very high price.
The Lakers' role players and bench, on the other hand, should all be shopped in hopes of adding younger and better players.
Building a championship team takes time. Rome wasn't built in one day, and neither was this Lakers team.
They will continue to build as they move forward, but they should not forget that a knee-jerk reaction isn't always the best one.
____________________________________
Reach Jovan by email. Or follow him on Twitter: @JovanBuha