Los Angeles and Region
Fighting Traffic Court: The Cost Of Getting A Ticket In L.A.
We set out to witness the ups and downs across traffic courts in Los Angeles County with the basic questions – who are the people who fight their traffic tickets and is our traffic court system just? The harshest stories we uncovered are about people least financially able to pay their fines of several hundred dollars or more.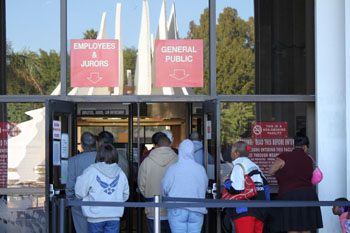 These anecdotal stories are one means of starting the conversation about how we can prevent those at the bottom of our society -- those without a safety net -- from plunging further after a visit to traffic court.
The Los Angeles County Superior Court has 27 traffic locations that process more than 1.8 million citations a year.
Emily Frost
found many people financially squeezed by the high cost of paying for violations.
In Alhambra
, Mary Beth Barker found a line of people hoping to be let off the hook if their officers don't show.
Alexandria Yeager
visited Pasadena to witness the financial snowball effect of deferred payments.
We also recommend
not skipping your court date, unless you want to risk your fine being raised to $925.
And what do you do
if you're too poor to pay a fine but too old or sick for community services? Sarah Sotoodeh tries to find out.
Lastly, for Intersections,
Kaitlin Parker
reports on the high fees and long lines at Compton's courthouse.
Reach us here.