NBA
Can Nikola Vucevic Climb Into The 2011 NBA Draft Lottery?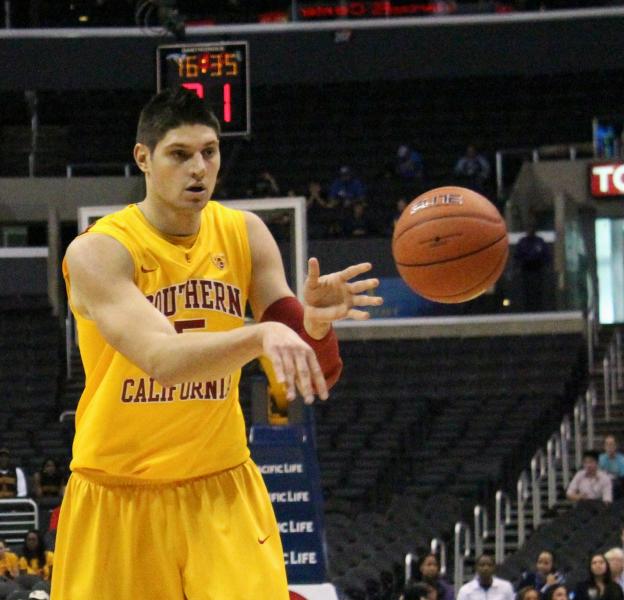 Nikola Vucevic never heard my outcry of "One more Year! One more Year!" as his talent became obvious during an inconsistent and, at times, unpredictable season for the USC men's basketball team.
My spot in the front row of the student section at the Galen Center was never in doubt.
But Vucevic's future was, and with every spot-up 18-footer and calculated drop step, his future became more and more clear with time.
Professional basketball was calling.
In Europe or in the NBA, it didn't matter. The Montenegro native declared for the draft on March 25, choosing to sign an agent in the process.
With the support of his family and coach, the choice was easy--even without my vital blessing.
NBA scouts graded him out as a second round value--a fair judgment given what Vucevic displayed during the season--but as the offseason progressed, Vucevic quickly began to skyrocket up draft boards.
By the end of the 2011 NBA Combine last weekend, Vucevic was not only the tallest player in attendance, but also one of the few players who progressed due to his showing on and off the court.
His combination of size and shooting touch is certainly compelling, and with potential to boot, perhaps an inclined GM takes a chance on Vucevic in the first round or (dare I say it) lottery.
And GMs do it all of the time; they take chances on potential rather than proven commodity, and they'll do it again this year.
Probable number one draft pick Kyrie Irving played in just 11 games last season and Enes Kanter, a potential top-five pick, has played in just one meaningful game in the last two years.
Would Vucevic be a reach in the first round?
Perhaps. His dominant performances scoring and on the boards against Arizona and Washington at home demonstrate his talent, but when adversity raised its sweeping hand (namely against Cal at home) Vucevic faltered.
Would you take a chance on Vucevic in the first round? Better yet, is Vucevic worth a keen look in the lottery?
One thing's for sure: one more year would have helped.
___________________________
Reach Eric by email, or follow him on Twitter.