California
California Teachers' Heal For Budget Trumpeted This Week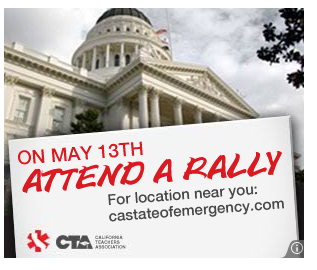 California teachers are taking a stand this week against further budget cuts to education by holding rallies and sit-ins to urge lawmakers to keep a package of taxes at their current rates.
The California Teachers Association, which represents 325,000 teachers across the state, is leading the multi-million dollar effort. The group has been running television and radio ads for the past month. Over the weekend, ads for this week's rallies began appearing on dozens of websites.
Since budget negotiations between Republicans and Gov. Jerry Brown broke down in late March, the CTA and other interest groups have been split on how to balance the outstanding share of the state's budget deficit. Brown wants voters to approve extensions of income, sales and vehicle tax rates.
The CTA and some lawmakers want the Legislature to extend the taxes themselves before they automatically drop to lower levels on July 1. At least two Republicans in each chamber of the Legislature must approve such a measure--votes that have been hard to come by.
Spokeswoman for the five Republican senators who were in talks with Brown earlier this year did not return phone calls on Monday seeking comment on this week's events. They still appear to be the best chance Democrats have of earning Republican votes in the upper chamber.
Republicans generally want spending reforms to be tied to any agreement to keep the present tax rates in place. Among the reforms they have sought are changes to the education code relating to how teachers are laid off that the CTA strongly opposes. This week's campaign doesn not mention the issue of reforming the state's education system.
"You can't afford reforms without any money," said CTA spokeswoman Sandra Jackson.
If the taxes aren't extended, an extra $4 billion could be cut from K-12 education.
The teachers association's spokeswoman has not yet responded to a request seeking the exact cost of the effort or how many people have actually visited the signature California State of Emergency website.
The CTA is paying teachers who participate in the events, including a sit-in at the state Capitol building. Those who refused to leave when the building closed at 6 p.m. were facing arrests, according to the Sacramento Bee.